Microsoft Flight
If you are interested in Microsoft Flight news and announcements, you will find them here. In this section, we will keep you updated on the latest happenings in the world of Microsoft Flight. Recently, Microsoft released an FAQ section that provides the answers so many of the questions users may have.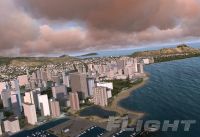 Pre-Release screenshot of Microsoft Flight demonstrating buildings, water and clouds. View the full gallery of screenshots here.
There was also a very interesting message about performance issues and systems we should expect "Flight" to run on.
Microsoft Flight will be released very soon, some time in 2012; however there is no official release date yet. The announcement of Microsoft Flight came as a slight surprise as the Microsoft ACES studio (that developed the previous versions) was closed down.
Not much is known yet regarding the software's features. Even though that is the case, the flight simulation community is anxiously awaiting its arrival. The development of Microsoft Flight was announced in Germany at Gamescom. As the arrival date for Microsoft Flight draws near, the software is being featured on various websites, one being the Fly Away Simulation site. Individuals that would like to be kept current on Microsoft Flight development should bookmark this page. We will provide updates as details are released.