Inspired by airplanes as a little boy back in the 50s, I'd look up to the sky every time I would hear the sound of a piston engine overhead. Living close to Toronto's Downsview (de Havilland) Airforce Base (CYZD). The old de Havilland, birthplace to the famous Beaver and Otter, now home to Bombardier Aerospace. I still live there, and the little airport in the "burbs" is slowly becoming a park in the city, but still manufactures some aircraft and is home to The Canadian Air & Space Museum.
As I grew up I built and flew model airplanes, .049 control-line flying and eventually full RC Model Flying. I have flown some real planes with friends and from time to time have gone up in fixed-wing Cessna's and heli's, but never persued my pilots licence due to a heart defect I was born with and a lack of money and time (excuses in my youth).
My interest was always still very strong but as I raised a family, my time became even more scarce to flying anything at all I had been flying "desktop sim" with Microsoft Flight Simulator, since the late 80s. But the graphics and quality were but mere lines on the screen. One really had to use one's imagination!
With my heart problems corrected in 1999, I would have probably passed my medicals, if not for 2 years later, coming down with "Minieres Disease" (inner ear imbalance), which automatically disqualifies me from passing any pilots medicals! My hopes of ever becoming a pilot were gone!
Then in 2007 came Microsoft Flight Simulator Ten. Known as "FSX".
A platform that was far ahead of it's time. No one had any computer that could get this program to run even close to it's maximum. The critics complained that this game was ridiculous on any machine of the day. It was also just a very basic program. The default scenery and special effects were minimal and allowed for multiple addons in layers of each other, working together instead of the traditional confliction of different addons.
Three years later Vista, Win 7, the newer i7's and faster graphics processors, scenery mesh, ground textures, terrain addons, weather, traffic, ATC, airport environments, ground environments, sounds, lights, aircraft, airport addon's etc.....There are literaly hundreds and hundreds of addons and Microsoft has opened up this market "sky-high"! All have made this experience a very realistic simulation that rivals most real static simulators used for professional world training.
With the addition of a Yoke, Rudder pedals and throttles, this made it seem even more realistic and easier to fly (instead of manipulating the mouse and keys on a desktop etc...)
As technology fastly improved, I purchase the TripleHead toGo (TH2Go), a box that allows one to hook up three monitors all as one across your front view. With this technology, I decided that a cockpit dashboard would serve me well, as a fourth screen could be placed in the centre of this dash, used as my instrument panel etc... I also discovered a company called GoFlight that makes switch panels/modules for FSX. Just plug in (USB) and it acts as your real cockpit switches. I purchased the Autopilot, Communication, Nav Radios, Saiteks Starter/Gear Switch Panel, and more. Now I had a desktop simulator that was almost very real in it's views out the windscreen and with real switches and guages. The actions were very real.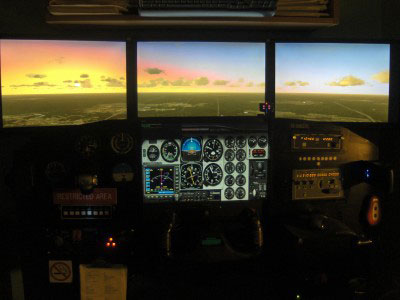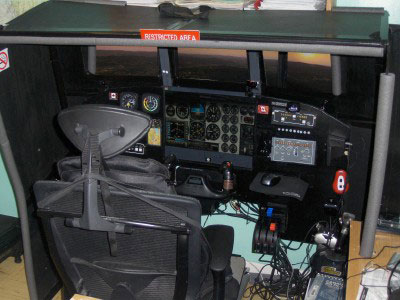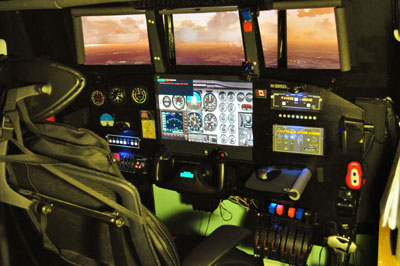 But this took up space around my office desk (my at home office), and the computer was being used for other applications at home and work. I needed a solution so I could have my full office desk back (new laptop), and a space where I could get "Total Immersion" in my simulator.
I did a few sketches/designs as to the size and footprint it would take up. I knew I wanted a Two-Seater, so friends and family could take part in my enthusiasm. So a Two-Seat General Aviation Aircraft would be in order.
I found the Van seats from a guy "online" who even delivered the Two Captains chairs in mint condition for 100 bucks total! The 2 x 2 ribbing/skeleton, the seat platform and the dashboard panel were all built within one week, part time.
Construction was done in the small 12' x 15' office room while I still operated my business. It was like changing an engine while in flight. "Tight" would be an understatement. I mounted the three screens and built the bezel around them. After I installed all the white panelling walls, the entire interior was carpeted. The dials, modules, screens were all mounted and wired after the ribbing and dash were sanded and painted black.. I made my own interior lighting system from low watt no-heat strings of xmas lights that worked out great!
With a vibration system I made, Track IR head tracking and the all new EZ Doc motion camera views, this SimPit is a Total Immersion Room with full static simulation functions. Total time to complete, about 20 days-part time!
I can now fly the world over in total immersion and never leave my home, compromise my budget or my health and safety. My wife took her first ride last night with me in the right seat. Prince Rupert, BC. to Anchorage Alaska. She was totaly immersed and impressed. She even experienced some slight nausea/motion sickness. Amazing!
The New Total Immersion SimPit by Ken Kirsch (KanadaKen), Truely a 21st Century "Hollodeck" Hobby!
This editorial was submitted by Ken Kirsch, a member of Fly Away Simulation with the username KanadaKen.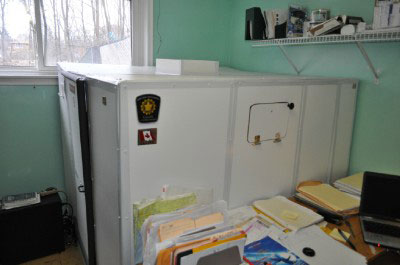 Ken's SimPit exterior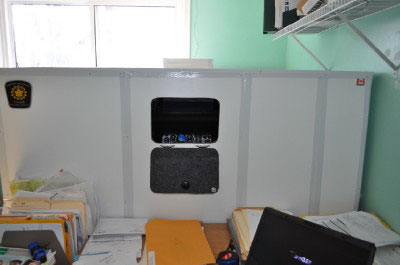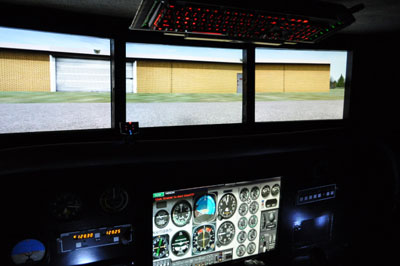 Displays in the Simpit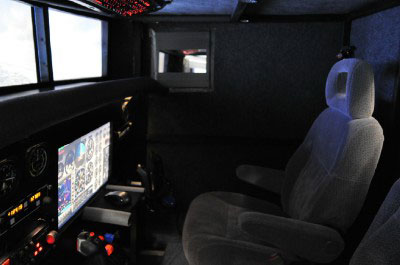 Interior of SimPit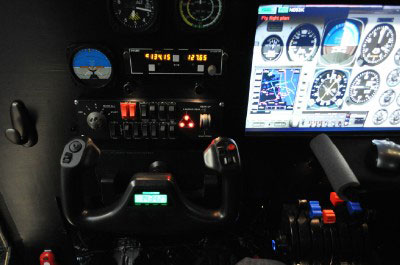 Flight Controls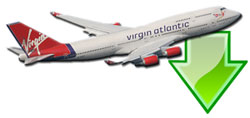 Don't forget... We have a huge selection (over 24,000 files) of free mods and add-ons for FSX, P3D & X-Plane in the file library. Files include aircraft, scenery, and utilities All are free-to-download and use - you don't even need to register. Browse on down to the file library here.