Once you've flown your own plane to cities and countries around the world several times, you may be ready for new adventures. You should consider starting your own virtual airline!
In this article we are going to take a closer look at what you need to set it up and make it operational.
Choosing the Simulator
One of your first decisions will be deciding which flight simulation platform to use. There are several major flight simulator titles you can choose from for your virtual airline. The most popular is Microsoft Flight simulator although some virtual airlines use X-Plane, FlightGear, YSFlight, and Fly!
Some virtual airlines let participants use whatever flight simulation program they have on their home system. For example, Patriot Virtual Airways (http://www.flypatriotva.com/ ) lets pilots use Flight Simulator 2004, Flight Simulator X, or X-Plane.
Real world or Fictional
Once you've chosen the flight simulator, you need to determine if your airline will be a real-world copy of an existing airline or completely fictional. Real-world simulations are more common. This gives your airline a solid foundation to work from as you emulate the exact activities, customs and scheduling of the actual airline. On the other hand, a fictional airline provides a tremendous amount of freedom in terms of labeling, logos, branding, route scheduling, and technological innovation.
One thing to consider is that many of the existing large and even regional carriers already have online virtual counterparts. If you are particularly attached to an airline or aviation company, you should consider getting involved with that particular within existing virtual airline.
Building the Site
Once you've determined the platform, you need to build a site for your airline's operations. You could use a strict HTML site, a solo forum site, or a combination. Advancements in virtual airline website technology have increased dramatically in recent years--there are now dedicated platforms that you can utilize for your virtual airline. Examples include networks like VATSIM (https://www.vatsim.net/ ), the Virtual Aviation Experience, Virtual Skies, or IVAO (http://www.ivaoxa.org/web/ ).
Powerful databases have become a central feature of many of the big virtual airlines. For example, SimMiles.com allows airlines using their platform to keep track of a wide variety of statistics including:
Total hours flown
Total flight revenue
Average pilot salary
Average revenue per flight
Scheduled flights
Passengers carried
Revenue per passenger power flown
Fleet size
Operating costs
Total operating profit
And much more.
This depth of detail makes working on your airline so much more fun. Pilots and staff can see their stats in an instant. It makes a virtual airline so much better than operating a single aircraft all of the time.
phpVMS
For your first go as an airline mogul, you may not want to take on the expense of some of the pricier virtual airline networks. phpVMS is a cost-effective alternative. phpVMS started operations in 2008, before most of the big airline systems were available. Over the last 5 years, it has grown to become one of the most popular VA tools on the web.
phpVMS supports a wide variety of ACARS applications including FS Flight Keeper, FS Passengers, FSACARS, XAcars, and kACARS. The website at https://phpvms.net/ features complete documentation, online tutorials, and an active user forum.
Airline Operating Region
Your next decision will be deciding where your airline will be located and what region it will operate in. This is an important decision because the area of the country you decide to operate in will dictate the kind of airlines and airplanes that you should consider.
For example, if you have a small regional airline consisting of mostly commuter flights, your airplanes will be different than if your airline services a larger region. In that case, your aircraft will typically be larger and can handle more fuel at a bigger payload.
Select Aircraft
Your aircraft is your next selection. As mentioned, your aircraft will be an extension of the kind of airline and the area that you determine that your airline will service. If you determine that you want to fly 737s or 747s, your theater of operations will be much larger and you'll be operating out of airports that can handle larger aircraft.
Some virtual airline owners decide to keep things small and operate a small outfit with more affordable aircraft. Examples of this kind of company are small regional carriers, commuter airlines, and small commercial outfitters.
Staffing and Training
Pilot staffing and training is very important. You want to be enthusiastic and encourage participation and growth. At the same time, you want to have objective criteria on which you will allow a pilot to join your airline.
You should have written general employment information. For example, America Western Virtual Airlines states that, in accordance with federal law, applicants must be at least 13 years of age. In addition, they must have a valid VATSIM id.
Applicants must have a valid e-mail address (not yahoo.com or hotmail.com). Applicants must not have any disciplinary action against them from VATSIM. Upon acceptance into American West Virtual Airlines, pilots must submit their first pilot report within 14 days.
You should have similar clear and specific details for each staff position. Positions you'll want to fill may include:
Chief Executive Officer- establishes procedures, plan budgets, promote staff, and make sure the operation runs smoothly.
Vice CEO-assists the CEO and steps into their position in case the CEO is absent.
Information technology manager- responsible for managing and maintaining the databases and information systems that allows the airline to run smoothly.
Airline operations manager- directly interacts with pilots and informs them of any changes in procedures. Compiles direct reports and creates statistics and analysis for the CEO and management staff.
Pilot training officer- responsible for maintaining all of the training materials, setting up training sessions, administering and monitoring the progress of pilots in training sessions, setting the educational requirements and making sure the pilot staff meets their training obligations.
Pilots- in addition to the general employment requirements, often airlines have a minimum flying requirement for pilots. Virtual Northwest Airline's policy manual, for example, states, "Candidates with less than 100 verifiable flight hours will be placed in the Virtual Northwest Pilots Airlines Academy. Candidates with more than 100 verifiable flight hours will move directly to a hub to begin flights with Virtual Northwest Airlines."
A good way to get the word out about your need for pilots and staff is to frequent forums dedicated to virtual airlines. A good example is the active Virtual Airlines forum right here at Fly Away Simulation (https://forum.flyawaysimulation.com/forum/9/virtual-airlines-va/). You'll find pilots looking for new homes and many people that can fill staff and management positions.
Growth and Expansion
There are many competing virtual airlines. As you grow and expand, you must keep enthusiasm high so that pilots continue to participate. Sometimes virtual airline managers forget that it is a hobby—they might begin to act like bosses in the real world!
Remember that the emphasis should be on fun, camaraderie and the love of aircraft and aviation! Without these ingredients, you will suffer defections. Eventually you will not be able to maintain the bandwidth costs and will have to shut down.
Try to emulate the style of established airlines. There are several that have been in operation for many years. You will benefit by modeling their good practices. With a little luck, some perseverance, and a commitment to creating the best virtual airline possible, you'll grow and expand to become a virtual airline powerhouse.
You can also read our article that describes what a virtual airline is over at the page here.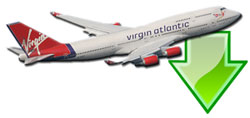 Don't forget... We have a huge selection (over 24,000 files) of free mods and add-ons for FSX, P3D & X-Plane in the file library. Files include aircraft, scenery, and utilities All are free-to-download and use - you don't even need to register. Browse on down to the file library here.