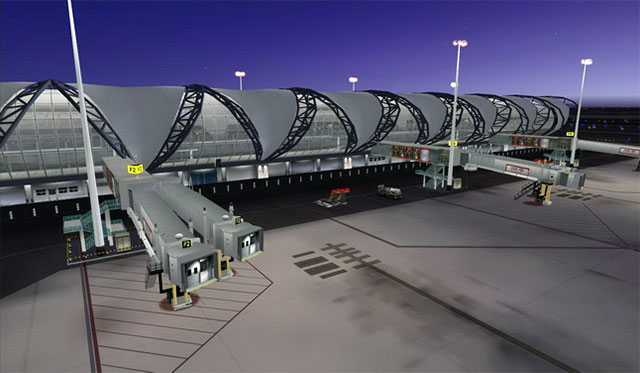 Suvarnabhumi Airport, also known as New Bangkok International Airport, is the country's largest airport. The airport was opened in September 1996. It is the main hub for Bangkok Airways, Thai Airways International and Orient Thai Airlines.
The airport is modern, has two runways, and has the world's tallest freestanding control tower. The airport handles about 5 million passengers every year, and is served by 96 airlines.
VTBS Suvarnabhumi Airport add-on features:
Highly detailed, 3D metal frames for the main terminal and concourses
3D landing lights
Customized lines and taxi lights
Highly detailed jet ways
Animated ground vehicles
Custom Gmax ground texture created from satellite photos
Includes the surrounding area and key features
This is a second release of this add-on – there were major problems with the first release in 2009. Based on several reviews for VTBS Suvarnabhumi Airport, this add-on is popular, and many users like the new and improved version.