One of the most important aspects of using a flight simulator is, of course, that it actually works properly. This can be a source of great frustration for many users as early releases of flight simulators have been filled with errors and bugs that have hampered either the ability to play the simulation out effectively, or even use the simulator in the first place.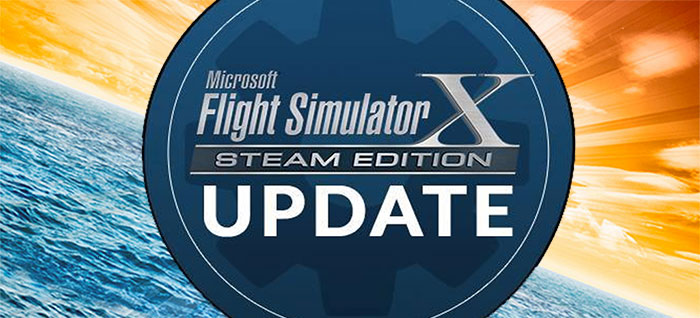 From the very first Microsoft Flight Simulator releases to the latest and most modern editions, bugs and errors have been commonplace for longer than you might have ever considered in the past.
Thankfully, with the excellent Dovetail Games working as the head lead on the Flight Simulator X: Steam Edition version, you can rely on regular updates and changes to how the simulator itself actually works. The changes are automatically applied, meaning that you will be able to benefit from a spree of changes without having to even do anything.
Because it's released on Steam, the popular gaming platform, you'll automatically receive the updates when you log in or when you try and launch the software itself. This means that anyone who is sick of the small problems and bugs that ported over with the initial release of the Steam Edition can find some quick and easy relief to these issues before they become a long-term issue.
This has been promised as the first of many updates to come, and is mainly built on both staff error findings as well as feedback from the FSX community. The changes that have been made to how the system runs are fairly comprehensive, and can be a solid solution for anyone who is struggling to get the Steam Edition of FSX to launch properly. Take away those frustrating and improve your flight potential with;
Behind The Scenes Changes
Some of the biggest changes to the software have been the changes "under the hood" so to speak. This has been anything from issues to connecting online to how the game actually deals with and handles errors. Many small fixes & changes have been made to give you a much greater understanding of what is going on behind the scenes so that you can get easier help & troubleshooting advice when errors do still actually occur.
Networking Problems Resolved
As one of the biggest improvements to FSX: Steam Edition, the multiplayer networking system has been a big disappointment for many people. This isn't because of a lack of features – but functionality. Many people suffered from regular crashing and bugs occurring when their Steam client was reading the host of the servers tag data.
This could cause significant problems and, in many cases, stopped users from being able to play their edition online altogether. These changes have been corrected with significant improvements made to the way that the software actually reads and represents Steam host data details.
Settings Resolved
One main issue that many people had was that the HIGHMEMFIX option was usually enabled by default on installation, and was very rarely possible to disable during the actual simulator being on. This could be an issue in that it can impact performance on some machines, and now the ability to enable and disable the setting has been made easy to access for everyone.
Error Reporting
One of the most important things about being able to make error logs and give feedback to Dovetail Games is the error reporting system within FSX: Steam Edition. This lets you log errors with the company easily, but many of the error messages within the game provided vague context and codes. Now, you get a clear error message that will tell you if, for example, the software has failed to load the .dll file 'Language.dll'. This shows you the name of the .dll that has failed to load, so that you can get an easy to use solution.
Learning Centre Changes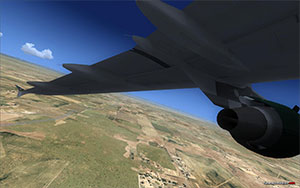 The Learning Centre is where all new pilots will start off to get a better idea of what they actually are dealing with – the problem is that for many people, the learning center was bugged and broken. Many problems existed within this part of the simulator which made getting better and learning the smaller sections of FSX much harder to actually deal with. These small changes helped to fully ratify these problems.
Scripting Errors
The Learning Center suffered from one of the most prominent bugs within FSX: Steam Edition – and that was an error to load the mission that you wished to attempt within the Learning Centre. This update will correct these scripting errors, ensuring that the game can locate the scripts for each Learning Center mission and that you can load every mission whenever you wish. These updates to the coding make every tutorial mission that is available for you easy to get access to now.
Learning Center Logos
As the simulator has now moved from the traditional GameSpy libraries to the more high-end Steam servers, many small changes were made to FSX to accommodate this shift. However, old GameSpy logos remained with the simulator and had to be removed – this patch helps to remove any old traces of the GameSpy section of the game, limiting confusion and guaranteeing that you know exactly what version you are actually running. This can be useful for those who found the mixed licensing a bit confusing, given the swap from the GameSpy servers to the Steam servers in production.
Graphical Changes
Many graphical changes were brought into force as well, to improve the overall quality of the game and make sure that it looks as good as it possibly could. One of the big changes with FSX: Steam Edition was the changes to the graphics output of the game. It's important, then, that you are able to get the full benefits of these changes.
Many small bugs and conflicts existed within the final code that were supposed to have been dealt with, and could cause significant problems to the quality of gameplay for users. These have been resolved to make sure that you no longer will get glitches like;
The overall vertex and index buffer handling defaults have been improved, resulting in a frame-rate improvement ratio of up to 10% depending on the hardware that you are using. If you find that these changes have still not helped with the graphics too much, you might want to consider making a change to your vsync settings. You can find these under the graphics tab of the FSX: Steam Edition settings. If you use an ATI graphics card, make sure to check your Catalyst Control Centre as well for any forced vsync functions

Small changes to the overall way that textures are loaded and graphics are drawn on screen to help with the texture loading speed and control of the simulator

Trilinear mipmap filtering is a very useful tool that can help bring back the correct ratio in textures, ensuring that no texels are missed and providing the clearest and most detailed image possible on the screen. It allows for pixels to be displayed properly which is extremely important, giving you a far clearer and more resolute image. For many users, this setting was turned off by default and could lead to significant graphical glitches and errors – for those who never venture into the settings of the simulator, this patch automatically enables this to provide more graphical assistance to your machine

The special effects setting is one of the most important in the series because it adds so much life to everything around you and brings the world into a more authentic atmosphere. However, with the 'High' setting for the graphics that you were using it was commonplace for the graphics to just not work – many features wouldn't even start up or come into play at all. This patch corrects this issue with everything from landing and water effects to external lighting
Improved Compatibility
A big issue with add-ons and installations has been that compatibility simply hasn't been there. Small changes that seem insignificant now rendered some of the best FSX packages and add-ons totally unusable.
This update includes two key packages – dll.xml and exe.xml – to give you access to the files needed to make just about any add-on work now. If you still have any problems with having add-ons work, you should consider contacting Dovetail Games here.
There has been a large amount of changes made to improve and optimize your overall performance, making it easier than ever before to actually just enjoy what you are doing within FSX. There will be more updates in the future and, when they are announced, we will be sure to give you access to a full change list so that you can understand the dynamics of what you need to do.
Not every issue has been fixed in here, granted, but it's positive to see that a release has been brought out so early! These changes will correct a lot of the main issues with getting into the system in the first place, though.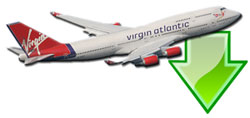 Don't forget... We have a huge selection (over 24,000 files) of free mods and add-ons for MSFS, FSX, P3D & X-Plane in the file library. Files include aircraft, scenery, and utilities All are free-to-download and use - you don't even need to register. Browse on down to the file library here.