This is because the majority of FSX tweaks like this tend to have some kind of downside that reflects badly on the rest of the mod – typically, the good is far outweighed by the bad. If you want to try and move beyond this problem, then you have quite a select amount of tweaks to pick from. Although the majority do follow this path discussed above, there are some absolute gems out there that we would recommend trying out.

Introducing HIGHMEMFIX
HIGHMEMFIX has been around for some time, and it's lauded by many because despite being an fsx.cfg edit file, it has absolutely nothing to do with improving a vast array of features. This means that the performance side of things is left literally untouched, resulting in a far more stable and balanced performance.
What does change, though, are the nuances that the simulator needs to properly deal with things like textures loading and typical stability throughout.
If you have been previously put off using code changes like HIGHMEMFIX in the past because of the problems that are typically associated with this kind of problem, then we can only recommend reconsidering and giving this a shot.
What The Tweak Involves
This tweak, however, goes through a rather different process than what many other modifications to the fsx.cfg file will bring to the table. One of the main benefits of using HIGHMEMFIX, of course, is that it's completely free from any of the double-edged sword issues we spoke about above.
This is a big problem for many users as the "fix" can typically bring upon another problem elsewhere in terms of performance or appearance. If you want to try and avoid these problems from rearing their ugly head whilst still getting a nice benefit when flying, HIGHMEMFIX is one worth installing.
The tweak involves making a simple change the fsx.cfg file – this is easily located within the base folder that you installed FSX into. You will notice a far more stable game once you load this in as it really grabs everything by the scruff of the neck and improves load times and the overall interchange within textures and objects throughout the flight experience.
The tweak is very simple to install and the amount it changes with just one simply change, you can start to notice a big performance improvement – this is especially useful for machines that are in the lower-end section of the PC market.
Making the tweak itself is very easy, as all you need to do is go into the fsx.cfg file and look for a line that is called;
[GRAPHICS]
Underneath this line, you want to include a basic like that reads;
HIGHMEMFIX =1
Add this in underneath the [GRAPHICS] header, save your progress in the .cfg file and fire up FSX. You should be able to notice an immediate difference once you start flying into what you would usually find to be a rather tough area. Whilst it isn't a miracle, it can certainly help out.
What Does It Do?
This is a true essential for using with FSX these days, as it gives you so many general fix solutions to a big problem when using FSX. By making a variety of smart changes in the all-important fsx.cfg file, HIGHMEMFIX improves the capability of your textures to load properly – this means that when your video memory is being put to the test, textures should be able to load with more frequency than before.
Of course this is very important, as having textures loading nice and quickly will ensure that your overall presentation from FSX is going to improve whilst being even more consistent than usual. If you regularly play FSX and find yourself zooming past untextured models and parts of the world that lay barren until the textures load and catch up, you'll no doubt notice that it can quite significantly hamper your enjoyment of the overall spectacle of flying. After all, a huge part of it is seeing the world around you as you fly by – and when it's just a bunch of flat, totally untouched models it kind of kills the atmosphere a little. It also provides excellent support for problems with textures that include the often maligned black squares that load up all over the place.
By improving the flight' overall performance and style, you'll be able to fly longer flights on the more high-end aircraft without noticing the same dip in performance and loading speed. It's also a great aid for helping you deal with objects that disappear and re-appear at will; this can be a big problem for many people, and will lead you to having a rather difficult time flying with any co-ordination. If you need help solving these irritating problems, then you should really consider picking up the brilliant HIGHMEMFIX mod for FSX.
How Can I Install It?
Although we mentioned above how to install the file, it can be seem a little bit tricky for newer users. If you have never used any kind of FSX.CFG mod before, or it's been automatically installed for you, we can show you to do so with ease.
The main problem is that the files you want to get to are recognized as 'Hidden' usually by your PC. If you have ever had to find hidden folder before then you will already know how to enable this, but it's quite important to make sure that you can do this for yourself as it will decide whether or not you can actually install the mod!
This simple listing below will show you how to install the HIGHMEMFIX from start to finish. If you want to make sure that you are doing it right, then simply follow this step-by-step guide and you should be able to start using this brilliant little configuration mod in a matter of simple moments!
Close all of the running programs on your machine so that you are just at the blank desktop

Click on your 'Start' bar, or if you are using Windows 8+ press CTRL+ESC

There will be an option available to you, if you went via the start bar, to enter the Control Panel. Click on this option, and open up your CP. If you use Windows 8+, start typing for 'Control Panel' on your keyboard and it should appear in your search query on-screen

Once inside Control Panel, look for something known as 'Appearance and Personalization'

There will be a prompt within this part of the Control Panel known as 'Show hidden files and folders'

Click on this, and you should be prompted with a clickable list of options – select 'Show hidden files, folders and drives'

Whilst you are here, un-tick the boxes known as 'Hide extensions for known file types' and 'Hide protected operating system files'

Press Apply

Now, you will be able to access the files that we need!

Head over to your 'My Computer' section, and click on the hard-drive that you installed Windows to. Typically, this will be the C:/ drive

Now, a folder should appear that wasn't here before and it will be known as 'Users'

Click into Users, and then the folder named after the username that you log into your PC with

Go to the folder called 'AppData' followed by 'Roaming'

You should see a folder called 'Microsoft' so click into it, and then into the folder labeled 'FSX'

In here, you'll find the fsx.cfg file

Make the change shown above under the What The Tweak Involves section, HIGHMEMFIX=1 under the [GRAPHICS] tab

Additionally, if you use the 'Search' function on Windows once your hidden folders are shown, you can just search for fsx.cfg if you cannot find it!
What to Expect
Once you make this change, it will allow FSX to start using 512MB of memory when using the WDDM1.0 and WDDM1.1 packages without making any textures vanish or reduce loading times for textures any further. This can be very useful for making sure that your overall performance is far more consistent, and will remove any hints of glitches or anything that could otherwise hamper your flight simulation experience.
What you need to use this for, though, is the massive increase in stability that it provides. By removing these graphical glitches you can take way a strong portion of the errors and issues that FSX users can suffer from when using weaker machines.
You can see additional fsx.cfg tweaks in our performance tuning article here.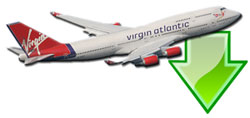 Don't forget... We have a huge selection (over 24,000 files) of free mods and add-ons for FSX, P3D & X-Plane in the file library. Files include aircraft, scenery, and utilities All are free-to-download and use - you don't even need to register. Browse on down to the file library here.