Fans of Paris, rejoice! The old, dreary designs of FSX can finally be left behind and replaced with a truly stunning take on the city, giving fans of it a new way to enjoy a stunning and unique location.
As one of the most respected members of the French simulation community, FranceVFR have produced another spectacular release.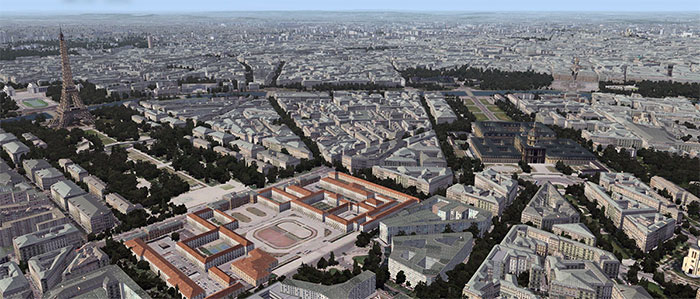 This latest recreation of Paris-Ile de France will give you all the help that you need in using the power of 3D automation technology to completely transform the look and feel of the entire area. Nothing is more important than realism when using a simulator, and this goes some way to putting the power and style of realism very much in the right position. As part of their latest releases, this new mod takes realism to new levels.
What's New?
If you take the time to download this mod, then you are getting access to first-hand vision on the awesome 3D Automation tech that is so regularly used today by FranceVFR to bring a whole new level and layer of life to the simulation experience.
This adds brilliant new landmarks and objects to the densely populated location, making it really burst to life and look the very best that it can. It's also been planned and programmed to ensure that it allows the real life layout of the city.
This is more than your average modification, as it helps key landmarks come to life and breathe in the right fashion, free of problems with location, accuracy or attention to detail.
It's already out on the market ready for download, providing fans of FranceVFR and their other products with easy access to a revolutionary take on the French capital.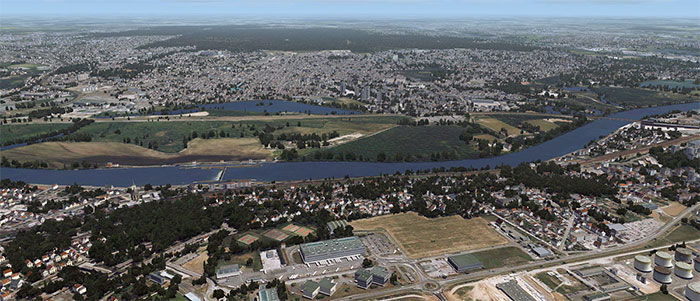 What You Get
In this latest selection, you will be getting access to a truly photorealistic representation of the city of Paris and surrounding areas. This is a location that comes brimming with quality and unique extras, which this mod has finally been used to capture – this includes key landmarks and features such as;
0.5m/pixel designs that look truly exceptionally, working with aerial photography to ensure that it provides you with a truly realistic recreation of the city itself. These 0.5m/pixel scenery packages ensure that the ground below carries the realistic design and looks of the real thing, giving you the true city below.

Working with 4.75m, LOD13 mesh relief systems to give you extremely specific designs and add-ons to the rest of the city, bringing it to life.

Lakes and rivers are now fully clipped with water which you can navigate, making the city feel more authentic as much as it possibly can.

Massive changes to the seabed are included which gives you transparency on the entire scene, making sure that it all works in tandem and looks truly excellent. These changes to the attention of detail and the sea within the city, adding even further to the level of realism and attention to detail throughout.

A litany of airports and aerodromes have been worked upon and improved massively, including a fantastic rendition of each airport to give you semi-detailed correction of the platform effects. These all blend together to make a truly fantastic design and style that fits with the cities style.

A new semi-detailed ILM base has been added that comes with fresh conservation track reliefs. Not only do these look wonderful and do a great job for bringing the whole city together, but it adds another minor detail that really works as part of a grander scheme, making Paris wonderful.

Obstacles and VFR landmarks are a massive part of the operation here, with these immense changes modeled onto the entire scene which includes the official database with SIA – antennas, towers, water towers, wind turbines and various other constructions included – to make sure that this is a historically accurate Paris recreation.

A small army of new, totally fresh and unique objects are included within this selection. With buildings used to set the tone of the set and help to arrange the atmosphere and environment, you will notice massive changes to everything from the inclusion of churches and power plants to silos, castles, industrial areas, bridges, cranes, boats and even road signs which helps to bring the whole city together in harmony.

Integration of the excellent 3D Automation technology. This makes sure that the city of Paris is alive and well, making sure that realistic buildings and vegetation comes into play perfectly. These changes really do help the whole thing look extra special, making sure that the whole city looks truly wonderful, carrying the various zones that make the whole city look fresh and interesting in comparison to its older style and format. Together, this really does help to sell the vision if Paris!

Autogen buildings are using very specific parameters and rulesets to ensure they have 3D variants that stick out instead of just appearing together.

Process development is 100% compliant with the various specifications of the Microsoft SDK, meaning that you can use this safely with later versions of FSX.

New precision is being used in the geo-referencing of the area, ensuring that maximum compatibility is included with future add-ons which utilize the same space as this.

Extremely dense and authentic vegetation is being used to ensure that rendering is both attractive and smooth, whilst maintaining true to Paris' look.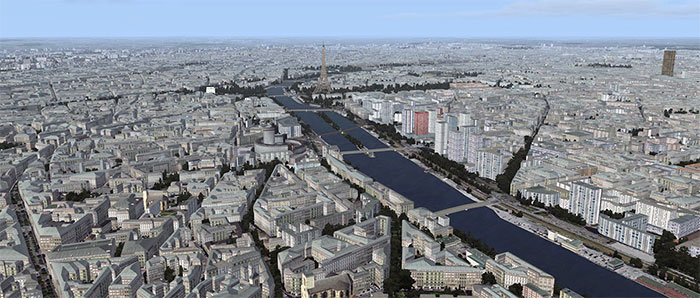 About FranceVFR
As a team of design experts who have long used unique 3D automation technology to make earth shattering products, this can be the perfect ally for anyone who wants to see parts of France transformed, changed and totally modernized. FSX is capable of far more than it was when it was first released, and the projects released by FranceVFR work perfectly as a means of getting to see these at their most stunningly realistic.
Nothing has been included that does not capture the depth and detail of the real city itself, which FranceVFR always aim for.
If you're looking for freeware, check out this 1.5 GB scenery expansion covering 140km2 of Paris from Marc Guitteny in the file library here.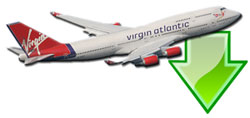 Don't forget... We have a huge selection (over 24,000 files) of free mods and add-ons for MSFS, FSX, P3D & X-Plane in the file library. Files include aircraft, scenery, and utilities All are free-to-download and use - you don't even need to register. Browse on down to the file library here.