For FSX and FS2004 users, one problem that has consistently existed is fencing. Although a minor part of airfields and air bases, all the little things tend to come together in simulation. When one thing falls down, it brings the rest with it. fencing is one of those particular fall-downs; always dull and dour, hard to manage and even harder to implement yourself.
Thankfully, the last few years have been made a little easier with the creation of FenceBuilder PRO. A reliable piece of third-party software, this made the implementation of your own fences so much easier than it once was.
It makes it easy to add in fencing, and it's now been updated and improved to match new standards. Released at the tail-end of 2016, this latest update has gone on to make FSX and FS2004 editing easier than ever before.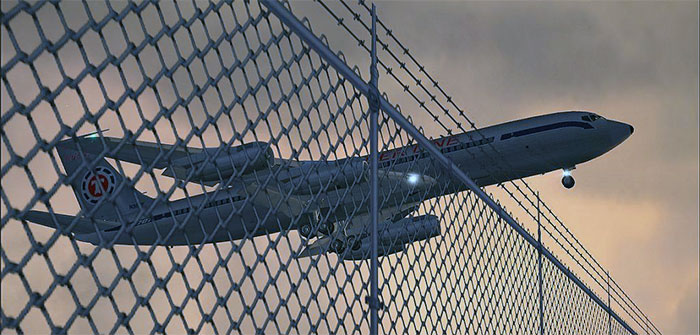 Aircraft flying over airport perimeter fence.
What is FenceBuilder PRO?
Created by the excellent Don Grovestein, this simple piece of kit was designed a few years ago to help make FSX and FS2004 fence implementation nice and simple. With ground-hugging fences easy to install thanks to this add-on, you can now include new wall, hedges and others with the help of FBP. It makes it easy to place large rows of your object in a row together without the small gaps and incorrect positioning that has plagued manual face placing for so long. This works as an easy way to make sure that fences work together, that they join up as one, and that they look as natural as they possibly can.
A major benefit of using FenceBuilder PRO, however, is the introduction of how it works on hilly territory. Sick of trying to get fences to work together and to look natural when going up a hill? Now you can with ease. This makes it easy to add in fencing on a hill or sloped surface. It automatically edges to follow the train, making sure that the undulations of the land will keep the fence looking accurate.
It's a small touch, but one thing that was not possible without the use of this hardware. If you are a frustrated designer who is sick of losing hours on fence placement, then this can be the godsend that you are looking for – easy, effective, simplistic. What more could you ask for?
Now, it's been improved and updated to fit with the latest requirements and desires from users.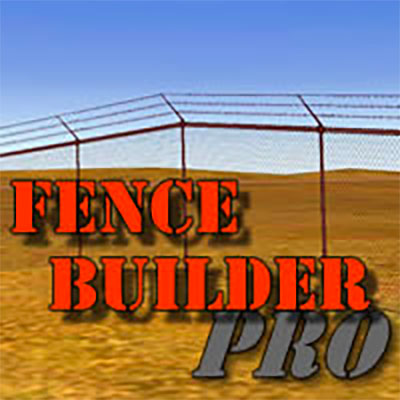 Fence Builder PRO logo.
What's New?
So, in version 1.2, what can you expect to notice when you turn on your editor? How can you notice the difference from the old version to the new edition?
Minor yet irritating issues have been resolved. From hangs and slowdowns to minor UI irritations, small adjustments were made to the overall formula of the software. This makes it easier to run and use so if you have any issues from the past in terms of running, try the update.

It comes with new editing and selection options for fencing. Now you can re-locate and edit fencing segments with a more fluid operation. Complaints in the past informed Don that it was a clunky and time consuming operation. These new adjustments should help to guard against that from becoming a problem.

Also, you can now choose either SimConnect or FSUIPC. Both are fully compatible and can be used together. In the past, there was a need to make a choice between one or the other when it came to using this kit. With this add-on, those problems are surely gone.

New products have been released since the last update, including new versions of P3D and FSX-SE. This update fills in those gaps to make sure that this is fully compatible with the latest version. Now you can get back to editing those fences for more modern simulations, something that was not possible until now.

New features have been included, too. For example, users now get access to the ability to easily create catenaries as well as add in arches, guy wires, transmission lines and other important parts of the world that may have felt somewhat underwhelming on the previous release.

Minor adjustments have been made to make this more stable on hardware. If you have had issues running with this software in the past, then the new update might change what you need in terms of hardware compatibility. Now, you can be much closer to finding out if that's the case.

Greater UI adjustment and management has been included, too, with one of the major complaints of V1.1 being the UI lacking user-friendly directions. That has been changed, with a cleaner interface meaning that development teams can get used to this much easier than they would have in the past.
Receiving the Update
To get your new update, you first need to own the full version of FenceBuilder PRO. To do that, you simply need to head over to FSAddOn.eu and pick up the old edition. If you do this, then you will be eligible to pick up the new update as soon as you install and register your copy of the software.
Once you have done so, you can then start using this free upgrade right away. The main upgrade change helps to improve the user interface, but it also adds much-needed assistance for FSX-SE and P3D, as well!
Now, you can start building fencing in all of your favorite simulators with simple ease. To get your upgrade, you simply need to send off an email to don@stuff4fs.com. Don can get in touch with you with the details needed for the installation.
Just make sure that you can give Don some kind of proof of registration – a registration number or anything similar. This is around 2MB in size, so be sure that you can clear enough space. Also, some e-mail hosts can restrict .zip files, so make sure that you have a client that can accept these particular files. For example, Hotmail lacks accessibility for .zip files, but Gmail does not.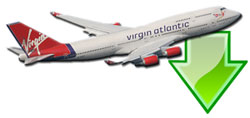 Don't forget... We have a huge selection (over 24,000 files) of free mods and add-ons for MSFS, FSX, P3D & X-Plane in the file library. Files include aircraft, scenery, and utilities All are free-to-download and use - you don't even need to register. Browse on down to the file library here.