Well, it's been nearly a week now since Dovetail Games Flight Sim World hit Early Access. As the easiest way to let people fly before the full release, the Early Access edition has been, on the main, well-received. While there's always critical comments – and some criticisms are very much worth keeping an eye on – the overall view is a positive one. What to remember as well is that, at this stage, it is still in early development. Problems that exist just now will be removed, and features will be improved or taken out if they aren't up to the standard needed.
Update April 2018
We have now published a full review of Flight Sim World which you can read here.
This is about as early in development as you should be able to take part in a flight simulation experience. There are lots of rough edges, yet it still handles extremely well. Let's try and round up what the overall consensus has been, looking around at the comments online and from our own take so far.
The Layout
The first thing that people appear to be approving of is the new UI and layout. We touched on that in our pre-release preview, that early users were very impressed. It would appear that the general public feels the same way. The interface is easy to navigate, simple to read on any resolution and scales very well. The added color and charm makes it even more enjoyable to work with, as well.
Given the detail of the layout, though, the main criticism has been it's more video game than a simulation. While that's a fair criticism, people coming from gaming looking for a more serious experience will feel right at home.
The Usability
The controls appear to be picking up most joysticks that people are using without too much problem. Saitek, in particular, seems to have its models more or less working perfectly so far with the new release. This means that, even at Early Access, Dovetail Games have gone the extra mile to ensure that usability is at a high level even from day one.
The interface, as mentioned above, also makes calibrating and configuring a piece of cake. The usability of the simulation, then, has been more or less widely acclaimed. It's easier to use than previous simulators, and that is all that you can ask for really!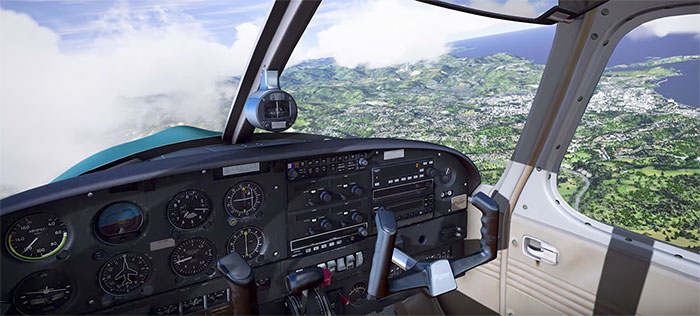 Screenshot showing 3D VC and ground terrain in FSW.
The Aircraft
The most important part – the aircraft – is the most commonly diverse range of opinion. From complaints about a lack of jets (this was made clear way before EA release) to the really poor take on the Vans, the opinion is very much mixed. The Diamond DA40 model, at least, has been getting a lot of positive acclaims – most seem to be quite happy with these new improvements.
The presentation is pretty good overall, although some parts are clearly still in development mode. From the way that the landscape correctly scales as you get closer/further to how the aircraft sounds when taking off, it's all very realistic.
The majority of the aircraft feedback, though, has been positive. While there's still a lot to be done to bring the aircraft up to the standard expected, the Early Access klaxon has to be sounded. For a very rough start and a development that is going to see user feedback as the key, we'd say that Flight Sim World has made a very impressive start.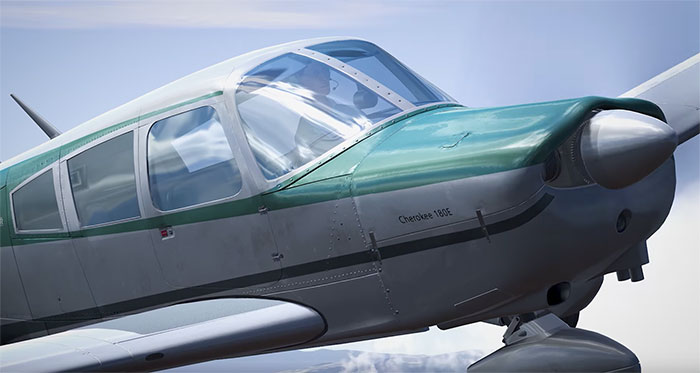 The default Piper Cherokee in flight.
The Scenery
The world is also a lot more impressive – as you would hope. Even at an early stage with much more to be done, though, there's a lot of new additions. Many airports look busier if still a little generic, and most of the overall autogen has been much improved. Things look less flat, and even stuff way off in the distance looks pretty crisp.
The primary worry comes down to hardware. Even on high-end rigs, many people are finding it hard to get near High/Ultra settings, seeing FPS (frames per second) plummet. This needs a lot of work, but, again, EA!
Lots of complaints are appearing about how fake the trees and some autogen looks on lower graphical levels, too. Given the hardware complaints about people struggling to get it running at the upper echelons, that does not make for a good starting point.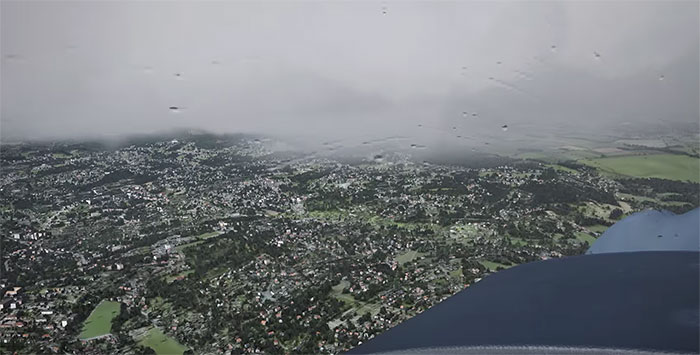 Image showing the new rain effects and ground terrain.
However, this is all subject to change as time goes on. Textures could still be improved and the overall quality of the autogen will likely need to be refined, also, but it's a decent start. There are lots of things that we expect to see change as far as the development of this simulator goes, but this is looking pretty promising.
We finally have a 64-bit flight simulator that follows the FSX model. While there's plenty of growing pains, the future looks pretty bright for Dovetail Games latest release.
VIDEO: Official Launch Trailer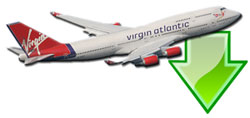 Don't forget... We have a huge selection (over 24,000 files) of free mods and add-ons for FSX, P3D & X-Plane in the file library. Files include aircraft, scenery, and utilities All are free-to-download and use - you don't even need to register. Browse on down to the file library here.