For years, one of the most common complaints that people have had about Microsoft Flight Simulator X and Prepar3D has been the lack of weather quality. While only a part of the overall feature and the atmosphere of flying an aircraft, it's something that completes the look. Indeed, the quality and detail of the weather should matter a great deal more than it has in the past. Well, with the help of the latest release of FSXWX, users of both simulators can enjoy a far more realistic and progressive weather effect when flying in a simulator.
If you are sick of the world feeling flat and empty in comparison to how it could, then this is the starting point you need to correct that. Designed to be a weather engine that depicts authentic, live weather, this helps to add a much-needed dose of realism to a major part of aviation. By taking into account the limitations of the software, FSXWX ensures that the results you see are as close to being realistic as possible.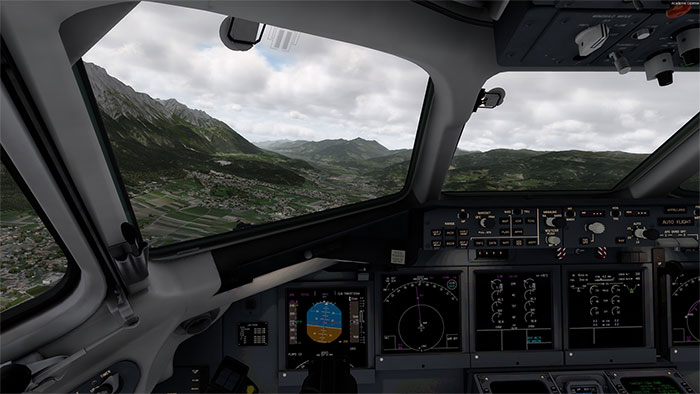 Image shows landing with the new weather system installed.
This is a culmination of many years of hard work. With the end result being one of the most rewarding weather mods around, it's well worth trying!
So, with all of this in mind, how well does the actual simulation live up to the hype?
Does this really revolutionize the weather system? Or is it all hot air?
Upping The Tempo
The main complaint many have about FSX and P3D is that it can be so much more. The graphical potential exists within both engines to have more immersive, authentic weather experiences.
With the help of the new and improved textures brought to life here, that's finally possible. In the past, people have tried to throw in METAR results, and see how the simulator reads that information. Sadly, it's never as realistic or as impressive as you would have expected.
This mod, then, brings a new grid based system which is all about accuracy. Now, the weather is presented in a far more progressive and authentic manner than it was beforehand. Say goodbye to those old and unrealistic cloud depictions, and the jutting from one form of weather to the next without authentic transition.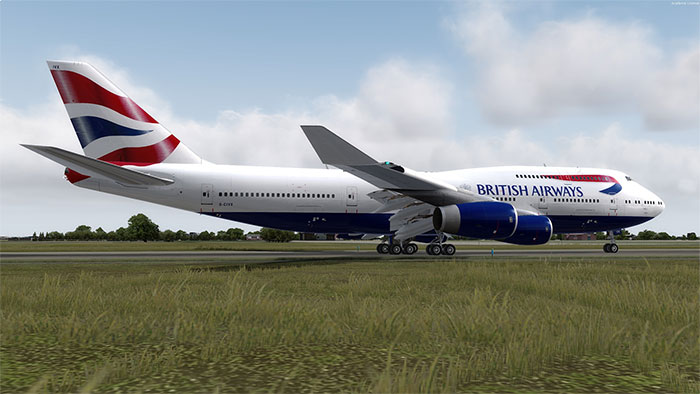 British Airways 747 on a runway with clouds in distance and grass in the foreground.
This is upping the tempo and raising the quality that all FSX/P3D users can expect!
The first thing that you will notice when using FSXWX is that it offers such a comprehensive change. Compared to the original weather which looked OK but lacks any form of immersion, this is far more impressive. The development team has managed to find the keys to taking what was a suitable but rather unambitious weather system and ripped it out. Starting from the ground up, we're left with this.
It's far more authentic, with the accuracy, the quality of transition and the overall presentation light-years ahead. The default weather system was always a decent enough placeholder. But, with the creation of mods like this? Users don't need to settle. If like many others, you wanted change, this is it.
VIDEO: Landing at RWY 36 at ENTO (with FSXWX installed)
Blowing in the Wind
Another massive change that this has brought to the table includes the recreation of wind injections. In the past, this was handled in a rather rigid and unrewarding manner. Now, when working alongside the rest of the weather options thanks to FSUPIC off-setting, the whole package is far more impressive to be a part of.
Now, it's easier for FSXWX to start controlling the wind, offering a real-time and customized wind module. This works in the background, never making its presence felt, but delivering the smoothest and most satisfying of wind transitions, both laterally and vertically. Alongside a custom wind gust program and new turbulence features, this makes sure that you can start to really "feel" the wind.
Overall, the package looks to make the most of the realism of weather. Now, the presentation, as well as the performance, has been optimized to the highest level. It really is impressive just how much work has gone into spicing up the presentation and the overall look of the new features. Rather than just improving how it's all compiled, this is a true revolution. It's hugely impressive, combining together vital assets for that most perfect of finishes.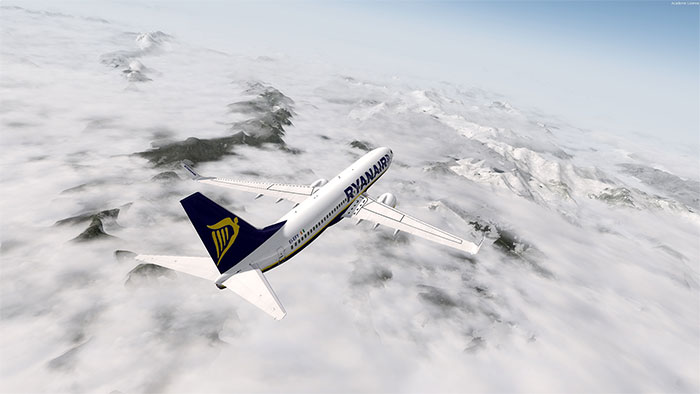 Ryanair 737 flying over mountains with clouds covering them.
Combining for Class
One of the other features that are really impressive about this mod, though, is the compatibility. It works well with other mods that bring in turbulence in aircraft, for example. Also, it can work with other mods that change the way that the cloud textures and the like look.
If you are using a package like the REX cloud texture set, and you prefer it to FSXWX, you can still use them. This means that you can get that nice range of detail in the clouds that you like, with the added presentation and performance attached, too!
Many mods like this can feel rather stunted and rigid when it comes to combining with similar programs. This, though, avoids these headaches and makes it easy to get the best of both worlds. If you've been looking for a weather mod that is easily adaptable, this is certainly it.
Overall Performance
Typically, when running new add-ons like this, performance – even on high-end machines – can plummet. Thankfully, this software manages to avoid watching your frames per second be split in half. While the weather does automatic reloads on a regular basis (several times per hour) it does not even cause a blink. Yes, if you are playing and you happen to be working on a rather dated internet connection, it might be a touch slower.
Given that there are more clouds being rendered and data being taken direct, live, it's obvious there'll be some kind of drop-off. So long as your hardware can handle FSX without too much hassle, though, you should not have to cut down on features too much to get the best of both worlds in performance and presentation.
I'd recommend that if you do notice performance dips that you simply revert to what you had before – it won't get any better, put it that way. However, it really does not take too much extra on top of the basic FSX requirements.
Final Thoughts
Overall? This is a fantastic add-on, well worth having installed for sure. It's easy to work with, combines so many useful features, and costs you nothing. Many premium and paid-for products offer a fraction of the quality and consistency as this, so it's a no-brainer. Unless you already use a weather package that you already love, this is almost certainly going to be worth giving a go at one stage.
If you've been looking for something that ticks all the right boxes, this is the place to start. It avoids having to add in filler and pointless features just to make it seem worth your time. By authenticating the quality of the weather that you experience, and using METAR reports for absolute accuracy, this is a fantastic addition.
Very few add-ons that work to improve weather can offer the same quality and consistency. When you factor in the price – or lack of price – it becomes a must-have. For anyone looking to experiment, you might just have hit some gold with this masterpiece of an add-on. You can visit the official developer's website here.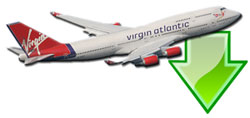 Don't forget... We have a huge selection (over 24,000 files) of free mods and add-ons for MSFS, FSX, P3D & X-Plane in the file library. Files include aircraft, scenery, and utilities All are free-to-download and use - you don't even need to register. Browse on down to the file library here.