One of the major complaints over the years about flight simulation has been the lack of quality ground service teams that you see operating and working around the place. This has always been a major gripe for many simulation fans – it really does ruin the overall atmosphere. To help get around that problem, though, you need only consider the importance of using FSDreamTeams' Ground Service X feature. Now, with a new 1.9.11 version released, you can enjoy a much more comprehensive experience than you were able to in the past.
Changed and improved, the latest version corrects many of the issues that people have contentions with previously.
This software is used to help make sure that ground operations can come to life in the way that they should. From catering and deboarding of passengers taking place to baggage and refueling, life can be made so much simpler around the airport thanks to this.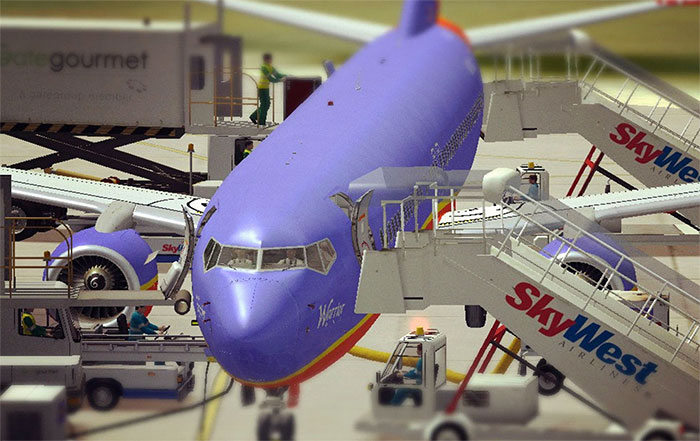 Ground services maintaining an aircraft in FSX.
Follow-me cars, docking systems, and authentically minded AI vehicles move around any airport that you visit. Using believable animations that look fluid and authentic, this makes it much easier for pilots to arrive and truly enjoy the experience that they are dealing with presently.
This works with all typical FSDT airports, and also helps to improve features such as the ParkMe feature. Now, perfectly integrated with all FSDT airports, you can enjoy a much more dynamic experience. If you make an investment in this, you get the full program plus support for all current and future FSDT airports. Also, you get all of the updates – like 1.9.11 – for free!
Thanks to this, then, you can enjoy a much more progressive and engaging experience that feels outstanding. By making airports look much more like their authentic, real-life counterparts, this is the perfect place to start.
Major Changes
Some of the most impressive changes that the new updates introduces & includes new icing conditions. This is a major addition and one that really helps make the whole authenticity of the location to come to life. Now, you are basing your development on both Temperature and Dew Point. The detection of ice has become far more sophisticated, making it much easier to enjoy and engage with such an in-depth experience.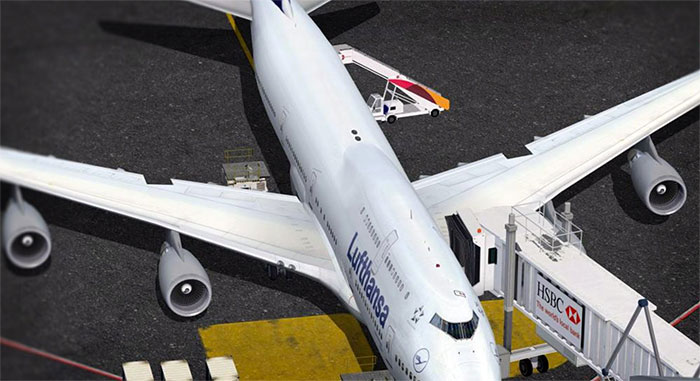 Boeing 747 with ground services around the aircraft.
The way that refueling is working in airports has been changed dramatically, too. Now, it starts off by filling up the wing tanks first, then moving to the central and lastly the external options. This makes sure that the fuelling process follows the real-life procedure, ensuring that you get a much more in-depth experience.
Also, pre-set fuel quantities are indicated clearer than eve. Now placed on the USGAL and Lb/Kg settings depending on what you work with, you can make sure you have a better handle on what – and where – fuel is going.
VIDEO: FsDreamTeam GSX - Ground Services X Preview
New, automated detection of all third party re-fuel programs has been included too. This can be found in the Options – Settings menu for GSX, ensuring that you can make the process as simplistic and as comfortable as you can.
New airplane configuration plans have been included, as well. These no longer will display traffic cones is the engine z is under 100m. this is used by the Concorde, too!
New ground operations have been brought to life in some style, too. For example, the Ground Operators for Aegean, Air Asia, Brussels South Charleroi and EVA Air is provided. However, these have to be downloaded via the Vehicles Update that is included on the GSX installer program.
Many bug fixes have been brought to the table, as well. For example, refueling no longer stops anymore when the quantity has exceeded the capacity of the tanker. Also, this would occur when Multiple Trips was disabled – this has since been corrected. Also, the Departure queuing problem has been solved.
Random operators are no longer going to start appearing too, when parking has no coding. This is a useful feature as it stops the mix and match mess that so many people were beginning to get frustrated by when using this program.
Also, progressive refueling has been included for custom aircraft systems. Before, it was activated only if the aircraft parks up. This has been corrected.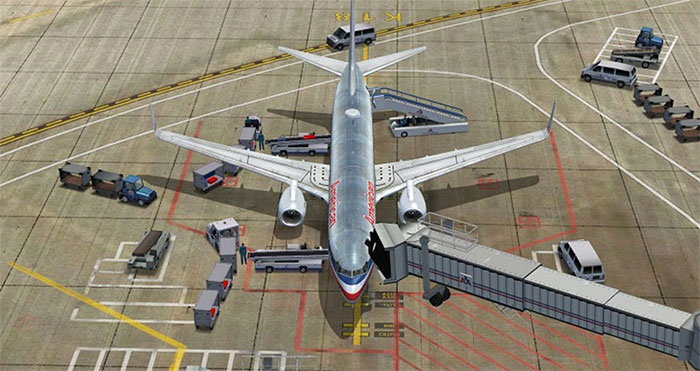 American Airlines aircraft with trucks, baggage and fuel services.
Minor Changes
De-icing pads have also been added to both Zurich and O'Hare Airports.
Full support for both P3D 3.4.22 and PMDG 747-400 V3.
Now, PMDG Ground Equipment won't be removed from the plane by default.
Better collision detection has added all-around, ensuring that your aircraft are going to be much more accurate in how they line up.
Original Features
Capable of working with all FSX and third party airports.
Full support with 3rd party aircraft and all default FSX airports.
Made for FSX only.
Many new sound effects were created from scratch, too, ensuring that you can get a much more authentic aviation experience.
Simple and easy to work user interface with ATC-like menus making it easy to control and manipulate as needed.
Customize vehicles using the Paint Kit provided to make up your own designs with a real ease.
Live Updates, making sure that GSX updates itself automatically for you to support as many different aircraft as it possibly can.
Full support for FSDT sceneries, third party add-ons and airport customization as and when you desire. This is easily used and improved using the Live Update feature.
Visit the official website for more information. You may also find this panel gauge very useful for using the default ground services (pushback/taxi etc.) Don't forget, many of our aircraft add-ons also include ground services out the box so do check them out here.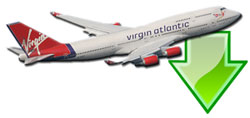 Don't forget... We have a huge selection (over 24,000 files) of free mods and add-ons for MSFS, FSX, P3D & X-Plane in the file library. Files include aircraft, scenery, and utilities All are free-to-download and use - you don't even need to register. Browse on down to the file library here.