Every now and then, an aircraft comes along that you've been dying to fly again. Having always had a love for Boeing aircraft, I was excited to try out this Virtavia take on the Boeing C-17A GlobeMaster III. So, when I got the chance to give it a go, I just had to let you guys know what I thought of it.
Not only is this a deeply immersive and enjoyable take on a fun aircraft, it feels as good as I can recall. The Globemaster III is a cool aircraft, and this is an equally stylish take on it. Sometimes, though, you get aircraft that look great but fly hollow, or fly great but look cheap. When you get a nice combination that seems to be an epic blend of both? You should give it a go.
So, having already probably given away that I really enjoyed my time in the sky with the Globemaster III, let's take a look. It's an aircraft that I've always had a fair amount of enjoyment flying before, and I do use Virtavia kit often, so I wasn't exactly shocked that this is awesome.
I'll try and break down what I thought of the aircraft after a good time using its services. From the detail inside to just how well it lives up to the specifications it's supposed to be equal to, I'll detail if it hits the spot.
Trailer Video
Below is our trailer video for the product. It was produced in P3Dv5.
​
You can purchase it over at SimShack here.
Product Background/History
The Boeing C-17 Globemaster III is a popular aircraft that is still in service, having celebrated its second decade in 2015. At $218m to build, this was an aircraft that came with high expectations. Even though it was supposed to be a major player in all manner of military-based missions, those lofty demands were met in kind.
The Globemaster III is a favorite of military types, aviation fans, and hobbyists like myself. There's a good reason for that – its uncompromisingly brilliant. Regularly armed for engaging in strategic airlifts as well as tactical assaults, it's vital role as a medivac and airdrop tool ensures it holds a positive reputation even today.
It's still in service, too, having served a mass of countries. From Qatar and Canada to India and Britain, this has been a majorly important aircraft for many countries. In 2015, the last of its kind was created – in Long Beach, California – to bring to end the creation of some amazing aircraft. However, just because they aren't being produced doesn't' mean they aren't in use.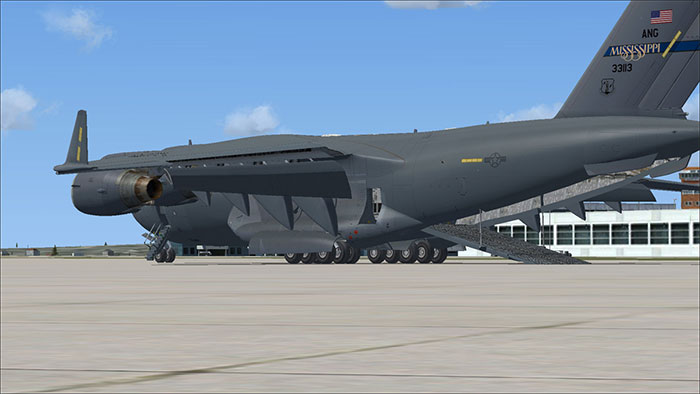 Aircraft with rear cargo doors open.

Capable of taking off from runways as short as 3,500m, it still plays a major role in the military operations of many smaller nations. This sturdy reputation means that it's likely to stay in our skies for many years to come, a symbol of the pre-Boeing era for MD. It's served in a variety of roles and took part in NATO operations alongside humanitarian aid events. In terms of its importance to the countries it's served, it's more than done its job for some time.
Installation
As you always hope, installation is fluid and symbol. Once you make your purchase and it's verified, you will be given access to a link to download the C-17. Let the download take place (170MB in size roughly) and make sure you have a means of opening a .ZIP format file. Once you have done so, and the download is finished, open it up.
You simply extract the files to your FSX folder, and it'll do the rest. Installation could not be any easier – most people will use the default path, but if you use the Steam Edition or another drive, you'll have to re-direct. It's very easy, though, so you should have no issues installing this even if it's your first.
All of the file make their way over seamlessly, meaning that you can just kick back and wait for the extraction. If you do run into any problems, then Virtavia often provide fast and effective support. You should be able to find assistance online, too, but this is really one of the simplest mods to work with.
Everything is pre-packed and prepared to be extracted. Once extracted, you'll find it in your FSX under the 'Boeing' wing so you can get access to it more or less immediately.
Inclusions
While many people will have likely come across the aircraft themselves in other recreations, I wanted to try out the Virtavia version for myself. The sheer array of liveries on offer was one of the first things I noticed upon installation.
In terms of what we get to play around with, three variants exist within the package. The C-17A, the C-17A "ER" and the C-17B are all part of the package.
Just like any Virtavia project, this comes with a pretty fantastic rendition of liveries. Since liveries are an important part of playing the historical aspect for many of us, variety is nice. They've lived up to expectation when it comes to the liveries, that's for sure!
The selections which have been delivered include;
March AFRC - 55140
McChord AMC - 10186
McGuire AMC - 44130
Mississippi ANG - 33113
Hawaii ANG - 55147
Royal Australian Air Force - A41-207
Royal Air Force - ZZ171
Royal Canadian Air Force - 177701
Bare 'Primer', the pre-delivery scheme - 00172
NATO, Papa AB, Hungary - 001
Qatar Emiri AF, Al Udeid AB, Qatar – 80201
It's a fine and varied collection and offers enough selection to cover the majority of the realistic selection.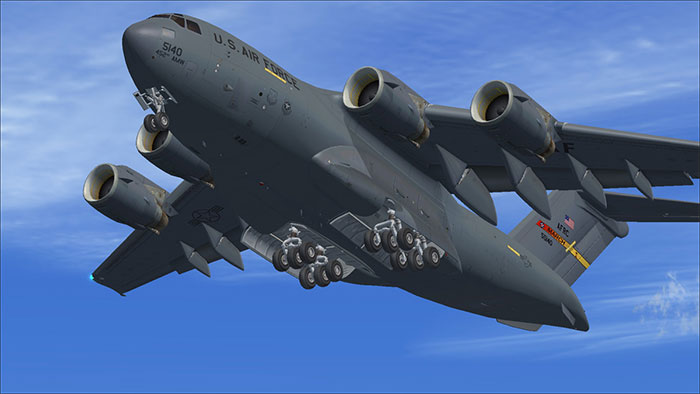 Aircraft taking off under full power.
Performance and Specifications
Performance obviously matters, and we always want to fly with an air of authenticity. Having got the official specs for the aircraft, this appears to be fairly accurate. The performance readings which are provided with the package include:
Cruising Speed – Mach 0.76 – 450 Knots / 515MPH / 830KM/T.
Range – 2,420NMI – 2,785MI / 4,482KM.
Service Ceiling – 45,000FT / 13,715M.
Maximum Wing Load – 150LB/FT2 / 750KG/M2.
Maximum Thrust – 0,277.
Takeoff at MTOW – 7,600FT / 2316M.
Landing Distance – 3,500FT / 1060M.
In terms of the general aircraft specifications, Virtavia has done a fairly stellar job of getting that spot-on. The work put into getting the authentic touch has to be applauded. It's a hugely impressive body of work, with the specifications of the aircraft matching what we could find. They read are:
Crew – Maximum of 3 people (2 pilots and 1 loadmaster).
Capacity – Maximum of 134 troops on palletized seats, 102 troops on standard centerline seats, or around 75T of cargo.
Maximum Payload - 170,900LB / 77.519KG.
Length - 174FT / 53M.
Wingspan – 169.8FT / 51,75M.
Height - 55,1FT / 16,8M.
Wing Area - 3,800FT2 / 353m2.
Weight - 282,500LB / 128.100KG.
Maximum Weight - 585,000LB / 265.350KG.
Power Plants - 4 x Pratt & Whitney F117-PW-100 Turbofans. Provide 40,440LBF / 180kN each.
Fuel Capacity - 35,546 US gal / 134.556L.
Given the size and power of the aircraft, it was important that it matched up to the specifications. I can tell you now from using the mod, it feels very impressive. The realism in terms of the specs is more or less spot on – from the right crew size dimensions to the weights allowed.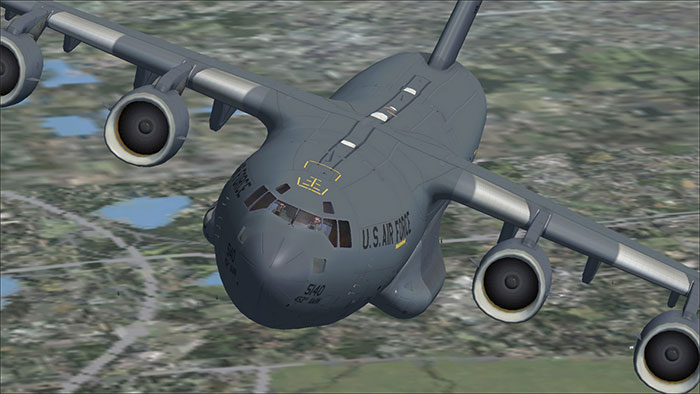 USAF Globemaster III in flight.
Manual/Assistance
One of the things I always really loved about Virtavia stuff was the quality of instruction given. Whilst installing this is a piece of cake, it's still got a 29-page manual that you can go through. It explains a lot of the aircraft functions and features and will answer just about any typical question you might have.
As such, the manual does everything that I was hoping for. Sometimes, manuals can seem a little overloaded and challenging to follow along with from a beginner's POV. This is nothing of the sort – fun to read whilst being instructive, the manual is excellent. Again, if you need anything covered that isn't in the manual, you can make your way across to your e-mail and drop Virtavia a message themselves.
Support is widely available, and makes it very easy for you to enjoy your Globemaster III even more. Whilst I had no genuine problems installing it myself if I did it would have been covered in the manual!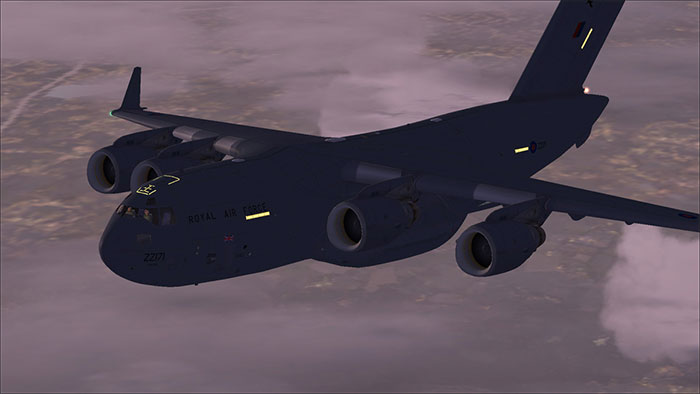 RAF Globemaster in flight at dusk.
Internal Design
Now, onto the juicy stuff!
The internal design is just fine. Whilst you're hardly going to be blown off your feet and it's not re-inventing the wheel, the best I can say is its Virtavia standard. That means it's consistently detailed, well put together, authentic and in scale. It might not go the extra mile on every little tidbit and extra, but there's more than enough to keep you interested.
It's very intricate, probably a little overwhelmingly so if you've never been in this model before. Not only are the textures very well put into place and looked after for a great finish, but it's very powerful in terms of options. You have so much selection to go through in terms of different options for controlling the aircraft. The numerous dials that you can spin, the usable levers, and little switches all over the camp make it so easy for you to just take control. I had no worries about making the wrong call after a while, but at first I did feel a bit flustered. However, I've used this enough times to jog my memory and get my act together.
If you are new to this model you might find it a bit hectic for a day or two, but it's so powerful. Whilst you might have had one or two more functional extras, it's just a small downside. You can't get everything, despite how the modders may try!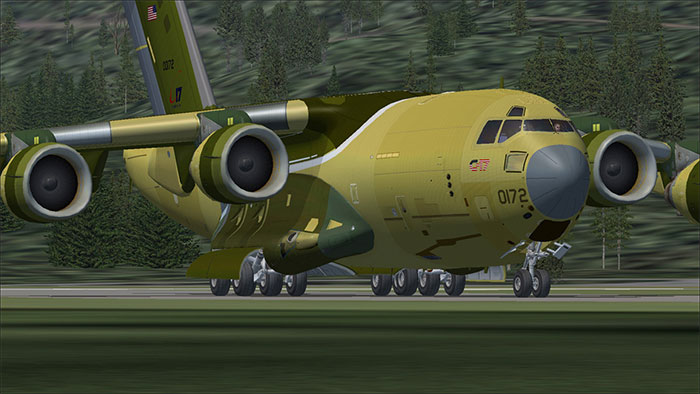 Aircraft in camouflage livery.
Something that I loved about this, too, was the detailed HUD. The pilot's HUD is far more in-sync than you get with many other mods. It's a good touch but it's also helpful and functional. Many times you can use a new HUD and just find its cosmetic and cool, not much use. This looks fantastic to boot. Don't like the color? Then swap it for one that you prefer – it's that simple.
The interior design also allows you to cycle through various camera views. Just hit A and you can spin through various views to get the one that you enjoy the most. The cherry on top, though, is the inclusion of the 2D panel. Not enough mods do this these days so it's nice to still get access to one (and a pretty damn good one, at that!).
External Design
The external design is always the first thing when you load up a mod, and first impressions count. Aside from the fact that I've used this before and have seen the layout more than once, I was impressed by my first click. It's a greatly detailed exterior, with a major amount of care given to the small stuff that, in the grand scheme of things, wouldn't be missed if it wasn't there. When it is though? It's the icing on the cake.
Given this is one bulky aircraft, you should expect that to show in the model – and it most certainly does. As ever the scale is spot on, so props to Virtavia. It's rather blanket design means that the exterior isn't exactly full of extras and spoilers, but it looks as cool as it does in real life. The designers have done a good job on getting the liveries and the exterior detail to match, though. The letter rivets and bolts are all visible, as are things like windows.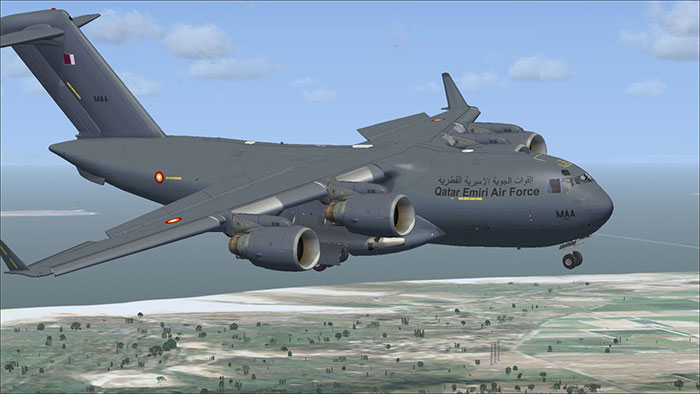 Qatar Air Force Globemaster III on landing approach.
The wings, the turbines, and all of the little extras are all managed to within an inch of reality. It looks brilliant – just as it should. The one critique would be that the designs are bland, boring. However, that is not the fault of Virtavia – given it's a military aircraft it's hardly gonna be emblazoned with Pepsi!
It's simplistic and dull designs are a hallmark of such a rugged aircraft with 2048 x 2048 pixels, though, they make blandness look rather grand!
Additional Design Features
In terms of the other added design features that we look for, it's got some nice and thoughtful additions. For one, it comes with a great set of sounds that help to tie in the high quality of presentation all together. Using the TSS sound set which comes with such incredible depth, this takes the sounds of the real aircraft and puts them in place effectively.
It's high quality and sounds so crisp – unlike many sounds that have the audible quality of hearing it through a pillow. There's no muffling of false placement with this mod. The sounds are created well, mastered credibly and used appropriately. In short, it comes together to offer a fantastic level of quality in terms of presentation.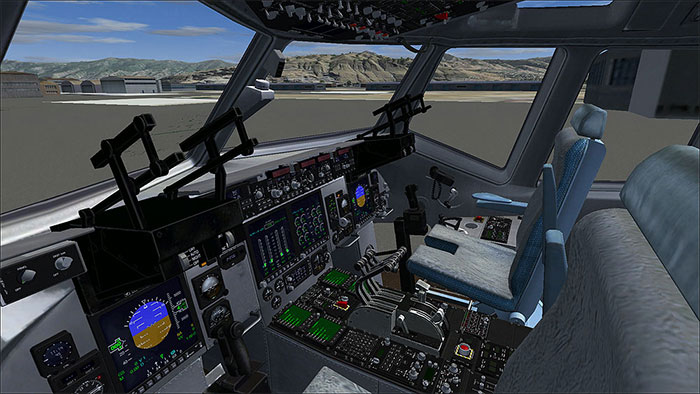 Image showing the 3D Virtual Cockpit in the Virtavia Globemaster III.
From the roar that you hear when you take off to the lovely gliding noise we all love to hear in-flight, this captures the flight atmosphere wonderfully.
Realism/Dynamics
One thing that always should come before anything else, though, is flight realism. Earlier we mentioned how some mods feel too imbalanced, but you'd always take quality flight over quality design. Virtavia, though, don't do half measures – this looks great, and flies just as well.
You don't need to be a real pilot to notice the difference between a Globemaster and other aircraft – they are quite distinctive pieces of kit. This is no different, designed to give you a very respectful aircraft to fly. It's got good mannerisms before you take off, making it easy to get up off the ground and across relatively short runways without any struggles.
It's never got the feeling of being beyond your control, which is surprising given the size that it is. Best of all, it lacks that mediocre calibration that comes with some mods and avoids any irritating twitching and jagging as you fly. As such, flights can feel like velvet when you get the hang of handling this in the air.
Once you are in the air, by the way, it feels just spectacular. It's got the same bulk and challenge you would be hoping for, without feeling as if you flying under shackles. You really do get to feel the power of the P&W F117-PW-100 turbofans, as you feel like you're being propelled along. In terms of performance, then, this goes a pretty long way to making sure you know you are flying a military-grade piece of hardware through the skies.
I was a massive fan of the dynamics of the aircraft, with simplistic flight and trouble-free management even through challenging weather. Whilst it's not exactly a cakewalk (which nobody wants) it feels about as comfortable as a couple hundred million pounds' worth of military hardware probably should be feeling!
Simulation Performance
In terms of performance, then, this is spot on. I never have any issues in terms of lagging, damage, or any kind of ill-performance. The only time I noticed any kind of drop was a non-related issue, so I cannot really speak any higher of the depth of simulation performance.
Sometimes frame rates might drop below what you want but it's never enough to feel like it ruins the quality of flight in any particular fashion. The performance is something that I have to applaud given the detail and the amount of action going on. A comparable aircraft would usually be feeling a little flustered when using a simulator, so it's a major credit to the performance that Virtavia has managed to put together.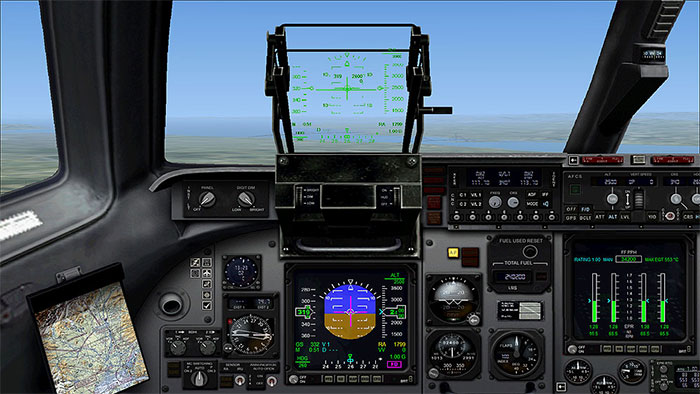 The 2D panel included for old-school simmers who prefer flying with a 2D panel.
The quality of the modeling and the performance should be lauded – it's rare that you get such clarity both in design and in performance. Virtavia has outdone itself in terms of in-simulation performance.
Maybe I was just pretty damn lucky but this never once gave me the impression that it was struggling in any kind of capacity. It's a well-coded mod that feels fun to use and never hampers the experience by lagging or choking up.
Value
The value in this, then, is easy to spot. Whilst it could have some more life in the liveries, it does everything you expect perfectly. The liveries are a product of the environment the aircraft comes from so nothing really to improve on – maybe go a bit wild, throw in some fictional liveries? A design kit?
Even then, you cannot complain. Virtavia is known for producing authentic feeling flight simulation products and this is no different. It's got style, it offers a credible level of performance and it feels authentic. If you want a stable and fun flight that's good value for money, go for this. It's not going to start pulling up any trees or changing the rules of simulation, but nobody is expecting that.
What you do get is a fine rendition on a popular aircraft that deserves no amount of recreation thanks to its service over the years.
Verdict
The aircraft is fully compatible with all versions of FSX (including the Steam Edition) and Prepar3D v4 and v5.
A fun and engaging taking on a wonderful piece of aviation history. It's got deep and engaging flight dynamics, an impressive array of minor effects, and authentic cockpit selections. If you want to get into the air in a military aircraft that's bulky and strong, go for this.
You can pick up your copy of this payware aircraft over at SimShack here. If it's freeware you want and you don't want to fork out money for a good quality model, try this freeware we have in the file library here.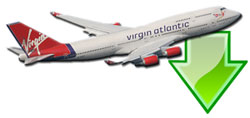 Don't forget... We have a huge selection (over 24,000 files) of free mods and add-ons for MSFS, FSX, P3D & X-Plane in the file library. Files include aircraft, scenery, and utilities All are free-to-download and use - you don't even need to register. Browse on down to the file library here.