Aberdeen (Dyce) Airport EGPD, Scotland, UK, v2. Previous version not required. Since creating the original version, up to date aerial imagery of EGPD has been found which shows slightly different ground textures in some areas. There are also non-standard touchdown markings on both runways, which were overlooked. The main runway has recently been extended from 1829m to 1949m at the north end. This and the new link taxiway are included. Main runway touchdown markings and helicopter runway numbers are objects from "FSX Runway Numbers And Markings" freeware add-on by Lance Tucker (RWY_MARK.ZIP). This is a quick and easy install, but scenery will work fine without it. By Junior Moult.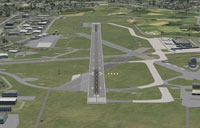 Aerial view of Aberdeen Airport.
PLEASE REMOVE ALL OTHER AUTHORS SCENERIES OF ABERDEEN AIRPORT, which may well be found in the directory below if you have any.
Copy and paste all 4 'EGPD_ADEX' named files into your main FSX / Addon scenery / Scenery directory. ie these four files should then appear inside the 'scenery' directory within the addon scenery folder of your main fsx directory structure.
If you already installed 'ABZ2012FSX' simply overwrite all when asked.
You can then start FSX and go straight to Aberdeen/Dyce EGPD UK.
Designed using ADE for FSX.
Some Main Runway and Helicopter Runway markings courtesy of FSX Runway Numbers And Markings freeware add-on by Lance Tucker (RWY_MARK.ZIP); not a pre-requisite but recommended. Follow the easy installation instructions for this add-on.