KLM Royal Dutch Airlines Boeing 737-800, registration PH-BXZ, nickname "Owl". This is the official new livery of KLM. The whole fleet will have this livery before the end of 2017. This repaint features 32-bit textures, opening doors and cargo doors, dynamic shine and effects, dynamic flexing wings that respond to turbulence, fully independent suspension, trim animation, gear steering, accurate flight dynamics, and more. Requires the Tenkuu Developers Studio B737-800 base pack (TDS_B737-800_BASE_PACKAGE.ZIP). Painted by Elmar Westra.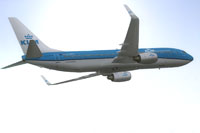 Screenshot of KLM Royal Dutch Airlines Boeing 737-800 in flight.
To install the repaint you need the TDS Boeing 737-800 model. If you have my earlier version of this plane, you can just overwrite all the textures if you want.
Installation:
Unzip the downloaded file.
Copy and paste the file/folder "Texture.KLM_PH-BXZ" into your "TDS Boeing 737-800" (or whatever you call your TDS 737-800) folder.
Open the "Aircraft.cfg" file and the following lines into it;
DO NOT forget to change the 'XX' into a number.
[fltsim.XX]
title=FREEWARE_(C)_TDS_16AUG2013_738_CFM56-7B--W2_+A0000_+D00_+B0 KLM New 2014 Livery 737-800 PH-BXZ
sim=TDSBoeing737-800w
model=B--W2
panel=
sound=
texture=KLM_PH-BXZ
kb_checklists=Boeing737-800_check
kb_reference=Boeing737-800_ref
atc_id=PH-BXZ
atc_airline=KLM
atc_flight_number=738
atc_heavy=0
atc_parking_types=GATE, RAMP
atc_parking_code=KLM
ui_variation=KLM Royal Dutch Airlines "PH-BXZ" (NC)
ui_manufacturer=Boeing
ui_type=737-800
ui_typerole=Commercial Airliner
ui_createdby=TDS
description=The Boeing 737NG is Boeing's 3rd generation and latest addition to their 737 lineup. The 737 is a short to medium range, single-isle airliner, which started production in 1996 and entered service in 1998. There are 4 basic variants to the 737NG, which can seat 110 and 210 passengers. It is also available as a cargo aircraft, a quick convertible aircraft, maritime patrol, military airborne radar, and a business jet. Over 4,500 737NG airframes have been sold and delivered around the world. \n\nTextures by Elmar Westra.