Version 3, now with side slip corrected. An update for FSX of pmaxF-86a by Kirk Olsson. Includes updated F-86 flight dynamics and an added panel. The original F86 panel is also included so you can use it if you wish. The VC may be considered unusable as there is a black rectangle in the way. This aircraft and the F-86F30 fly the best in tower view of any the author has updated. It goes just where you point it. If you like doing acrobatics in tower view, try some with this aircraft. This is the whole aircraft. By Bob Chicilo.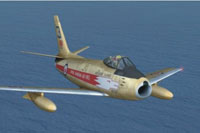 Screenshot of North American F-86A in flight.
Unzip to a folder of your choice. Copy the aircraft to the FSX airplanes folder. Copy the gauges and effect to the main FS gauges and effects folders. No need to overwrite anything already there.
The gauges for the old panel are in the old panel, so if you want to use the new 2D panel and the VC, you will need to copy the gauges from the old panel to the main FS gauges folder.
To use the old panel you need to remove the f86 from the panel= line of any of the paints you want to use the old panel with.
The drop tanks can be toggled, there or not there, by the tail hook key(s).
[Reference Speeds]
flaps_up_stall_speed= 110.00
full_flaps_stall_speed= 98.20
cruise_speed= 450.00 //252 knots indicated at 38,000 ft.
max_indicated_speed=675.00
max_mach=1.00
max_level_speed=605 //knots indicated at sea level
The above speeds will put you in the ball park of what the aircraft will do performance wise. They can also be found in the aircraft.cfg file.