It's bonanza time for flight simulation fans--there has never been so many different products to play with! The new Microsoft Flight, X-Plane 10, Prepar3D…
Wait. Prepar..what?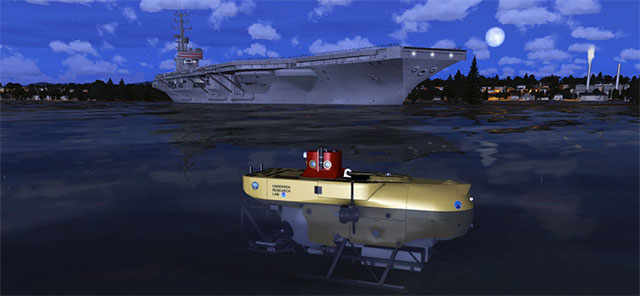 ​
​Image shows boats and submarines in Prepar3D, demonstrating the sea aspect to the simulation.
If you are just hearing about it, you are not alone. For years Lockheed Martin has quietly worked on Prepar3D, a new flight simulator designed for training and instruction. Prepar3D (pronounced "prepared") allows companies and governmental units to create training simulations for air, land and sea.
In 2009, Lockheed Martin purchased the rights to Microsoft ESP, the commercial twin of the popular Microsoft Flight Simulator series. They hired several of the Microsoft developers to help create Prepar3D and develop it for commercial training markets.
For example, military units use Prepar3D to build their operational skills by training in various aircraft and vehicles before entering into real-life combat situations. Airlines and aviation related companies can train pilots and air traffic control staff under a wide variety of flight conditions. Emergency and rescue teams are able to simulate various crisis situations to develop disaster-preparedness skills.
Backwards Compatible
One of the big benefits for Microsoft Flight Simulator users is that all their addons are fully compatible in Prepar3D. Flight simulator fans often have a lot of time and money invested in their favorite program. Lockheed was smart to make sure MFS users can employ their addons in Prepar3D.
A few commenters have suggested that Prepar3D is also a good opportunity for Lockheed to clean up what some refer to as Microsoft Flight Simulator's "questionable physics," meaning that they don't believe that the Microsoft program always delivered an accurate flying experience. For the time being, Prepar3D is often called "smoother" with "better graphics" than FSX by many flight sim forum participants, although an equal number feel the programs are about level in performance.
Constant Evolution
The Prepar3D team has continually added features over time. Recent evolutions include a drag and drop Windows 7 interface, the ability to save multiple monitor settings, millions of kilometers of scenery, better hardware controls including enhancements for fighter pilots, more realistic weather graphics (limitation for textures can now be pegged at up to 4096 x 4096), night vision, internet-based multi-player functionality, and underwater adventures using submersibles and U.S. government coastal bathymetry.
​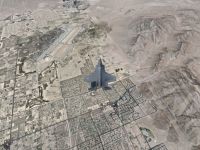 A fighter jet with high resolution ground textures.
Prepar3D currently features almost 25,000 airports worldwide. Unlike most flight simulators, the program offers a number of land and sea vehicles users can utilize. The list of available aircraft includes:
P-38 Lightning
Beechcraft King Air 350
Maule Orion
Piper J3 Cub
Robinson R22
Lockheed P-38 Lightning
Beechcraft Baron 58
Lockheed Constellation
Mooney Bravo
Need to go underwater like James Bond? No problem. Jump in a Neptune Submersible and explore the ocean depths. The real Neptune can go down 750 feet, probably enough for you to escape any "Dr. No" types chasing you.
There are three licenses available for Prepar3D:
Professional- Corporations, military divisions and private pilots are examples of organizations and individuals that will benefit from a Professional license.
Academic- Universities, aviation schools, and private instructors utilize the Academic license to communicate lessons in avionics, math, science and related disciplines.
Developer Network- a monthly option created in order to help build a community of developers contributing add-ons and related applications. The Network is open to experienced developers as well as those just learning the ropes. Registrants get special software kits, additional vehicles and applications, and access to labs and special opportunities.
User Reaction
Many people were genuinely surprised and excited to learn Lockheed had effectively taken over the Flight Simulator code, even though Lockheed has sent press releases with each upgrade since 2009. There seems to be a lingering dissatisfaction with Flight Simulator despite its overwhelming market dominance. Perhaps some are counting on Prepar3D to rectify perceived shortcomings of the past.
The buzz for Prepar3D is generally positive. Sauron writes in the SimHQ forums, "Well, I got it installed today. And here's my review: If you care about realism, get it right NOW!"
Michael Martucci, an educator with Oak Ridge High School in Orlando saw the program at a trade show centered around the defense industry. Since then he has been using Prepar3D to help get kids involved in technology. He told the Orlando Sentinel the program, "…has been like a wildfire for getting kids interested in science and math."
Additional Products
In addition to the core product, users can invest in several additional programs:
GeoSketch is a plugin to the popular Google Sketchup 3D modeler. Developers can quickly create 3D models for simulations and textures. These can easily be exported to Prepar3D for final testing.
Model Converter converts OpenFlight models from other simulators to the format used by the program.
Model Placer lets developers place many buildings, trees and other structures into Prepar3D very quickly. It is designed to work seamlessly with Model Converter.
System Requirements
Lockheed Martin puts a minimum requirement for operating Prepar3D as a Windows XP, Vista or 7 (32-bit) system with a 2.0 GHz processor, 2GB RAM, 20GB HDD, a Vertex/Pixel Shader Model 3.0 or newer, DirectX9 or newer compatibility, and 1024x768 minimum screen resolution.
Realistically, a flight simulator of this quality demands more power. The company's recommended set-up is more robust: Windows 7 (64-bit), Quad Core 2.0 GHz (Per Core) +, 4GB+ RAM, 20GB Hard Drive with 2GB for the Software Development Kit, GDDR5 Graphics Card or better with 1.0GB onboard RAM, a Vertex/Pixel Shader Model 3.0 or newer, DirectX9 or newer compatibility, and 1024x768 minimum screen resolution.
Support
Lockheed has an active user forum with almost 8000 members. They can get the latest product news as well as hardware and software support. Developers can showcase their work and get answers to questions on the software development kit and simulation, scenery and mission development.
Prepar3D.com also features a Community Downloads area. This is where they access the Software Development Kit. Members can get additional aircraft like the Lockheed L-749 Constellation and both passenger and cargo versions of the Lockheed L-188 Electra. Scenery choices include airports in China and bathymetry for Lake Ontario. Users can also find repaints like a Nemeth Design Mi-2 and a C-17A Globemaster III.
Flight Simulator DNA
Prepar3D is designed for training, but its DNA comes from a game created for entertainment and fun, Microsoft Flight Simulator. And Lockheed Martin is, of course, a defense contractor. As demand for their products has ebbed, they are seeking new ways to create revenue. A company spokesperson explained it this way to the Orlando Sentinel, "It shows we're thinking in different ways, which we have to do these days. We're not only thinking about it, but we are backing that up by taking action."
Can Prepar3D help them crack the consumer market? Only time will tell. If early reaction is any indication of the future, Lockheed has a hit on its hand.
Promotional Video released by Lockheed Martin
Pricing
A few comments suggest that I should have mentioned the pricing structure.
Lockheed Martin have two tiers, they are priced as follows:
Standard Prepar3D License - $199
Academic Prepar3D License - $49.95
There is also a developer license at $9.95/month which also gives you access to the SDK - more information on this special licence here.
You can grab your copy now over at the Prepar3D store.
Once you've completed the checkout, you can download the software directly from the web - I don't think they offer a CD/shipping service.
Freeware Add-ons/Mods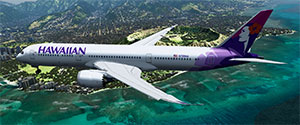 As you may be aware, many of the original FSX freeware add-ons were compatible with Prepar3D (P3D). However, since Lockheed Martin converted Prepar3D to 64-bit in P3Dv4, some of the previously released FSX mods/add-ons are incompatible - mainly panel gauges and related modules. To rectify this, we have created a dedicated page for P3Dv4 add-ons over here. On this page, you will find freeware that is 100% compatible (and tested) with the latest Prepar3Dv4.
Let's see your comments below and don't forget to share!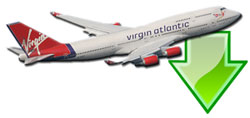 Don't forget... We have a huge selection (over 24,000 files) of free mods and add-ons for FSX, P3D & X-Plane in the file library. Files include aircraft, scenery, and utilities All are free-to-download and use - you don't even need to register. Browse on down to the file library here.