For many years, aircraft carriers have played a key role in military aviation. It's been the stopping point and starting point for many aircrafts over recent decades, giving them an easy place to take off from when they were low on fuel or in need of repairs. Aircraft carriers alone have completely revolutionized the way that we fight and take the battle to other parts of the world, and for that reason it's become one of the most prominent parts of military planning for quite some time.

Even today, it's still a vital part of transport and planning for military attacks.
However, not every aircraft carrier is the same; much like aviation, it's a subject that has gone through rather intense changes in recent years. The various additions to the service over the years has created a nice array of unique and engaging aircraft carriers that offer far more than just transport and fueling.
For simulation fans, this re-make of the brilliant USS Enterprise by Team SDB is well worth looking into! Team SDB are one of the most revered names within the flight simulation community, and can be the perfect choice for anyone who wishes to try out aircraft carriers in particular. Their style and their overall nature make them an absolutely perfect choice.
About Team SDB
Team SDB have been around for a while now and some of their own products and creations along the years have been some of the most impressive to boot. Rather than recreating the same aircraft that have been done a million times over, Team SDB concentrate on bringing things to life that none of us have ever had the opportunity to use before. Instead of just new textures and an update to the flight capabilities of the aircraft, they make wholesale changes to the entire world around you.

​
Flight simulation will never look the same again if you decide to enlist the help of the various Team SDB modes out there!
They have created a wide range of different scenery packages, which are arguably their most common creations. By making the rest of the world look a bit more realistic and feel a bit more like it should, this helps the aircraft blend in better and complete the whole experience. The plane can be as exciting and as realistic as possible, but if the world isn't up to scratch it kind of kills the whole point and reason of simulation!
This is why Team SDB is so popular; they know how to make things stand out, and they understand the importance of doing the right thing when it comes to capturing the effect and feel of whatever they have delivered. However, what about this rendition of the USS Enterprise? Does it stand up to their usually incredibly high standards accurately?
The USS Enterprise
The aircraft carrier itself was a bit of a breakthrough creation from a military standpoint. Whilst I won't pretend to have a full working knowledge of military warfare and why they need even more firepower, the USS Enterprise strikes a chord for the lasting change that it brought to aviation. Not only did it help to mark the beginning of a new era of development and creation within aircraft carriers, it made the actual creation and development of other aircraft a whole lot easier, too. The reason for this is fairly simple; the Enterprise took the first great steps nuclear power being used in boats.
It was the very first nuclear-powered aircraft carrier that was ever made – and to this day still holds this distinction – and is also one of the longest created to add in there. With all of these little factoids standing out and making the USS Enterprise look even more appealing next to the competition out there, who wouldn't want to take off from one of the most impressive aircraft carriers ever assembled?
Its push in the right direction with regards to nuclear power and energy being used was a landmark moment for military navy and aviation. Having finally shattered a barrier that had stood for too long, this revolutionary piece of kit soon became a poster for what could be achieved when technology is allowed to flourish. By combining so many useful features together, this project came together perfectly to forge a new path for military grade boats.

First commissioned as far back as 1961, you might be under the impression that this is a relic or that aircraft carriers must have stalled for this to be seen as one of the most powerful around. However, it's still in regular use by the United States Navy and carries a massive amount of respect for the support it has provided in various conflicts.
Nicknamed the "Big E", this stunning piece of hardware has been used for more than five decades, providing professional service and loyalty to the United States military. Now, you can see what it's like to take off from the deck of this behemoth by yourself!
The array of features included is listed below, but you'll find that this modification matches up with the historical reality of the aircraft; it catches the eye in so many different ways. The natural style and nature of the aircraft carrier really cannot be missed, as it's a piece of cake to take off from given its stature relative to any aircraft that you could realistically use on this carrier.
Personally, I found this to be just as the way it had been described to me in various forms of media in the past – it carried the same daunting hallmarks of the real thing, and had all of the right features in place. Additionally, the graphical side of things was unbelievable – it really did take on the look and feel of the real thing, much to the credit of the designers.

Key Facts
As the first ever aircraft carrier to be powered by nuclear energy, this set the tone for future generations of military grade aircraft carriers. It provided a breakthrough into a market that was previously seen as unattainable by the military, making a massive difference to future aircraft carriers progression

It's also the world's only aircraft carrier that actually runs on not one, but two nuclear reactors. As dangerous as this might sound, it makes the USS Enterprise a hulking monster that can power through the choppiest of waters with relative ease in comparison to many of its less imbued allies

As you might imagine, this is the very first aircraft with a nuclear powered capacity to actually be turned off! It was decommissioned and put into "retirement" in 2012, becoming the first of its kind to ever suffer from this rate. However, it's incredibly record means it's unlikely to be scrapped

Following on from its various aviation records in terms of nuclear achievements, it was also the first vessel to be equipped with nuclear power that actually took place in some form of official combat; others have been used in training drills or ceremonies, but never before had they engaged opponents

The longest naval vessel on the planet, this stands as a testament as to what a ship can look like when using the modern world as its reference point. Whilst aircraft has more or less superseded the boat as a form of travel, it still acts as a method of transport

The USS Enterprise also holds its own class, being the only ship that is listed within that class moving forward. It makes a nice change to the usual classes that we hear of all the time, and will give you an appreciation that the aircraft carrier you are taking off from is unique

Serving more than five decades, this aircraft carrier holds the record for the longest time of regular usage within the United States military – it's dedicated service, incredible durability and innovative design means that it's still a regular feature within the world of aviation and navy, even today

The aircraft itself took place in an around the world tour during 1989 and 1990, and successfully completed that journey along the way. This added a worldwide round trip to the list of achievements that the USS Enterprise has been involved in throughout its illustrious and unique military career

In 1998, the aircraft carrier went through an extensive list of changes and additions to make it feel a little bit different to the previous model. This made a massive difference to the overall impression that aircraft carriers got as it became a primary news story for a long time!

The last "main" act that the aircraft carrier took place on was when it was involved in the capture of 75 Somali Pirates in 2011. This was a coup at the time, as many risings and incidents involving these pirates had become a common feature across the world in 2011

Key Features
This package comes fully equipped with two complexly different configurations. This gives you all the help that you need to make the aircraft represent either the 1980s equivalent, or the late 80s design that comes with some unique changes and additions. With new design additions in the later version as well as some more cosmetic changes, it also introduces some basic changes to the overall profile of the aircraft and its features. This gives you total control over what kind of aircraft carrier you want to see, and how you will actually be able to interact with the aircraft carrier

Empty deck versions are included, too. This gives you the freedom of the aircraft to fly around and see what you want as you go, giving you the freedom of the deck. Likewise, you can add on a fuller deck equivalent to give the ship more ambiences – the USS Enterprise is very rarely empty, after all! This lets you get some highly detailed, unique aircraft sitting there on the deck providing you with some things to watch out for when you are taking off!

The static aircraft included in this package that are eligible for sitting on the deck is a wide range of military grade aircraft like the A7 Corsair II, the A-6 Intruder, the F-14 Tomcat, the S-3 Viking and the SH-3 Sea King. This adds a nice military flavour to proceedings and really brings the whole look and feel together in a stunning display of contrasts in size and style

This package was designed with the intention of being capable of making the most out of the FSX Acceleration package, so you have full carrier operations compatibility. This means that you can deal with the power of the aircraft carrier itself far easier to improve compatibility in a huge way

An advanced FLOLS system has been included, along with a settable glide scope and an audible LSO. These extra features make it much easier for you to get to grips with taking off from the aircraft carrier, as well as being able to find your way back when you do decide to take off

It also comes with a realistic launch speed for each individual aircraft – this gives you a better idea of the levels you need to reach if you want to be able to go from start to finish and complete a textbook take-off

The deck is loaded with the kind of service vehicles that yo would expect to see on such a vast piece of military-grade equipment. Fire trucks, service vehicle and the deck crew are lined up all over the ship adding a nice layer of vitality and life to the whole thing, making it feel far more realistic and therefore enjoyable. For those who need to see realism, this is for you

Coming in to make your landing – or taking off – at night? Then the realistically bright operation lighting will come in. as well as this, you get to see the awesome sequenced flashing coming from the centreline of the runway, making it nice and easy to line up your landing

A highly detailed and always active Sea King guard helicopter also flies alongside the aircraft, making it nice and easy to know where the aircraft carrier is. This helicopter is always on the move, and adds another little layer of realism

An Adams Class guided missile destroyer also sits in the sea alongside the carrier, giving it a guard both in the skies and in the seas for the ultimate level of protection. If you want to see just how well guarded an aircraft carrier like this can be, you need to see the destroyer!

Advanced Features
Huge work has been carried out on the coding and the overall development of the aircraft carrier to ensure that it delivers smooth and consistent performances even on machines that aren't quite up to the high standards of modern day gaming machines. It's coded in a fashion that allows for high resolution textures, detail and animations to be taking place in real-time without any damage or limitation to the way that FSX runs or is capable of handling the various operations going on at any time

Flight files are included within this package to make it nice and easy to hunt down the carrier itself, so if you find yourself too far away you can simply load up the location of the carrier in your 3D cockpit and get access to the carrier in that way

Everything in this project has been referenced from some kind of official source, so everything that you see here is authentic and representative of the real thing. There is no creative licensing being put in place here; it's all about being able to fly something that's akin to the real thing!

16 moving carrier tracks are also included, with eight locations provided for each edition of the aircraft. This means that it won't just show up on the same places as it always does as it have a set of different carrier tracks to follow. Now it will actively move around and you won't feel like you are landing at some broken down old aircraft carrier or a defunct old base. It carries the realistic feel and style of the real thing, and can be further enhanced if you decide to switch on the various features that are listed down below

The "Advanced" versions of this aircraft also come with some various add-ons included such as a settable glide scope and new night lighting, giving you an even more impressive layer of realism added onto the original package. If you want to get access to these Advanced systems, then you need to carry out some minor edits that are included within the original manual under the 'Advanced Versions' page listed on page 10. This makes the whole thing spring to life even more, and gives you an incredibly easy way to let the aircraft feel just like the real thing

System Requirements & Performance
The first thing that I noticed when I first put this on was just how easily it actually ran and managed itself – despite having a fair chunk of wide-reaching additions added in there that could slow things down, this aircraft carrier runs really smoothly. I tried it on a higher-end system and a medium system, and found that performances and frame rates were really steady from the minute I started it up right through to when I came back to land after a few hours of flying.
It improves the world around it quite dramatically, without pushing things too far or taking away from the overall performance. Whilst it's nice to have a great looking project, it needs to be coded right so that it will run smoothly; this does just that, giving you all the help that you need in understanding the USS Enterprises' capabilities.
In general, too, the system requirements aren't too brutal. It's around the same as you would imagine with any flight sim addition of note, and are;
Windows XP SP2, Windows Vista, or Windows 7
A fully installed, legitimate copy of Microsoft Flight Simulator X Gold or Service Pack 2 with Acceleration Pack
CPU 2.4Ghz or better (Dual/Quad core recommended)
At least 2Gb RAM
A minimum of 512 MB DX9 or DX10 Graphics Card, preferably better
At least 98 MB hard disk space for download files, and 250 MB for installation
DX9 compatible but please be aware that this is not guaranteed to be compatible with DX10 Preview
Not sure if you can run this mod? I would recommend going to your 'Start' menu and looking for something known as 'dxdiag'. This will give you an idea of what you can run and what your own capacity is in comparison to what is listed above

Ease of Use
AS you might imagine, this is incredibly easy to use and manages to get you around the waters with an absolute minimum of fuss. As mentioned in the section below, there is a real prominence and style to the overall level of performance that you get despite the huge attention to detail and style that is on show here. However, it's got so many little features and additions added in there that you can find it's a rather significant challenge to take off properly without knowing what you are doing!
Additionally, there's so much included that you need to remember to actually make it all functional! To do this, you need to consider the following;
This mod comes with a huge range of scenery additions that help to bring everything together and make the whole package look a little more grandiose. However, you need to actually activate it; it's fairly heavy on system requirements so you need to prepare for that. To do this, you need to launch FSX as you would normally and head to the Settings page. You will then see an option which says 'Scenery Library' so click on that

In here, you will need to click the 'Add Area' button

Go through the directory browser that pops up until the locate a folder known as 'Team SDB USS Enterprise_East_Coast' and load up everything that is included in here

Repeat the same trick for the folder named 'Team SDB USS Enterprise_West_Coast'

Now, you should have access to all of these features within the simulator itself. It makes a massive difference to the overall look and feel of the simulator once you are flying around and seeing the world below, so it's well worth sticking with if your machine can handle it.

One more thing; you need to have the 'Ships and Ferry's' option in FSX settings set to at least 10% for the carrier itself to actually appear!
However, this is the only real "technical" aspect of installing extras that are included with this into the simulator. The rest of it is fairly simple to follow and should be easy enough for you to manage. I would suggest checking out the local forums, though, as you will find that answers for Team SDB modes are plentiful and also very detailed. This makes discovering what you need so much easier than it used to be.
Graphical Quality
The graphical quality was something that struck is quite deeply when looking at the images – the actual quality of the aircraft carrier (regardless of the settings that you are using) blows away the vast majority of aircraft carrier mods. Whilst many mods with stunning detail tend to let you down on the functionality side of things, this is not the same in any capacity. It carries the quality and style that you need to see from a premium add-on, and covers the entire project in HD textures that will look fantastic from any distance or angle.
However, the most impressive thing about the graphical quality is – again – just how easy it is to actually get to grips with! It makes it super simple to take off and fly around, giving you a nice and relaxing flight style that is manageable, simple and extremely effective. It also helps you understand just how much data a flight simulator can load onto the screen without hampering performance given the fact that this is coded so well.
It fits far more onto the screen without hurting your enjoyment or your experience one bit, living up to the high standards set by Team SDB.
What We Liked
The main thing that I noticed almost immediately upon arriving at the carrier was the accuracy. I immediately started looking for things that could be considered out of touch or not in sync with the real thing and the cynical part of me was left a little bit disappointed in truth; nothing really stood out! With hours of studying and comparison with the real thing carried out by the developers, I wasn't able to notice anything that stood out as weird or as something that shouldn't have been there

Likewise, the performance and the realism of the craft all work together perfectly. It all feels real and moves in an authentic manner, making it nice and easy for you to control the aircraft when you are trying to take off. There are no drops in frame rate (unless you are running a real Stone Age machine) and there is nothing really there to make functionality or ease of access any more challenging than it should be

A nice dose of realism is used in here, though. The scale is spot on and the actual design carries out each and every little facet that it should – it makes the whole thing feel just as it should, which is obviously very important. Authenticity is key with supporting add-ons like this, and the developers clearly took the time to just do it right and finish the whole thing off. It gives you a much more comfortable finish and look, bringing everything together very impressively
What We Disliked
However, I did find that the back and forth needed to get everything actually loaded up and operational was more trouble than I had expected. Whilst I understand why it was like this, it still didn't make it any easier to load things up and get the project working properly

Although the manual explains all of this to you in rigorous detail, I still found getting a few of the problems to work in the way that I had intended was a struggle. For example, de-activating the East and West Coast scenery packages took a considerable length of time to actually happen
Video Demonstration
Below is a video created by user: fsxtopgun on YouTube. This is a great video that really shows the carrier in all of its glory.
Overall Verdict
Overall, I was hugely impressed with the overall nature and development quality of the project. It all comes together very nicely and feels as if the thing was put together by the right people who understood the qualities and the overall nature of the aircraft carrier itself.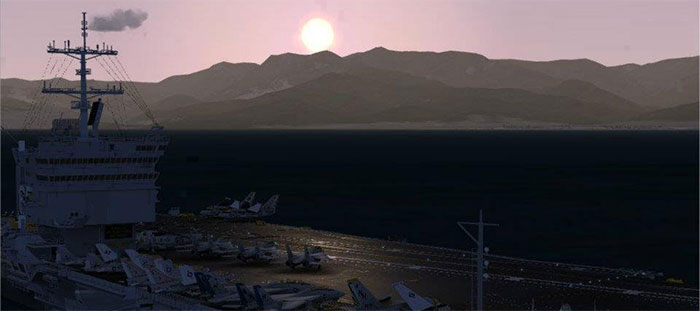 The USS Enterprise carries a big name in the world of aviation – and in the navy – so it isn't much of a surprise that someone out there wanted to do this right. The overall finished product, though, is without a doubt one of the most attentive and impressive aircraft carrier upgrades I have ever seen for any flight simulator. It captures the look and the feel just perfectly and also makes sure that it feels like you are actually taking off from the 1,123ft aircraft carrier itself!
An incredibly detailed project that really fits the bill as a proper simulation addition, this makes everything fit together in unison and brings an entire project into one. Although I did have some teething pains getting used to removing the mods to use other packages I had downloaded, it was relatively easy enough and made a fair difference to the overall accessibility of the mod.
I would love to see what else the team were capable of, though, as it provides you with a real opportunity to just see the sheer scale and style of such an impressive piece of hardware – how could more modern carriers be re-enacted?
We also have some freeware aircraft carriers over in our FSX downloads category.
You can grab your copy of this stunning aircraft carrier over at SimShack.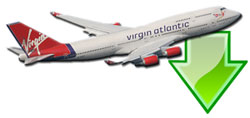 Don't forget... We have a huge selection (over 24,000 files) of free mods and add-ons for MSFS, FSX, P3D & X-Plane in the file library. Files include aircraft, scenery, and utilities All are free-to-download and use - you don't even need to register. Browse on down to the file library here.