For years, the development and improvement of scenery with flight simulators has been a common thing. People love to fly over their most beloved areas in the world and get to see all about them, learning all about the changes and improvements that have – and can – be made in the future.
This latest release by the popular Aerosoft group provides everything that you need in abundance, giving you incredible access to one of the most important airports in Germany.
It's a large regional airport, and this latest releases manages to capture it in the most stunning level of detail possible – compatible with all FSX versions, this makes the perfect companion for aviation enthusiasts thanks to its sublime attention to detail.
This package promises to offer high levels of performance, too. This will not reduce the overall output of your simulator like many other mods an instead will ensure that the quality of the product is sound.
This, in turn, makes it a whole lot easier to get into the skies from the airport as it's been totally revamped to have easier and more effective access as well as a whole host of other useful features along the way to make the airport look just as it should.

About Magdeburg / Cochstedt
The airport itself has stood for more than fifty years, as it was built in 1957 and was used as a military air base for quite some time. It's open to the public today, though, and it makes a really important part of the German aviation scene. It's based in eastern Germany and is located towards Cochstedt, more or less right in the very center of Europe. The airport is also based very closely to Magdeburg, which is the capital of the State of Saxony. Therefore, this airport plays a key role in many different parts of German society today.
The airport was used by Soviet troops at one stage, as well. In 1968, though, it was eventually made far longer and the overall logistics and operations that took place here were changed and improved in a multitude of ways. This made it easier for the airport to start being used for multiple services, and it the airport was eventually evacuated by the Soviet infantry who had once occupied it. The first steps for a strong and continued existence within the airport for civilian activities were born at this point.
The transformation then began for the airport to become more civil and less based on the military side of things. the airport was totally refurbished and made a class D airspace, with full day and night operations that make it one of the most useful places for people to stop off in. given its relative distance to many other parts of Germany, too, it makes a very strong stopping point due to the fact it's also very well managed – the airport was actually operating while insolvent in the early 2000s, however. It was eventually restored, though, and today is one of the more successful airports being used in Germany today.

Key Features
Designed and rendered by experts who have put in the hours to find out the scale and the size of each and every aspect of the airport. This makes it much easier for people to find out what they are looking for whilst being able to appreciate extra detail

A huge level of realism and alignment throughout the process that makes the airport facilities and the overall surrounding are authentic. Photorealistic textures and images are used to make sure everything matches up with its real life equivalent, maximizing the level of detail that will be provided by any users

The airport staff and its thousands of users and visitors will be actively seen from your aircraft – the place fees genuinely alive as you fly over thanks to this incredible influx of items that have been left in the airport to make it feel as packaged and alive as possible

Animated traffic that looks brilliant and makes it nice and simple for you to hit the ground and actually fly the aircraft in the right way – now, the whole place will feel far more alive than it used to. New aircraft with improved AI will fly around the place

Traffic also litters the roads in and out, creating that impression of life and change going on at all times. This looks brilliant and makes it very easy for people to enjoy the sheer quality and change that comes along when using something as enjoyable and as effective as this mod

Aerial, HD imagery is used for the ground textures so that they match the real thing and actually add up properly – everything is made to match reality, ensuring that you get the kind of quality that you need to really take things to the next level in terms of realism

Day and night object textures are created at an incredibly high resolution to match up the level of intricacy and detail that would be expected when dealing with something like this. It's easy to use, effective and hugely beneficial to you when flying around – the entire airport is much easier to spot when the textures change so dramatically

The ground textures are also made to match day and night – vegetation and overall textures throughout the location have been made to match the season and the time of day to make it look a realistic and as easy to fly around in as it possibly can be

Numerous hand placed objects are left all across the airport, too, making it really easy for you to spot where you need to land and also spot some of the landmarks that lie around the place. This makes it easier to get around the airport and actually enjoy its style – this includes some very highly detailed and specifically designed aircraft that sit around the place, albeit in a static manner

A scenery configuration tool has been added as well. This makes it easier for you to manage the lighting and ensure that everything looks as it should and that nothing is too bright or over the top. This improves how the lighting works throughout the simulator, improving the overall quality and realism in many different ways

Individual performance settings can be added changed and improved for those with lesser machines that aren't capable of using everything that has been included. This will ensure that regardless of the strength or style of the PC that it can be handled and prepared with relative ease

Automatic updater is included, too, which makes it simpler for anyone to keep their product up to date and working in the way that you would have always imagined it to - also ensures that you never need to worry about missing out on any of the new changes and improvements that could be added later on down the line

A quad installer that makes sure you have access to each and every version of this mod. This makes it much easier to have it working and operating in each and every one of the flight simulators that you tend to use – it really does make a significant difference in the long run to your overall enjoyment of the airports features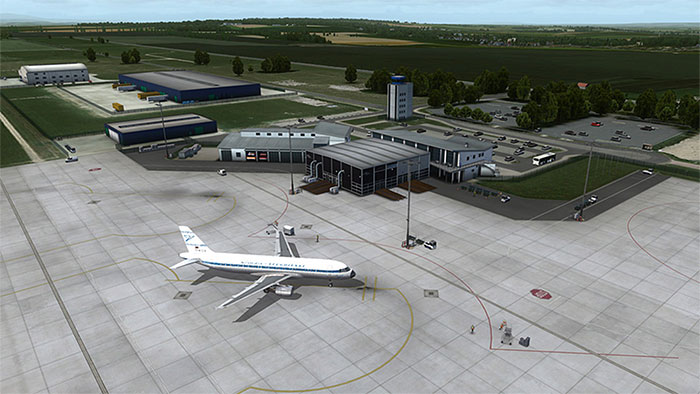 System Requirements
Simulator needed: Microsoft Flight Simulator X (SP2, Acceleration Pack, Gold Edition or Steam Edition) or Lockheed Martin - Prepar3D v1 or v2
OS needed: Windows XP(SP2), Windows Vista, Windows 7 or Windows 8 (with the newest Service Packs)
Processor needed: 3.0 GHz processor (Dual-Core or Quad-Core processors are recommended)
RAM needed: 2 GB RAM (4 GB are recommended)
Graphics Card needed: 3D graphics card with 512 MB
.net Framework 4.0 or higher for running the Scenery Configurator (4.5 recommended)
Disk space needed for download: 276 MB
Disk space needed for installation: 621 MB
​​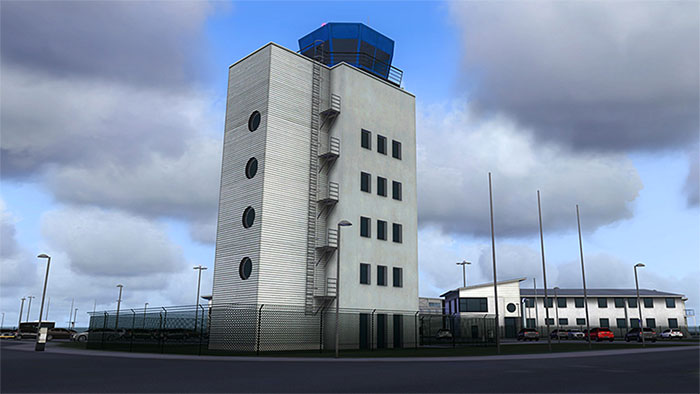 Preview Video
About Aerosoft
A German based flight simulation team of incredibly repute and knowledge about what is needed to make a difference in the community, Aerosoft have been around since 1991 and in that time have been a huge innovator and developers for aviation simulation and development.
They offer procedural training and professional training as well as software development skills that are, for the most part, unrivalled within the community.
Their first add-on was released in 1992 and was a big part of the original Microsoft Flight Simulator release; this helped to create a hardware system for Aircraft Control Panels that made a huge difference to the way that the simulator would actually operate.
Since, they have developed a keen reputation in the market as reliable and friendly experts who know what they are doing and how they can help others achieve that same level of confidence. They work with distribution firms like Simware, and also provide add-ons for Train Simulator.
Grab your copy of this scenery over at SimShack.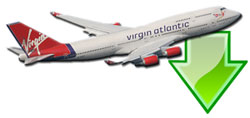 Don't forget... We have a huge selection (over 24,000 files) of free mods and add-ons for FSX, P3D & X-Plane in the file library. Files include aircraft, scenery, and utilities All are free-to-download and use - you don't even need to register. Browse on down to the file library here.