For many fans of flight simulators FSX and P3D, there has always been a mild dislike of the lack of quality within the graphics which are on show. The lack of effects around aircraft and scenery such as environmental conditions and happenings has always been quite poorly managed by the teams behind this in the default simulators.
This takes away from the realism of the simulation itself, and many people will feel quite let down by that – well, with this latest release by FSFX Packages, you can finally change that permanently.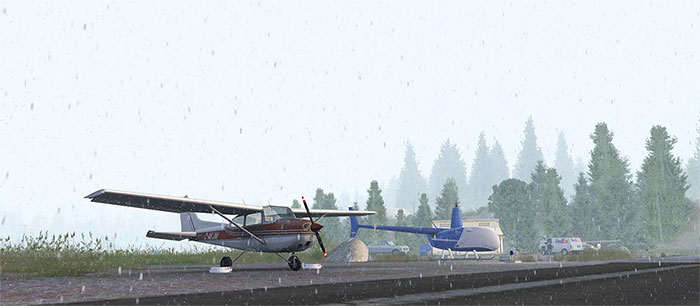 What is FSFX?
FSFX Packages is a group who have worked diligently on high-end flight simulation modifications for some time, mainly concentrating on environmental effects. The lack of realistic effects was, as mentioned above, a major problem and so FSFX was formed to create an alternative.
They thought outside of the traditional pipelines for creating high-end content and in the end produced something effective and easy in the form of PrecipitFX!
However, they also offer more basic packages which you can check out here. They provide generic packages with simple effects and add-ons whilst they also produce effective scenery settings and aircraft add-ons for specific mods. This means that with the help of FSFX many fans can now push the boundaries of realism thanks to the extra features that these mods bring to the table.
FSFX have produced a wide range of new packages for you to check out, from a new visual effects set for general rain and snow to giving you new designs for aircraft such as the Boeing 737 and 777 as well as the Airbus A320. Be sure to keep checking back as they will release new add-ons.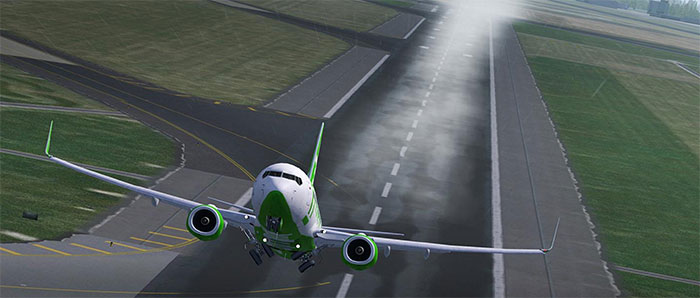 What is PrecipitFX?
Their major release so far is PrecipitFX. This is an aviation effects mod that adds new visually accurate textures alongside specific new visual effects which will greatly improve the realism of your flight experience in general. The large majority of default effects in both FSX and P3D are typically quite meagre, and with this mod you'll finally be able to have something which is attractive and authentic looking.
Instead of having a major part of the simming experience let you down in such a major way, you can turn to this FSFX Packages mod and get a simple, easy change. This will revamp major features such as new contrail effects, rain and snow textures as well as a major overhauling of more minor features such as wheel and jet wash effects.
In essence, this rewrites the old script for visual effects and leaves you with a charming, authentic and deeply engaging looking world.

​
This package was created with the aid of genuine real-life pilots who have been the ones behind the effects in the first place. These people are also experienced planespotters so you can trust the accuracy and the overall judgement of the project – it's taken from real-life experience. Everything included in here has been experienced, verified and modified by a genuine expert who knows what they look out for.
This includes a sharp improvement in the overall behavior of the mod – everything operates just as it should according to the guidance and the information provided to the team by genuine pilots.
As people with a genuine love for getting things right and creating a far more unique situation to enjoy in flight simulation, FSFX Packages have found a great way to revamp the old effects which were so duly lacking.
Why Do I Need This?
Because it freshens, revamps and optimizes the entire effects of your flight simulation. Created by a group of simulation design experts who are obsessed with getting every feature and add-on down to the perfect look and feel, you can truly feel at home in your cockpit as all the real effects and benefits of the real world flight experience come alive with ease.
Official Preview Video
Here are just some of the major features that it brings to the table for you to enjoy;
A freshened take on wheel effects under the rain and snow conditions. Now instead of seeing your aircraft just glide along the texture with no effect to the detail under it, you'll see proper wheel marks etched into the snow for that added improvement and realism, which really does help you buy into the atmosphere.

New brake smoke effects when you have to take a particularly hard break. You can literally watch that rubber burn as you go thanks to the immense pressure put on the wheels when you have to break tightly. This adds yet another layer of realism to the overall picture here.

Fresh new rain and snow textures which were worked upon diligently to create a fresh, engaging and interesting take on what the world should look like. Instead of being the flat and listless placeholders from the past, these new textures look alive and give the world a much better look and feel in general.

New contrail effects which look wonderful as they create a lasting impression of where you have been, just like in real life. It's these little touches of authenticity that make the difference and with PrecipitFX you can see major features like contrails play a primary role.

New wingtip vortices are a new addition, adding yet another little benefit to the look and style of the aircraft. It's just another part of the scene which this package sets – it does everything it can to make vortices a stand out part of the flight instead of a peripheral feature.

New engine jet wash effects are included for both rain and snow environments. This creates another layer of depth to the image as you can see a major part of the overall image of an aircraft come to life right away.

Easy to use! All you need is either FSX or P3D with MS Windows 7 or above to make sure that you can install this and use it.

You can also install this with ease via VFXCentral – you can pick up VFXCentral here.
Where Can I Get It?
Interested in using this tool? Then you can start the download process from here. With every purchase, you get one license, and you can transfer it to another machine once every three months.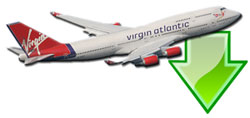 Don't forget... We have a huge selection (over 24,000 files) of free mods and add-ons for FSX, P3D & X-Plane in the file library. Files include aircraft, scenery, and utilities All are free-to-download and use - you don't even need to register. Browse on down to the file library here.