Flight Sim World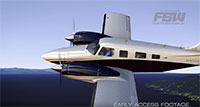 Flight Sim World, or FSW as it's becoming know as is the latest flight simulator package released by Dovetail Games. Flight Sim World core is based on existing FSX code but it has been brought up to date with heavy modification and rewriting (and of course many new features and functions).
FSW is set to become the go-to flight simulator for PC - with full free flight mode and even more airports than in FSX, based on 2015 nav data. With full support for DirectX 11 and running in a 64-bit mode, technical limitations are a thing of the past and this version will take full advantage of the latest PC hardware.
It has been mentioned that third-party add-ons (like FSX) will still be possible but we are still unsure as to what channels they will be available from.
This is a hot topic, and a new one at that - so keep an eye on this page for the latest announcements, news, and releases.