In general FS Passengers/FS Passenger X is built as a tool that allows the PC Pilot to create his own airline and expirience the dream combination bettween management and piloting. Just after creating your airline there is a choice between playing from scratch meaning the PC aviator has to work his way up the aviation ladder meaning starting from scratch and working those type ratings and getting airtime on the clock(very close to real life). The second option is skipping the type ratings and allowing the PC pilot to fly any plane he wants with the option to choose the amonunt of money the company starts off with. The monetary choice is a cruicial one since it influences greatly the purchasing and maintaining of your fleet. After you have completed choosing your company scenario you can choose the reality settings and adjust them to your needs: Mechanical Failures, Harshness of the various Penalties, Currency for Financial information and many more...
The painful trip to the top of the airline industry
After completing the initial setup of your company it is time to hit the sky. Before starting a flight the pilot needs to purchase the selected aircraft for the airline. The aircraft market gives the pilot/manager the options of choosing a used aircraft for a cheeper price but with the risk of purchasing a poorly maintained aircraft from the previous user(with the risk of expensive long-term permanent maintainance) or the option of purchasing a totaly new plane for a high price, your choice what to do, but think well, thats my tip of the day.
The second and also very important part of being a sucessfull airline is ticket and on board service price against the service quality.When you start off your airline will have a lower reputation which means lower Loadfactor(my tip lower your ticket price a little bit to attract customers). The reputation will rise with on-time schedual performance and a good after flight report in your pilot logbook.
Personal Conclusion
I used FS Passengers with Flight Simulator 9/2004 and I can tell you that the logbook and all the other add-on features made me expirience Flight Simulator 9 more intensively. The logbook made me fly more carefully since the logbook monitors all flight phases and it includes them in your report, meaning you really have to fly disciplined and follow all air traffic rules and regulations, one more hint, dont forget to make a nice safe landing at the end.
This editorial was written by resident aviation and flight simulation editor Roland Ondrus.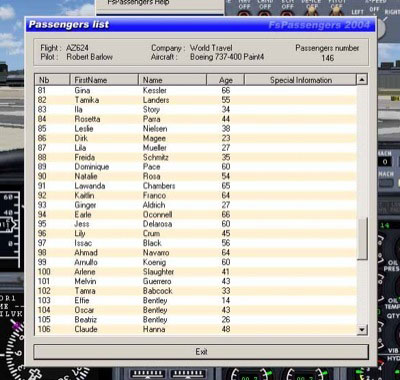 Passengers list in FSPassengers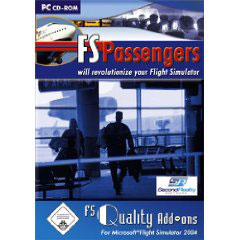 FSPassengers box shot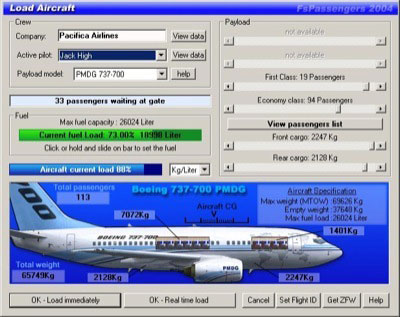 Aircraft load screen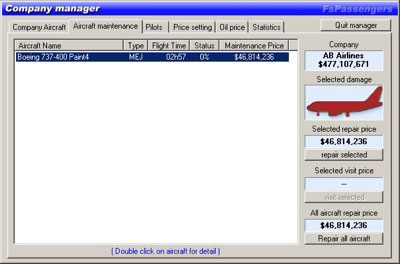 Company manager screen in FS Passengers