Carenado have long been a reliable and effective part of the history of flight simulation mods and products, and they never stop with the new releases and impressive changes. Recently, Carenado have announced the release of the brilliant SR22 GTSX HD Series, as a larger part of their next generation aviation products.
This looks absolutely excellent and should be a must-have for any fans of the simulation series who want to enjoy a fresh, interesting and unique take on a very specific and well respected brand of aircraft in the near future. If you are interested in finding out a little more about what Carenado has planned for this latest release, read on.

The SR22 GTSX HD Series
As part of their latest releases to showcase the levels of realism that flight simulators can have, this package introduces fresh impetus and new changes that really will make their mark on your level of enjoyment within the simulator. Put simply, this series does a marvelous job of really creating a fresh and interesting take on some very interesting aircraft designs.
In this package, then, you get access to;
5 HD liveries designed in the freshest style possible to give you an engaging and interesting take on the aircraft itself. These changes really do make a vast improvement over the original, with each livery closely researched.

A blank HD livery for anyone who has an interest in making their own history with Carenado. This makes a really interesting selection for designers.

Another great selection has been the addition of the G1000 Perspective PDF. Now, new users can get used to using this particular piece of hardware.

An Emergency Checklist PDF to help you avoid making critical mistakes and to ensure you follow protocol when there is a problem within the cockpit.

SR22 Normal Procedures Checklist PDFs have been included, too. These will do a great job in helping you understand what you are looking at operating.

A Performance Tables setting has been provided, too, so that you can refer to a range of objectives as you fly for greater professional understanding.

A Reference PDF and Recommended Settings PDF are also included to give you even more detail about what the aircraft is capable of carrying off.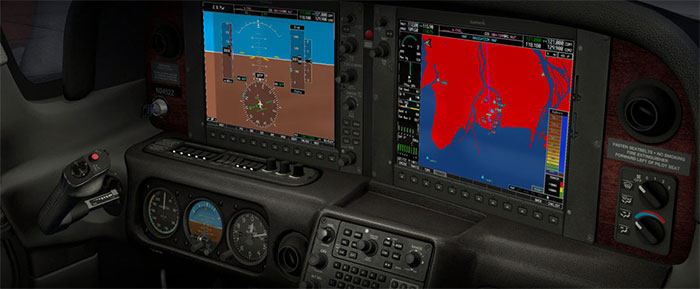 Specific Features
As a special part of their latest series of HD remakes and mods, this aircraft package brings to life a wealth of important features that can really stress and improve the quality of enjoyment that this aircraft can provide you with – this includes key features added, such as;

A G1000 Perspective PFD and MFD to give you total control over your flight and full command of every aspect, with a GFC 700 included.

All-new sound architecture has been created to add a more booming effect to your flight, improving realism and creating a better association with the aircraft.

Volumetric side-view prop effects are being used to create an interesting and engaging look, fully capable of letting you fully understand and embrace new views.

Note: Please be aware that the SR22 GTSX HD Series for X-Plane by Carenado setting needs X-Plane 10.30 or higher to run and it also requires the X-Plane 64 bits to ensure that it can perform at the highest level.

Key Features
Like all good Carenado mods, the SR22 GTSX HD Series for X-Plane by Carenado comes with a litany of added changes and improvements that makes a pretty significant difference to the level of enjoyment – and performance – you'll get with this mod. Some of the major changes and improvements being brought in include;
Terrain Awareness map mode feature included. This offers a fresh and interesting take on how you will survey the land and how you will prepare for anything that might come along.

Different de-clutter levels to help you find a level of management and control that you can feel capable of controlling, understanding and using with ease.

Advance menus and cursors with your scroll wheel. Alternatively, you can click/hold or drag to make sure that everything moves in the way and the style that you wanted in the first place.

An aux-trip planning window to help you put everything together in a format that makes you feel in control and comfortable moving forward.

A checklist mode to help you keep things on the right track and to ensure that you don't make any crazy decisions along the way. This improves performance massively.

A crisp, vector-based water data addition to help ensure that the quality of the performance is not hampered but the level of authenticity and enjoyment that this aircraft provides can be augmented to the highest level that it possibly can.

Pop-up windows can be re-sized and moved to fit your own convenience. Arrange your own UI so that you don't lose control or confidence when flying your aircraft with menus.

Ensure that your performance is going to be made easier by having pristine scroll wheel support, improving the ease and comfort of the performance provided.

FPS-friendly terrain maps are included that look excellent and give you a fresh and fair look without dulling or limiting the quality or level of performance that you are likely to get when you are flying around.

An original autopilot has been installed that does an absolutely excellent job of giving you something you'll enjoy.

HD quality textures – 4096 x 4096 to be exact – are included to help improve your immersion and overall enjoyment of the process. Thanks to this, you'll feel far more involved within the cockpit and the aircraft with such impressive realism.

422 pixel/m textures are included to add a fresh layer of realism to proceedings and to give you an engaging, interesting take on the world around you from the cockpit.

3D gauges that really do help to paint the right picture and to give you something fresh and interesting to enjoy in the long-term.

Original HQ digital stereo sounds which were recorded from the actual aircraft itself, bringing together a much fresher and fairer sound that really does the job you would have expected.

A customizable set of panels which are used for controlling window transparency, improving instrument reflections and much more. This completely changes and improves the level of feeling that you can get in the cockpit and thus improves the overall engagement and authenticity of your flight here.

Realistic flight behavior which has been changed, improved and augmented on several occasions to create an interesting and enjoyable set of processes which can just be enjoyed. Now the aircraft feels the way that it should, for better or for worse.

Authentic weight and balance for the aircraft, tested by genuine pilots to ensure that it flies with the realism and the control of the real thing to give you the best level of performance that it possibly can.

Ice and rain effects which look absolutely brilliant within the confines of a simulator, adding another fine dose of realism to the table.

Realistic 3D night lighting effects on the panel and cockpit for improved visibility and greater flight confidence generally.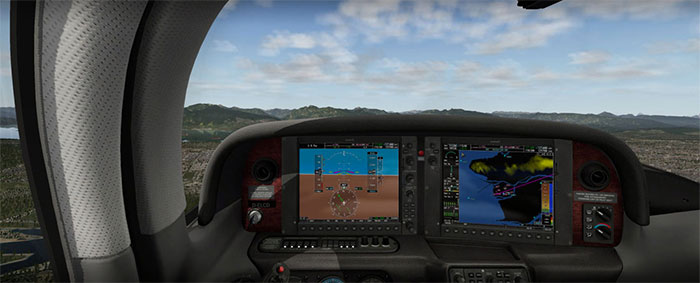 You can of course purchase your copy over at SimShack.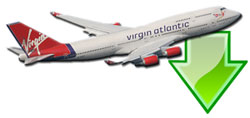 Don't forget... We have a huge selection (over 24,000 files) of free mods and add-ons for FSX, P3D & X-Plane in the file library. Files include aircraft, scenery, and utilities All are free-to-download and use - you don't even need to register. Browse on down to the file library here.