So far, it looks like 2017 might be the year that flight simulation was revolutionized. Having already seen the latest release of X-Plane 11 hit the market, we now have the latest simulator from Dovetail Games. Given they have taken on the Microsoft Flight Simulator license already, we're pretty confident that this is going to absolutely rock!
This program is, at the moment, en route to being released on the gaming platform Steam. While still in development, Dovetail Games are taking the same approach as many developers: they are releasing it on Early Access. This means that you can be an active part of the development and improvement of the software package as time passes. This latest release is going to allow fans to use it as it changes and improves, using their feedback to implement the best and most important additions to how the simulator handles itself.
What is Flight Sim World?
This latest simulator, then, introduces a new and rather unique insight to the world of flight simulation. Based upon 'benchmark flight simulation technology' this latest release is going to be all about mimicking realism as best they can. While realism is always something simulators strive for, Dovetail has made it clear that this is aiming to be the modern pinnacle of realistic aviation simulation. After all, they have X-Plane 11 to compete with.
One of the most impressive parts of this new release stems from the GA aircraft. Officially licensed and made to follow the exact look and specs of the real aircraft, this will make learning and manipulation of real-life aircraft easier than ever before. The aim is to try and get that elite level of implementation available in every aircraft that is created. By basing it exactly on their genuine counterparts, this includes every gauge, every knob and each feature that can realistically be installed.
Greater Accuracy Than Ever Before
As the latest in a long line of simulation programs, this is bringing a whole new look and feel to the table. Not only do the aircraft included carry off the look and style of their authentic counterpart, it's accentuated by the impressive detail going on under the hood. These may look and style themselves on the real aircraft with accuracy and craft, but they also fly like their real versions. With painstaking volumes of detail being put into aircraft that you can fly around with, you'll get to see all of those features and formats come to life in the most dramatic way.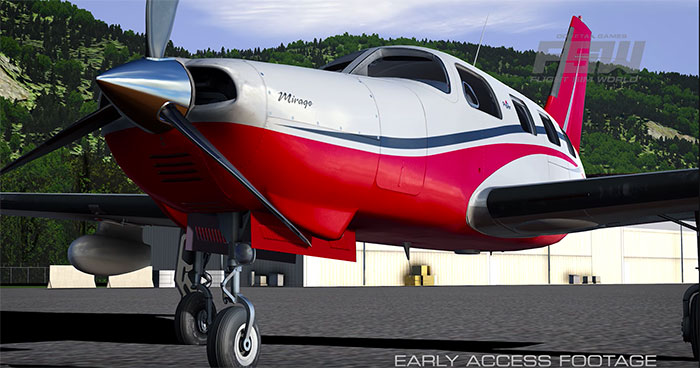 Screenshot from the Early Access Footage that shows a Mirage in FSW.
A delightful combination of effects from various different disciplines, this provides greater accuracy than it ever has in the past. From behind-the-scenes aviation mechanics to atmospheric mechanic management, these aircraft are going to feel far more challenging – and rewarding – to master. Not only will this help to create a deep and engrossing simulation experience, but it helps to improve the level of detail and learning that you can ascertain from every usage.
From watching the rain hit the windscreen and bounce off as it does in reality to witnesses amazing storms rage in front of you, this makes the world you inhabit feel more authentic. One of the major adjustments and improvements made here, though, stems from the physics engine. Now, aircraft behaves as it should in accordance with our own world rules and views.
From stalling to spins, it sounds like this new simulator is going to go above and beyond the norm to create that unique and engaging atmosphere both in and outside the cockpit.
A New Kind of Aviation Experience
One of the first things that stand out when looking at Flight Sim World' release, though, is the level of variety it provides. While some will be more than happy to fire up FSW and enjoy a basic flight without much nuance or challenge, the opportunity to add parameters exists in abundance. Whether you just want to enjoy a simple, easy flight across a pristine and tranquil sky, or you want to put yourself in life-or-death situations, the opportunities exist in abundance.
You can set the weather to be as challenging as you like, as well as the condition of the aircraft and the skies above you. From flying into storms with a blown engine to trying to stop a rapid descent with very little wiggle room, this allows you to really push the realms of experimentation and excitement. You also get access to a new Flight Planner system that allows you to have total control over the whole experience.
From managing the weather that you are about to fly headlong into, to changing the location and the time of day, you have all the controls you need to make the experience your own. You can even add in randomized events that will take place during the flight to make your flight more unpredictable and even more challenging.
Set Your Own Rules
For those who would rather put their time and effort into mastering the world of creativity entirely, too, there is the option to do just that. The flight simulation community is known for being artistic and creative when it comes to making new content for other users to enjoy. Flight Sim World looks like it is going to be providing the same artistic license and creative flair to all users, through its extensive and exciting new Pro Mission Editor.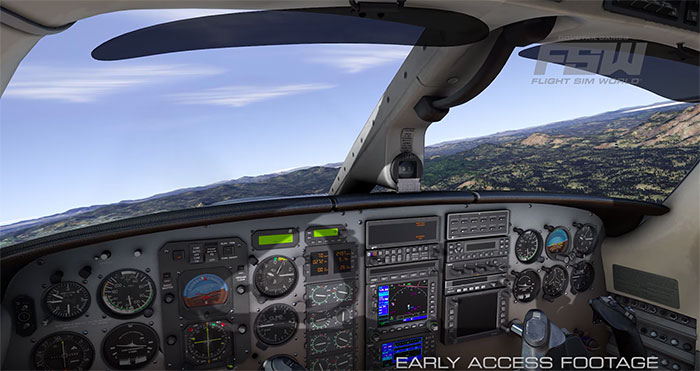 A highly detailed 3D virtual cockpit.
This allows you to set up customized scenarios that fit any kind of rules or demands that you would like to take on. This is a professional level of tool that can help you make flights that are of a minimal challenge, or to help you put together aviation experiences that are all about avoiding the most complex and minimal of challenges.
Whatever you feel is missing from your own mission logs, you can find all the help that you need to bring that to life and make it stand out once and for all. Set your own rules and make the chance of your success dependent on the choices and scenarios you implement!
A Modern Environment
For those who are involved in other strands of the simulation and gaming industry, FSW will be a godsend. Now, we have a software platform that allows us to really push our hardware to the very limits of performance!
This new 64-bit, modernized environment runs with a smoothness and a depth of performance that never existed. Now, this platform could be the basis of new release that allows for greater levels of graphical implementation and for more risks to be taken with features and inclusions. Thanks to this, then, a new and modernized environment is in the process of being created – in a manner that everyone can enjoy being a part of.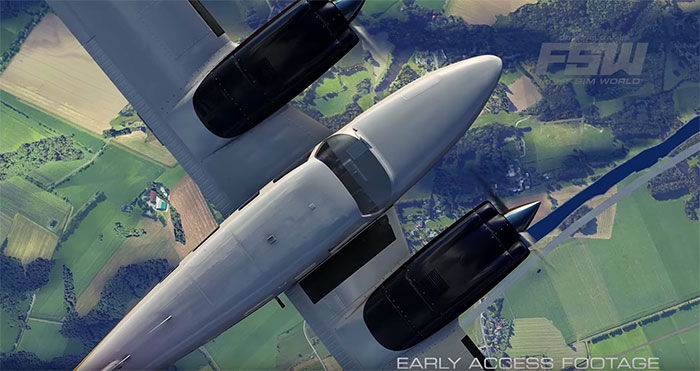 An example of the ground textures we can expect to find within the sim.
If you despair at the graphical gap between simulation and mainstream gaming, then this might be just what you were waiting for.
As the brainchild of the work of some of the finest simulation developers in the industry, FSW promises something totally different to what many of us are used to at present. Partnerships are expected in the future to help bring add-on DLC and premium content to help further expand the official hanger-list that we can pick from.
What about Freeware Add-ons and Downloads?
It has been confirmed that users will be able to generate their own content - that's definite. What is still slightly unknown is whether enthusiasts and hobbyists will be able to create third-party freeware add-on packages such as aircraft, scenery, and missions like we have been doing for FSX for decades. And if they are able to create them, will they have to be released via Dovetail's channels such as an in-app UGC browser or will they be allowed to be distributed over the Internet freely such as on this site, FlightSim, Avsim, Simviation... etc? We are all hopeful. We still have no information yet as to an official SDK.
We should have some more information on freeware add-ons next week.
Staying Involved
So, we're not too far away from the release on Early Access. We'll be bringing regular content updates about the latest changes and improvements that we have found about this wonderful new piece of kit.
As time passes and we draw closer to the full release date, we'll be sure to keep you updated. Until then, be sure to download Steam and subscribe to the Flight Sim World page. Flight Sim World has now been discontinued, you can read the announcement here. Then, you can join the Early Access drive as soon as the opportunity comes to sign up and take to the skies in a wonderful, richly enhanced new world!
Last but not least, we have opened our Flight Sim World forum where you can join in on the discussion.
This is a hot topic, and we would love to hear your comments, opinions, and rambles in the comments section below!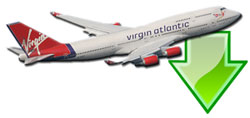 Don't forget... We have a huge selection (over 24,000 files) of free mods and add-ons for FSX, P3D & X-Plane in the file library. Files include aircraft, scenery, and utilities All are free-to-download and use - you don't even need to register. Browse on down to the file library here.