The Lockheed A-12 looks more like something from X-Men than FSX, with a very sleek, modern profile. The latest release from Glowingheat, then, offers the chance for you to hop into a cockpit of an aircraft that looks new but isn't. The A-12 Cygnus, actually, was released in 1959!
As a combination between the Department of Defence and the Central Intelligence Agency, the Cygnus was made for a specific purpose. It was to be the successor to the U-2, and work begun under the tutelage of Clarence Johnson. Creating a single-seat, Mach-3+ aircraft that broke all records of the time, the US immediately took control of the skies. In the heat of the Cold War, this was a major improvement to the US military aviation capacity.
Indeed, it served a critical role during the North Vietnam operations. Coming from a Japanese airbase in Okinawa, it was capable of immense reconnaissance missions that far outweighed its predecessors. Given it could hit groundbreaking speeds of 30 miles in a single minute, pilots were put under a lot of pressure. They had to utilize the camera systems, use the countermeasures hardware and stay on course at breakneck speeds.
Sound like a challenge you would like to undergo? Then this recreation might be worth your time. It's a design that faithfully recreates the original Lockheed A-12 Cygnus in all of its glory. If you are a veteran flight simulation pilot looking to test yourself at the helm of something truly powerful, this is the place to start.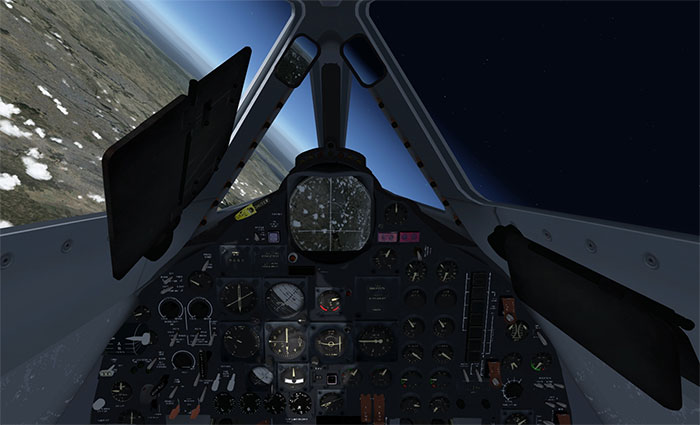 Image shows the virtual cockpit of the aircraft with Earth on one side and Space on the other.
Major Additions
One of the most important features in this take on the Cygnus is the speed. Given every dynamic and idea for the aircrafts' inclusion comes from the A-12 pilots' manual, it will certainly challenge you. Major add-ons to this include a fully operational fuel control system, a Centre of Gravity control panel, elevons for hydraulic pressure loss and fully operational TEB counters.
The closely detailed texturing and modeling make sure it looks just like the real thing. It carries that authentic, 1950s look while maintaining a more modern and sleek body. A perfect choice for those who are looking to fly something with a combination of both new and old. As an important crossroads in military aviation, it's got many features of both its own era and the present era.
Also, it makes use of a new virtual cockpit system, complete with very useful night-lighting. This allows you to make sure you can easily see what you are doing even when flying in the dead of the night.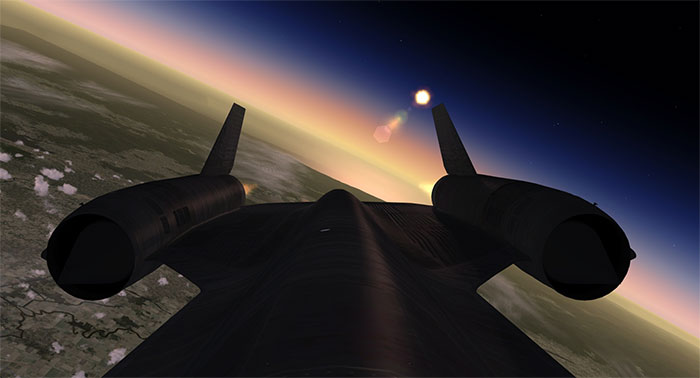 Rear view showing the engines and sunset in the distance.
It comes with a very impressive range of independent engine functions, too, including management of the afterburners. This allows you to hit top speed with the A-12 and really feel the incredible pull it would have had on pilots of the time.
This extra power and brutality are felt in kind. Numerous features are included, such as refueling mid-air due to demand and even anti-skid brakes. This helps to make sure that pilots can control the ferocity of the A-12.
With 80,000ft+ capabilities and authentic Mach3+ speeds, this can feel incredibly fast. The developers have done a great job of capturing that incredible pace and power on the model. For those looking for proper old-school raw speed, this offers that in abundance.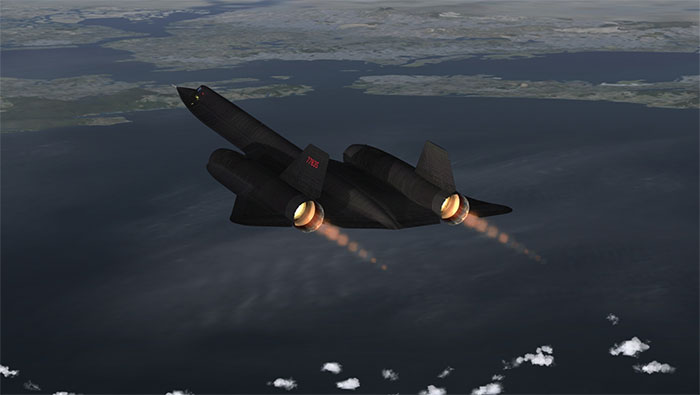 Afterburners alight in flight.
Minor Additions
Automatic and Manual engine inlet control systems, which helps to add even more control for veterans.
Various add-on features for visual improvement like engine start carts, brake cooling fans, fuel dumps switches and an authentic undercarriage.
Smart animations that take place to give the aircraft an even more authentic feel in the air. From the pop-out anti-collision lights to the crew access ladder, everything can be seen in usage.
The functional virtual cockpit gives you all the help that you need to stay in complete control during any flight. The cockpit mists up with rain as the canopy deals with the elements around.
Engine tertiary doors become fully animated at Mach 1.5. also, the afterburner floating exhaust petals are well-animated for further realism from a third person view.
Drag chute movements are included, built according to Alpha and Beta values.
Fully compatible with FSX and P3D v3/v4.
We hope to have this add-on available for sale on SimShack soon but for more information in the meantime, visit the official Glowingheat page here.
NOTE: Also, don't forget the Cygnus is pretty much the SR-71 Blackbird; so if you'd prefer freeware, check out this stunning free-to-download SR-71 add-on we have in the file library here.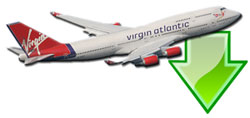 Don't forget... We have a huge selection (over 24,000 files) of free mods and add-ons for MSFS, FSX, P3D & X-Plane in the file library. Files include aircraft, scenery, and utilities All are free-to-download and use - you don't even need to register. Browse on down to the file library here.