FSX iFly Boeing 747-400 v1.1.0.0. Features extremely detailed cockpit with fully simulated FMC, complete TCAS simulation with audio and visual TA and RA system. Also fully simulated Inertial Reference System. 90% of 3D fully operational buttons in VC mode. Three model configuration for better performance. Includes with seven liveries. By iFly Developer Team.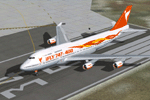 Features
This is the first version of iFly 747-400 and there are some main features as followed:
Extreme detailed cockpit
Fully simulated FMC
Complete TCAS simulation with audio-visual Traffic Advisory and Resolution Advisory system
Fully simulated Inertial Reference System
90% of 3D fully operational buttons in VC mode
Performance friendly (given user to pick suitable cockpit configuration for better performance)
come with seven liveries
Operations Manual with 330 pages
and more.....
IMPORTANT: The iFly 747-400 WILL NOT FUNCTION PROPERLY without FSUIPC4 4.12 or higher.
Installation
Open FSUIPC4.zip, follow the instruction and install FSUIPC.
Just open iFLy setup.exe, follow the instruction and install the files into main directory of FSX
We recommend to update the navigation database from http://www.navdata.at, we use the same database as pic767/pmdg737. We also recommend to update the SID/STAR database from http://PlanePath.com
System Requirements
This product is only compatible with FSX, so of course, FSX is required. For your computer, we recommend you have a P4 2.8 GHz machine, with a 256 Mb memory video card. System memory should be a minimum of 1G. HD should be a minimum of 250MB. Low-end on-board sound chips are NOT recommended. A plugin sound card, such as a Soundblaster Audigy, is recommended.
FAQ
Q1. I have installed the FSUIPC. however, all displays in the cockpit doesn't show anything except on PFD says that I need to install FSUIPC with version number 4.1. Why?
A: If you already have FSUIPC version 4.1 or later, then this problem indicates that you are using unauthorized FSUIPC registration code. However, actually you don't need to use registrated copy of FSUIPC for iFly 747-400 (because iFly 747-400 can function normally with an unregistered copy of FSUIPC). The solution is to simply re-install the FSUIPC.
Q2. The sound volumn seems quite low after I entered in iFly 747-400 2D cockpit. How to fix this?
A: Select FS menu to "select aircraft", and select iFly 747-400 to load this aircraft again.
Q3. With selected ILS Frequence, PDF/ND displays this ILS and iFly 747-400 is also in GS mode. But why it doesn't descend to intercept the GS? Strange that the aircraft just keeps the current flight level...
A: In some special cases, the GS station in FSX gives incorrect coordinates (due to FSX's own problem). You can select NAV RAD page in CDU, and insert any frequence to NAV 1, then insert "DELETE" to delete this frequence. By this way, it can force FS to refresh the GS's coordinates. Please note, it is not recommended to use this method in SLEW mode or in PAUSE state.
Q4. Why there is nothing shown on displays in VC mode?
A: It is possible that your default flying setting is to use VC mode. You need to first 2D cockpit and then switch to VC, so after the displays in VC mode should function normally.
Credits
Gauge developer, 3D modeling and manual revisions: Jiangwei Shen (nick: szm99)
2D painting & image optimization: Bo Yuan (nick: agings)
Documentation & manual writing: Miao Luo (nick: mluo)
Technical mentor: Qinzhong Yao (nick: Adolf)