Quebec Jean Lesage International Airport (CYQB), Canada, v3.0. Includes terminal building, very accurate AFCAD, les Ailes Quebecoises, hangar AeroPro, hangar Essor Helicopteres, main security gate, taxi station, Air Canada Cargo buildings, fire station, aerocenter, hangar PetroT FBO, lighting on apron 1 and 2, antennas with strobe lights and red lights on mount Belair, hangar Trans-Sol FBO, Avitair-Jazz, Service Aerien Gouvernement du Quebec buildings, hangar Canadian Helicopters, Exeltech, Navcanada installation including the control tower, Groupe Alta, hangar Heli Express, maintenance installation buildings, new hangar for Trans-Sol FBO, parking exit cashier, Aqta Association Quebecoise des Transporteurs Aerien, Batiment des Gens de l'Air, airport administration building, fuel depot, les Cuisine de l'Air catering, fuel pump PetroT, static aircraft, ambulance. By Gilles Boily.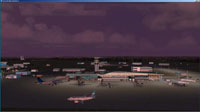 Aerial view of Quebec Jean Lesage International Airport.
INSTALLATION:
IMPORTANT NOTE. PREVIOUS INSTALLED VERSION SHOULD BE DELETE (many files have been renamed or joined together).
Unzip the file content in a temporary directory.
Copy the directory Quebec CYQB into your Addon Scenery directory.
The effects files and their respective textures should be copied into the FSX Effects and effects texture directories If properly installed you should see the strobelights on mount Belair.
In FSX menu activate the scenery.