"I'm 3DFlyer and I bought LOMAC on a whim one day. Just went to Walmart (a US Department Store that has "everything"). When I got home and got it loaded, I was amazed! It needed a little help, but with the TLC I have given it, and sharing of others I now have a flyable sim that I really enjoy."
This quote from the forums at LockOnFiles.com is a good example of the love and support members feel for the LockOn series of combat simulators. 3DFlyer is one of many enthusiastic members who regularly stop in the fast growing site.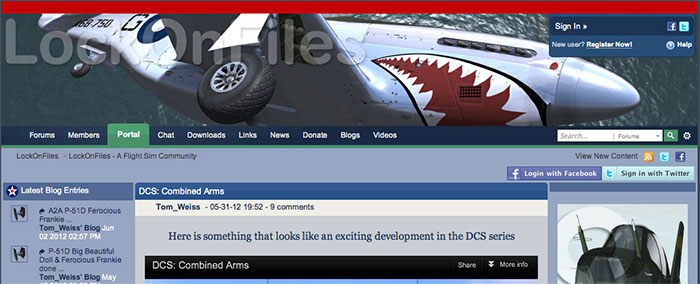 LockOnFiles.com is a site dedicated to coverage and discussion of combat simulation titles from Eagle Dynamics. The site features news updates, blogs, live chat, forums, videos and more. Eagle Dynamics is a Moscow-based company that creates both Oracle-based software and flight simulation computer games.
Combat Simulation Experts
Eagle Dynamics is best known for its original flight simulation game "Lock On: Modern Air Combat" and the follow up add-on "Lock On: Flaming Cliffs." The "Digital Combat Simulator" series followed the LockOn titles. Back in 1995, Eagle Dynamics released their first flight sim "Su-27 Flanker," based on the Russian Su-27 plane. It was released on CD for play on PC-based systems.
"Lock On: Modern Air Combat" users can choose from nine different aircraft from Russia or the United States including the A-10 Warthog and the famous F-15 Screaming Eagle. Combat simulators can be flown by pros and beginners alike, but both groups will benefit from some preparation. Time spent with the manual to understand the flight and weapons systems reward the student with a much better experience. Trying to outrun fire from F-4s chasing you down as you shoot through a mountain range to avoid detection from an AWACS plane overhead is no time to be learning your aircraft.
Black Sea Backdrop
"Modern Air Combat" shipped with 20 single missions and 4 different campaigns that feature their own backstory. The rugged terrain of the Black Sea region is the backdrop for each battle and is rendered in accurate detail. Realistic sound includes communication from crew to AWACS aircraft and ATC. Users can engage the Dynamic Battle Generator to quickly launch exciting mid-air conflict.
"Lock on: Modern Air Combat" was followed by a popular add-on called "Lock On: Flaming Cliffs" (and later, "Lock On: Flaming Cliffs 2"). Users get eight aircraft including the Su-25T tank killer, 3D cockpits, detailed Georgia terrain backdrop, new missions, added campaigns, and ground and naval forces. It featured a number of upgrades including revamped HUDs, improved missile-seeker mode, and new bomb-release mechanisms, ground targets, and seasons (in case you were tired of endless summer in the Black Sea).
Home Base
LockOnFiles.com is the internet's home for fans of the entire line of Eagle Dynamics sims. The company has done a good job of concentrating on their strength: combat simulation. As a result, there is a legion of fans that have followed their products from the beginning. The site gives them a base to share reviews, tips, polls, rumors and modifications.
LockOnFiles.com was developed in 2005 as a resource for "Lock On: Modern Air Combat." Site owner Thomas Weiss explains: "I started LockOnFiles in August 1st, 2005 - to support what was then Eagle Dynamics only product: 'Lock On Modern Air Combat.' Over the years we added new titles as they were released by Eagle Dynamics."
Foray Into FSX
Several years ago, the company decided to begin developing for the Microsoft Flight Simulator X platform. "In 2008 I got into FSX and a few years ago we started also to support it, which by the way is what most of us have besides Eagle Dynamics titles," Weiss said. "Besides 'LockOn' and the 'DCS' series I spend a lot of time with FSX, but nowadays what I really do is make skins for both FSX and DCS. I spend most of my time 'flying' A2A products like the P-47D, P-40C and Spitfire and the Su-25T made by Eagle Dynamics."
LockOnFiles.com is free for all users. Donations are accepted to help pay for bandwidth and hosting costs, but is completely optional. Sign up is quick and simple with an email confirmation scheme common to most forums. Users can upload their own avatar, complete an "About Me" section, add blogs posts, upload videos, and customize their "sig" (signature) that appears at the bottom of each of their forum entries.
Active Community
Major forum categories are "LockOnFiles Community" which includes General Discussion and Technical Support, "LockOn: Modern Air Combat," "Digital Combat Simulator," and "LockOnFiles News." The most active community is the General Discussion sub forum with almost 4000 topics and over 27,000 replies. Recent forum topics included everything from a user asking "Anyone know what's a good headset?" to another poster sharing news of new aircraft being released by IRIS for 'Digital Combat Simulator' including the F-15E Strike Eagle, F-22 Raptor and F-14D Tomcat.
The Chat feature works well but attendance was sparse on a recent visit. The Downloads area is robust and features a number of worthwhile products. Recent offerings include DCS P-51D Checkertails - Devastating Dottie and a DCS P-51D US NAVY VF-4 package that includes two different versions. "Highest Rated" downloads included MiG-21BiS for Flaming Cliffs 2 with 6DOF 3D Cockpit V2.1 2.1 and RICARDO HD DCS Black Shark Cockpit (part 2) among many other titles.
Multiple Features
The Links tab provides users with a number of useful links to other Flight Sim Community sites, hardware companies, other LockOn sites and even aviation photography sites. The News section offers a constant stream of news about modification tools, new modules, trailers, updates, and new releases. The Blogs tab provides the latest blog posts from users while the Videos section presents a hearty serving of user videos.
Flying Obsession
For fans of combat simulation, LockOnFiles.com is about much more than page views. It is a place to share their obsession with a friendly community of other crazed pilots. Weiss is a good example. He and his team create flight sims out of a labor of love. "I am an Economist and have no real life experience with aviation other than being my hobby," he said. "I really love aviation - it is a passion."
For more information, jump over to the LockOnFiles home page!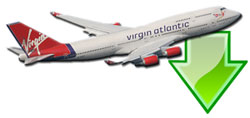 Don't forget... We have a huge selection (over 24,000 files) of free mods and add-ons for FSX, P3D & X-Plane in the file library. Files include aircraft, scenery, and utilities All are free-to-download and use - you don't even need to register. Browse on down to the file library here.