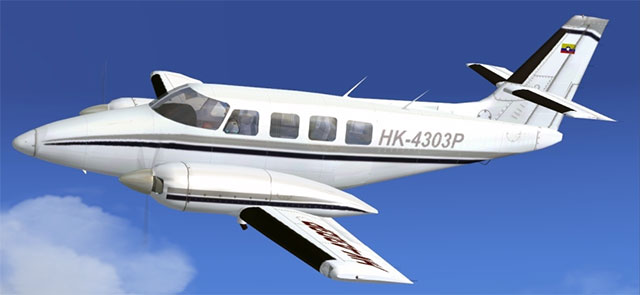 Some of the aircraft are still operational in the United Kingdom. The Armed Forces of Haiti and Armed Forces of Guatemala also use the aircraft in military operations.
Virtualcol has released Cessna T303 Crusader for FS2004 and FSX. This product brings this famous aircraft to life, enabling simulation fans to have fun flying this legendary aircraft.
Features
A 3D model that is compatible with FS2004 and FSX
A highly functional virtual cockpit with many switches and indicators
2D panels for Captain and First Officer
A Paint Kit
A detailed manual
This product is well modelled to exacting standards. With three repaints in the package, you can customize to suit. The aircraft's interior is well designed.
The Cessna T303 Crusader is a fast executive aircraft suitable for both VFR and IFR flights. All the internal and external sounds of the aircraft are well captured and represented in this product.
This aircraft flies very well; you will enjoy having it in your hangar. The aircraft is easy to fly and offers excellent flight simulation experience.
You can grab this aircraft over at SimShack.