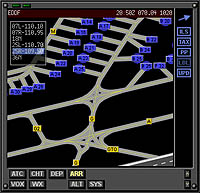 FlightProject International (FPI) has released a preview with screenshots and a general feature list of the upcoming pilot client that will replace squawkbox for online flying on FPI. The client is currently in the alpha test phase.
Additional Information:
FlightProject International (FPI) is a free of charge community where virtual pilots and controllers come together to have fun and to enjoy a realistic aviation environment utilizing the Microsoft Flightsimulator (TM) and an exclusive, cutting edge next generation radar controller client (ICP) and Voice-over-IP client (IVP).