This latest international airport release by Aerosoft provides people with an opportunity to head down to Manchester International and witness it completely reborn. Everything in the airport has been regenerated and drawn in the right manner, making it look just as it should and using accuracy in the placing and style of the buildings throughout.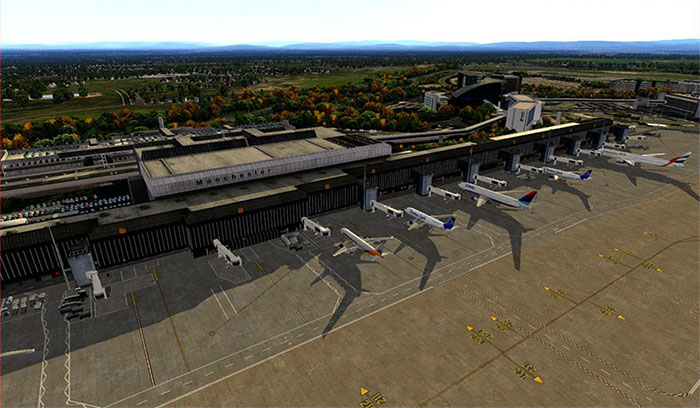 What's Included?
A full recreation of Manchester International Airport, capturing its full depth and scale in stunning accuracy and realism across the board

Each building has been faithfully designed, including popular landmarks such as the massive hanger in which the British Airways Concorde is being stored for public viewing, or the super popular "Airport Pub" location where travellers and guests can socialize in

A huge range of new textures and designs for the whole airport, making full use of the power of X-Plane to bring the thing to life in truly outstanding style

A new way that traffic works around the airport to manage performance whilst retaining realism throughout the entire airport complex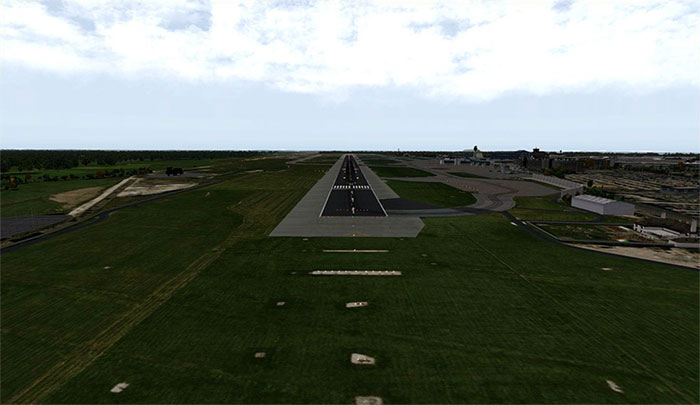 Key Features
Everything that has been included this package looks absolutely outstanding, using hours' worth of referencing and detailed research of footage, plans and information to put the whole thing together nicely. This makes it easy for the whole airport to reflect the real location it's built on, making it easier to train on in comparison to the rather unrealistic and poorly designed feature that was included in the original X-Plane release

Whether you are flying at day or night, you will find that the whole airport will be illuminated in the perfect style using high definition textures throughout. Everything comes together here with a huge range of detail in the design of each texture whether it's the ground or the buildings, ensuring that the whole thing looks just as it should and also maintaining a find blend in the color choices to match the real airport to the very last shade

Lighting equipment has been worked freshly from the start to ensure that it manages to reflect both the new textures and the new levels of realism included, but also the way that the airport looks at night. This is a famously easy airport to navigate given its massive size, and the new lighting plans will make it much easier for everything to come together and look the part, also improving your visibility as you takeoff/land

Makes full use of the excellent X-Plane 10 HDR lighting to really give you a more realistic looking place; whilst other places might not have the right level of visibility or detail included within the lighting, this makes navigation a piece of cake thanks to its intricate design and thoughtful nature in the way that it all comes together, ensuring that there can be greater vision as well as higher levels of fluidity throughout

Not sure if the graphical quality that is being provided to you at the moment is quite enough? Then why not switch the Ultra HD textures/ These have been included to give you a fresh and interesting perspective on the whole airport whilst also allowing those with high-end machines to push things to the very limit and benefit from an airport that looks a whole lot more realistic than it did prior to the installation

A fresh take on the ground textures have been reworked from scratch as well. Rather than trying to rely on a system-heavy solid texture that could inhibit performance and loading times, this modification uses a solid 5cm/px area texture scenery package that fits the area around the airport. This allows the entire approach around the airport to look awesome, making sure that you don't notice the change in texture quality and detail as much, ensuring that the contrast is limited

A huge new range of animations have been included throughout the package, ensuring that everything can look as realistic as possible. Airports are busy laces and this takes into account the rather bustling nature of traffic both in the air and on the ground. This manages to re-work vehicle traffic around the airport to make the whole place look as realistic as it possibly can, capturing the friendly nature of an airport in truly delightful style

A new animated radar has been include to make navigation as easy as possible; this will allow you to easily find your location and your range without too much stress or worrying, ensuring instead that you can easily land and take off from the airport safely

Fully compatible with the X-Plane 10 HD Mesh Scenery V3 package that was also released by Aerosoft, ensuring that the disparity in texture's from the airport to the rest of the world can be minimized as much as possible

Not sure if you are doing the right thing or not sure where to start with the airport? Then use the included PDF manual to put yourself on the right track and make sure you are making the right decisions at all times. This lays out the airport perfectly so that you can follow it correctly, ensuring that you are going to be heading in the right direction at all times and also making sure you start to memorize the new layout as quickly as possible
Preview Video (Official)
System Requirements
A fully licensed edition of X-Plane 10.30 OR Europe/Steam Editions
Windows XP-Windows 8, 8.1 and 10 untested OR Mac OR Linux OS installed
Multi-core processor, with 2.6Ghz at least
At least 4GB RAM
3D Video Card with 1GB at least
800MB HD space free for download
1.9GB HD space free for installation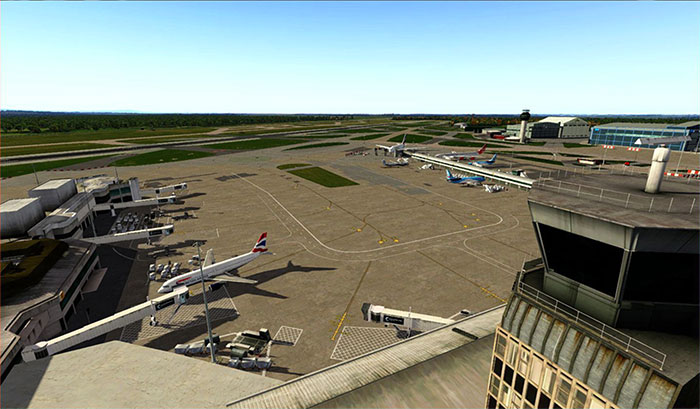 About Manchester Airport
Manchester International Airport is one of the most important airports in the whole of Britain, ensuring that the north of England has an airport that can be respected – the airport is the largest in the UK outside of London. In fact, it has more than double the volume of passengers going through it annually as the next largest outside of London does, Edinburgh Airport. Therefore, the airport manages to provide a huge range of services both to companies and to commuters.
The airport is made up three specific terminals as well as a goods terminal, which is the only airport in the UK outside of Heathrow Airport to have two runways which are longer than 3,280 yards in length. This alone makes the airport an absolute standout in terms of importance of British aviation, offering an easy way for the north to receive high levels of aviation trade opportunities.
However, Manchester Airport has more to it than just being a large funnel for goods. It was first opened in 1938, and was used during the Second World War for the RAF, serving as a solid place to train and to land at in-between the battles with the Axis forces. At one stage, the airport was the main handler for the Concorde aircraft in the UK and to this day it still houses the Concorde, open for viewing pleasure.
It's estimated that more than 20m people go through the airport on an annual basis, although it has the capacity to take as many as 50m people in an annual basis. It can also hold around 61 aircraft per hour, making it one of the largest in the UK for ensuring that aircraft can move in smoothly and without any delays.
The airport looks set for a bright future, too, with long-term plans existing to make the airport far more involved in the world of logistics, manufacturing and also opening office and hotel spaces nearby the airport. There is currently discussion about adding both a High Speed 2 station, and continuing development on a railway platform at the station to allow more streamlined access for visitors.
The airport itself, then, is seen as one of the most important in the country purely due to its massive size compared to many of its northern counterparts, as well as being widely recognized for its high levels of efficiency in dealing with its various guests.

​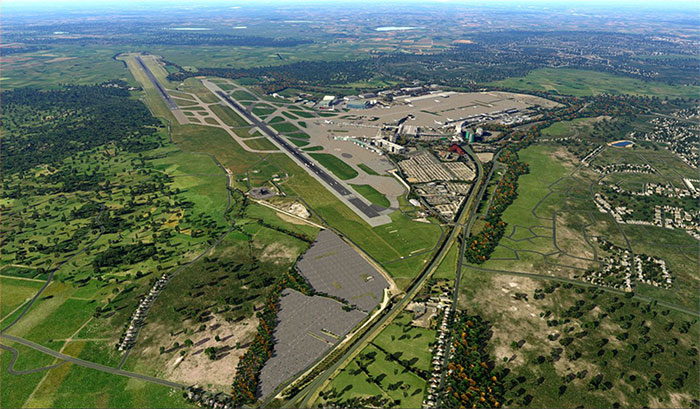 About Aerosoft
Having been around for more than two decades when they were first founded in 1991, Aerosoft have managed to become a key part of software development and training for professional pilots and flight simulation fans all across the globe.
Their dedication to creating stunning add-ons for professional usage by pilots as well as unique add-ons and improvements for Microsoft Flight Simulator and other home-based simulators has led Aerosoft to become one of the well-respected members of the flight simulation community, providing a huge level of depth and improvement across the board and making simulation more realistic.
You can purchase your copy of this scenery over at SimShack.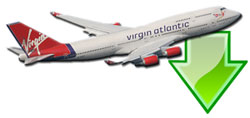 Don't forget... We have a huge selection (over 24,000 files) of free mods and add-ons for FSX, P3D & X-Plane in the file library. Files include aircraft, scenery, and utilities All are free-to-download and use - you don't even need to register. Browse on down to the file library here.