Although the main experience and attraction of flight simulation is to engage with authenticity, not everything feels authentic in simulation. For example, many people find that scenery can be quite a letdown, even in places where you might expect a more vibrant attention to detail.
Take Glasgow, Montana for example. Although it's home to a large number of people, it lacks depth and detail. Important landmarks, the city scale and the layout all feel a little rushed and wrong. This has affected other parts of Glasgow – and means the whole area as a whole feels a little…empty.
Thankfully, Team SDB are on the case and are here to offer a consistent, simplistic solution. With this mod, you can add some much-needed depth to the area thanks to the brilliant Glasgow AFB being added. This mod introduces the Air Force Base in a way that it was previously never seen, having been consigned to the past in the 1970s.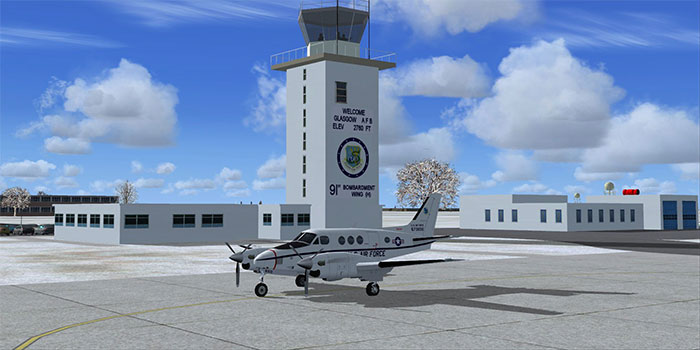 Now, you can bring some much-needed nostalgia to the region and add a layer of detail that was missing in the past. This mod goes a long way to offering a detailed introduction of a cool little AFB that's sorely missed.
Basic Improvements
In this mod, you get access to a find selection of improvements to the region. For one, you'll see;
A great improvement to the overall AFB layout. Close details have been taken from afar to ensure that everything from the hangars to minor support buildings are accurately portrayed.

This looks exceptional and goes a pretty long way to changing the look of things here. The buildings are all placed in scale, in style and with the right look and layout applies. This ensures the AFB looks about as close to reality as it can.

Great detail has been put into the accuracy and the depth of the foundations that you see here. Technical site and accommodation is included, making sure that it looks fully representative of the period. This ensures that the whole airport can look detailed and fresh whilst carrying an impressive range of precision.

With everything build to match the time that the airport stood it will feel like a brief run back in time. When you see how this has been detailed and looked after, it shows a very impressive looking airport that, although outdated, still carries that impressive charm.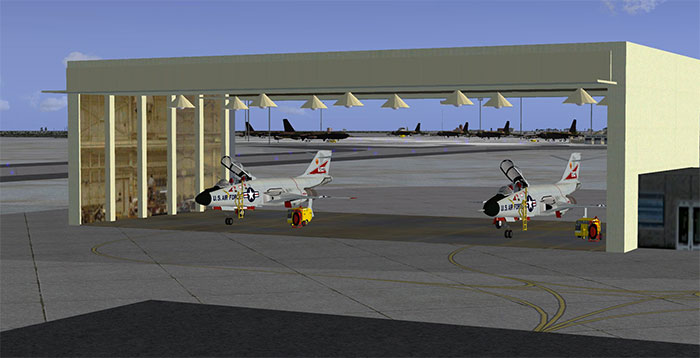 Navigational Changes
New navigational aids are being used, also. These will go a long way to making sure that the airport looks and feels correct when looking at it using navigational software. From the NDB to the ILS nav-aids you should have no problem in getting here thanks to these excellent new additions.
They make a considerable difference to the way that you can fly and also to how you will feel when flying around the region as a whole. With the imagery corresponding to your aids it will soon become much easier to fly and then land at this air base without any problems.
Fantastic night lighting has been created from scratch with the simple aim of offering better visibility at night. Other air force bases can feel a little dull at night, and Team SDB have taken this to heart. Now, when you arrive here, it should feel much easier to land and to put yourself back up in the skies. Even if you arrive here at the darkest period of night you should have no problems in landing here accordingly. It also ensures that you'll be closer to what the lighting should be like – pilots don't fly in darkness, after all!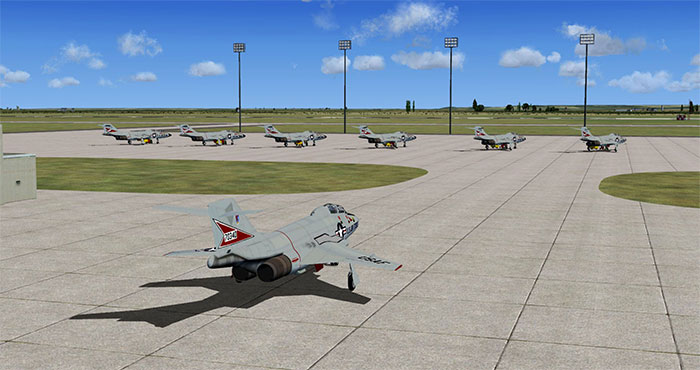 New AI Changes
Brilliant AI and static aircraft have been developed to sit around the airport and make it look far more alive and busy. From KC-1335A Stratotanker aircraft to F101B Voodoo, plenty of interesting aircraft scatter the base. It makes it look far more energizing and alive than it has in the past, offering a really engaging way to see the airport.
When you arrive here it feels thriving with action and activity, offering a new layer of life to the place. Vitality in the airport is a big thing and this added depth of life will do just the thing.
Also, AI VC-6A VIP transport aircraft visit the air base as well. These extra VIP quality aircraft fizzing through makes the base feel a little more exciting and professional than before. It also allows for the airport itself to look more alive, with these activities going on around the place only adding to the depth and detail of the air base.
Thanks to the extra detail, you get to see a base that just feels far more like it should. Following from the same timing and landing protocols of the era, too, this ensures that traveling here feels like a fun step back I time.
The AI aircraft and the scenery densities are scalable. If you are noticing increasing and consistent performance lags when you are flying here, you can adjust the depth and detail to fit your own capacity.
This is so useful for making sure that you feel comfortable flying here as well as making sure you get plenty out of the mod. You have no need to just accept that performance has dipped to such a point – you can just change around some settings to get a much more balanced, cohesive level of performance in the skies.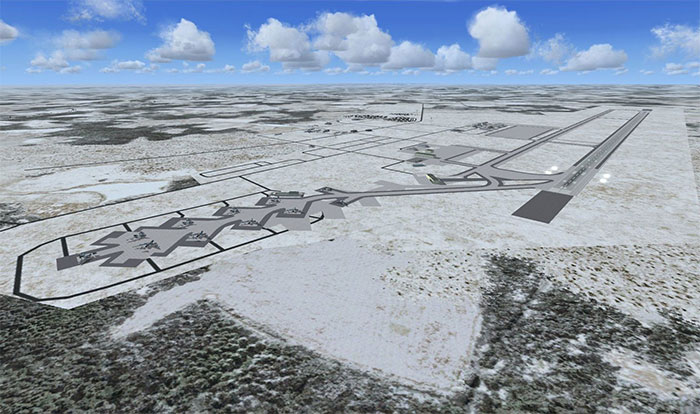 Glasgow Air Force Base
Glasgow AFB is a small base located just to the norther eastern corner of Montana, around 17 miles from the city itself. Just 40 miles from the Canadian border, this served some significant strategic importance to the US in the past.
Construction first started in 1955, and by 1957 it was open and being used by the Air Defense Command of the 476th Fighter Group. However, by 1959 it was under the command of the 13th Fighter Interceptor Squadron instead. This lasted for close to a decade before the association with the FIS was canceled. This was the beginning of the end of interceptor bases, as the Air National Guard took over the majority of these roles instead.
It was transferred to the Strategic Air Command and seen its runway lengthened accordingly to 13,500ft in length. This was to help use the new B-52 Stratofortress and KC-135 Stratotankers of the 91st Heavy Bombardment Wing.
The airport maintained its proud association until 1968 when it was shut down. Come the early 70s, though, the SAC re-opened the airport to manage a large project. Navigation, communications and controls were improved accordingly before being closed permanently in 1976. It sat idle for a significant period of time until Boeing bought the base for aircraft testing and management.
This version of the air base shows you an edition that took place in the late 1960s, after the return of the 91st Bomb unit had come back from Southeast Asian operations.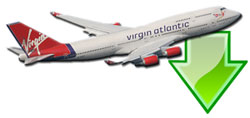 Don't forget... We have a huge selection (over 24,000 files) of free mods and add-ons for MSFS, FSX, P3D & X-Plane in the file library. Files include aircraft, scenery, and utilities All are free-to-download and use - you don't even need to register. Browse on down to the file library here.