When it comes to flying around in X-Plane, the world can feel like it needs a bit of help coming to life. One of the best ways to do that is to use proper aircraft that makes flying seem more authentic. With this mod, X-Plane users can finally take to the skies in the PA31 Navajo.
This HD remake for X-Plane by Carenado offers you simplicity and control over anything that you may need. Not only will it make it easier to control the aircraft and buy into its overall performance, but it will provide simplicity in terms of learning.
Many aircraft mods can feel quite award to fly around in, but this gives you full command. You don't to worry about being hamstrung by a limitation in the way that the simulator flies this aircraft. It gives you all of the features that you would want and expect to see, making flight simpler.

This makes using this mod a no-brainer for the people who want to make the most of it. Why? Because, it ensures people can take that extra realistic approach to taking off as this follows genuine protocol.
If realism is a big thing for you when flying, you should definitely think about trying this mod.
By going the extra mile in making sure you can finally use the Navajo properly, this ensures you'll have way more freedom in the skies. When you want to take off using an aircraft it helps if the mod does it justice. Well, with this mod, you can make sure that it does just that.
It's going to leave you with a design and a system that's easy to control and command, despite being realistic. This makes it a happy medium for sim fans who want realism but also enjoyment.

Specific Improvements
In this aircraft mod, you get plenty of nice new changes that go that extra mile in making sure the aircraft feels authentic. If you feel like you regularly try and use specific aircraft in X-Plane that feel generic, try this out instead. It offers multiple specific improvements, such as;
Improvements that make sure you can only fly this mod when using X-Plane 10.40 64-bit or above. Make sure that you have updated and improved your X-Plane client before using this. Otherwise you can find that performance becomes limited and will reduce the overall performance levels that you can get.

Fully compatible for use with 64-bit, so if you are using a more high-end machine you can still make use of this. Many mods are still being improved for usage with a typical 64-bit system, but this works right away. If you use 64-bit operating systems, this mod still works just fine.

It improves the overall level of scrolling support that you can get, too. This new and improved multi-function scroll support makes it easier to navigate up in the skies. With this you have more control using the mouse, making your overall command of the cockpit a little easier.

Operates using a fully working volumetric side-view prop effect. This offers a lot of quality in terms of making sure you can get clear views. The side-view prop effect gives another way to view the flight and is great for cinematic photos and also for just enjoying the view below.

Makes use of the old GNS530 system that comes with X-Plane. This means that you won't need any other third party add-ons or extras to make sure that this performs to the level that you would have expected. Ensures you get a system that feels new, but easy to operate.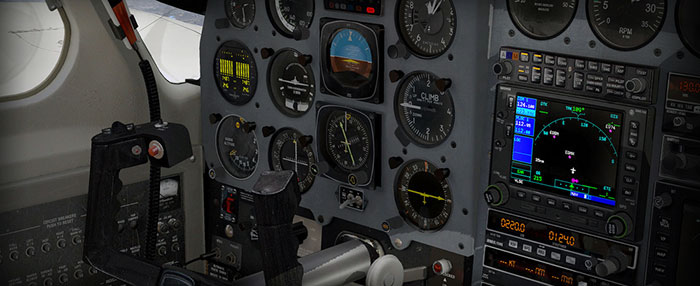 Key Changes
You'll also notice that this mod conforms to many of the industry standards in terms of quality. To make sure that this remains the case, the designers have gone the extra mile to improve it. The package itself carries exceptional depth, giving you major flight sim improvements and changes, including;
Comes with the original, fully operational Navajo autopilot system, meaning you'll be flying as it would using the real thing. The Carenado team have done the extra mile to make sure that your new autopilot system feels sincere, giving you a much fairer quality of flight where other autopilots wouldn't.

This mod also gives you access to a wonderful rendition of the exterior and interior design. Using 4096 x 4096 textures you are left with an aircraft model that goes the extra mile in really selling the interior of the aircraft. This adds even more realism to the aircraft model.

Uses a 350 pixel per metre texture system. These look wonderful and make sure you are left with a look and feel that really does go above and beyond the call of duty. By using this, you are likely to get a comprehensive looking model that does not limit performance.

Likewise, you can enjoy fresh new audio features. These new sounds are wonderful for adding a new layer of realism to the table. The added effects also help the project to look the best that it can, offering a simple and easy solution that can add to the overall atmosphere.

A fresh new customizable panel makes sure that you can get all the help that you need in controlling window transparency, instrument reflections and other static elements like wheel chocks. It's these little changes to the aircraft model, from the turbine inlets to exhaust covers that sells realism so well.

Fresh new aircraft behaviour, built to make sure that it flies in line with reality. This is going to give you an aircraft that flies genuine and has everything from the real weight to the stylistic balance. This has been tested out by real-life pilots who have used the Navajo before.

An individual passenger 3D system that reads lights and numerous HDR lighting effects. These look excellent and go some way to making sure you get a fresher, more engaging way to see the aircraft. Extra features that otherwise would be missed are shown up in full detail and precision here.

A new dynamic loading system is being used, providing you with the genuine loading and unloading of parts. This comes with 3D plugins and plugin logic for high-end FPS optimization along the way. By using this, you're left with a solution that really captures the operation of the aircraft in the best style possible.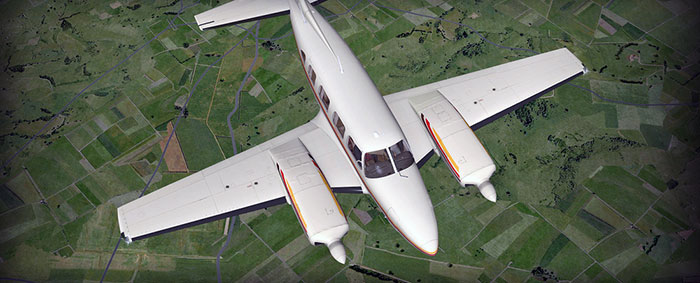 What's Included?
In this new addition of the aircraft, you will get access to a wide range of new features and improvements. Each of these changes will go a long way to helping you understand and appreciate what you get access to. Some of the new changes include;
6 new HD liveries that continue on the path of delivering high-end, wonderful graphics. Everything offered in these liveries follows historical precedent so you can feel like you are actually taking to the skies in a historically accurate edition of this wonderful aircraft.

A new HD blank livery that you can use to make your own designs, too. With high resolution capacity to make it look just as good as the liveries mentioned above, this can really help you get into the swing of things. Add a fresh look that lets you choose.

A range of new PDFs that are used to help you work out where you are going, what you are doing and everything else associated with flight. From emergency checklists and normal checklists to handling performance tables and using references, this makes it easier than ever to adapt to this aircraft.

A weather radar PDF is also includes to that you can learn how to fly this masterpiece with relative ease. All of the new features that are included tend to need you to pick up the PDF and have a look. They'll help you understand how to use it best.

Another major addition into this mod has been the use of the recommended settings PDF. This will help you pick the best way to fly this mod, giving you an easy and effective route towards flying properly. Get the highest level of performance by following the input guides in here.
For more information, view the full range of Carenado aircraft over at SimShack.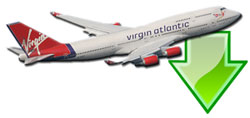 Don't forget... We have a huge selection (over 24,000 files) of free mods and add-ons for FSX, P3D & X-Plane in the file library. Files include aircraft, scenery, and utilities All are free-to-download and use - you don't even need to register. Browse on down to the file library here.