Now, everything in the airport from the overall layout to the textures used will match reality, creating some much-needed authenticity.
The airport itself, the Sainte Cathering, is based on the small island of Corsica. As a beautiful part of the French country, this gives you a really interesting take on a more nuanced, specific part of France. Corsica is a wonderful venue to visit, and this rendition of the local airport makes visiting here even easier. Whether you are a local wishing to have more authenticity, or an enthused traveler, this is a must-have.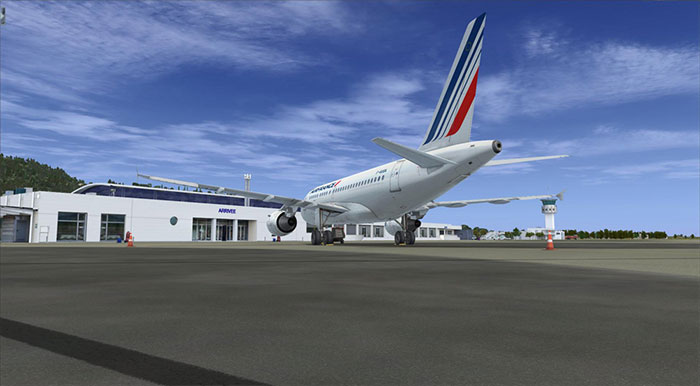 Inside this mod is a faithful and friendly recreation of the airport itself. By using high resolution aerial images, this places products where they should be and ensures the location is accurate. This mod makes smart use of 3D custom objects as well as ground markings, from old painted-over markings to reworked terrain and new lighting. Now, when you arrive here at night, you should know where you are!
With a duty of care and a passion for detail, this mod makes Calvi come alive. You'll even have the nearby business parks and the city itself looking more lively, as this mod makes some appropriate changes to this part of the world, also.
About Calvi Airport
This beautiful airport sits on the Corsican isle, providing easy and simple access to this part of France. It's located just 6km from Calvi itself, making it very easy to get to and from the city to the airport. This airport sees many different airlines from Air France to Brussels Airlines, Etihad Regional, Flybe, Luxair, Titan and even Air Berlin all passing through.
This wide mix of usages has made sure that Calvi Airport remains a functional and easy to use airport which many people will visit.
Calvi itself is a small commune on the island, picturesque in style and wonderful to come and visit. It's the seat of the Canton of Calvi, which also includes Lumio as well as Calvi. It's also home to three other cantons – Calenzana, Belgodere and Lile-Rousse.
The French Foreign Legions' 2nd Foreign Parachute Regiment fight out of this citadel of Calvi, too.
The most interesting footnote of Calvi, though, comes from the idea that Christopher Columbus supposedly came from this part of the world. It was, at this time, part of the Genoese Empire. However, the island itself held a negative reputation across the world in the past, so it's likely that Columbus lied about his birthplace to avoid suspicion and problems.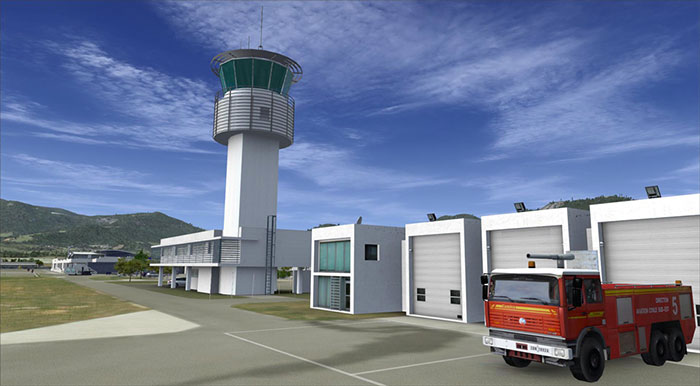 The city of Calvi is also famous in British history. This is where Admiral Nelson famously lost his eye in the Siege of Calvi. As a small place with not much going on, Calvi sure finds plenty of ways to make the place stand out!
Calvi as a city makes the majority of its income from tourism in the summer. This began during the 1950s when pioneer Vladimir Raitz turned the place into a proper hotspot to come and visit the cities wonderful sights.
Texture Changes & Features
One of the major features of this mod is that it helps to reshape the landscape of the world around you. With this, you'll get;
As is the norm with all Aerosoft products today, you'll get realistic renditions of the area itself. Now, the St. Catherine Airport is going to look just as it should, making the use of real life images and textures to pain the perfect image, creating a truly authentic Calvi area.

This is taken even further by the use of the new photorealistic buildings. These buildings now roar into life, looking far more realistic than the dull and disheveled versions that remain in X-Plane. Adds a lovely little touch of realism to the whole venue, ensuring that everything here looks truly authentic.

Makes use of a large aerial image using 50cm/pixel quality. Likewise, the surroundings of the airport are using 25cm/pixel quality designs. This is masterfully put together with careful fitting to the default X-Plane landscape. This creates the perfect balance between performance and reality, offering the best of both worlds.

Using fully customized terrain, this helps the world around you to come to life and look absolutely exceptional. Runways follow the terrain, for example, making sure that this adheres to typical flights rules. Makes sure that you get a touch of realism as well as quality running through the area itself.

Makes use of fresh ground markings that looks just as it should. Now, the ground markings around the airport are going to look realistic even with the old, painted over markings still visible. Adds a touch of class to the airport as a whole, creating a more meaningful look.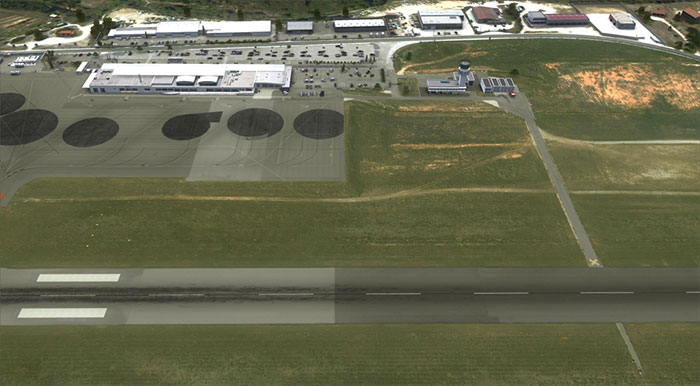 Layout Alterations
Another major part of this mod is that it helps to change the layout of the airport to be far more like the real thing. With this mod, you should notice major changes to;
This airport makes good use of an animated marsheller. This adds just another little hint of realism, but you will need the Autogate plug-in to make this run. This, though, adds another little touch of flair to the airport and just makes it look that little bit more realistic.

Custom and full night illumination that is bound to help you understand and appreciate the best way forward in the darkness. Rather than having to make a guess landing in the dull darkness as before, this makes it much easier to land at the airport without an incident!

New trees and forests are added to fit the heavily wooded nature of the island. This looks great and makes sure that this part of Corsica can fairly reflect upon the world around it naturally. No longer do you have dull and generic placeholders, with this mod adding total realism.

Numerous smaller details are included to help make sure the airport carries that cocksure certainty and style that makes using a custom airport so enjoyable.

Animated road traffic to make sure that your time spent here can be fun, engaging and interesting. Makes sure you get to enjoy fuller aviation.

Animated bars are included on the entry of the parking lot, which is just yet another nice little touch that adds to the overall realism.

Changing static aircraft including the wreckage to the south west. Looks great and adds just another layer of reality to the airport, making it exceptional to look at.

A recreation of the citadel of Calvi itself alongside the vessel. Adds just another nice little touch that helps to showcase reality.

High performance levels meaning that you don't need to worry about your system struggling to handle this mod; it's been optimized for the ideal balance.
Preview Video
System Requirements
X-Plane 10.40 / X-Plane 10 - North America Edition / X-Plane Steam Version
Multi Core Processor 3.0 GHz or better
Windows 7 / 8 / 10, Mac, Linux
1,2 GB free memory on hard disk
8 GB RAM
3D video card with 2 GB
For animated marsheller the additional plugin 'Autogate' is suggested
Grab your copy over at SimShack.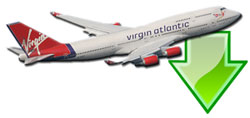 Don't forget... We have a huge selection (over 24,000 files) of free mods and add-ons for FSX, P3D & X-Plane in the file library. Files include aircraft, scenery, and utilities All are free-to-download and use - you don't even need to register. Browse on down to the file library here.