The culmination of more than two years of in-depth research and development time using rather unconventional methods, XpressSim scenery packages will offer something new entirely. Alongside this announcement was the first batch of the product line itself.
When in creation, the aim was to find a happy medium between performance and presentation. It's often a hard balance to find for scenery developers, but this latest package seems to have found a solution. Now, the scenery packages provide authentic, detailed and highly presentable content without excessive data use. Unlike other scenery packages that can feel like a resource vacuum, the aim here is to create a lasting impression on the land without reducing performance.


Scenery Solutions logo.
This approach has led to a much more consistent and enjoyable flight style, ensuring that improvements don't have to be draining. For those running low-to-medium spec machines, this could be the solution needed.
Pricing
The aim is to use the XpressSim technology to help re-create fun, affordable and detailed scenery without expending resources. However, the aim is also to make it light on the wallet for buyers. Each of the products to be released will be priced from $1.99-5.99 per product. This offers an affordable and easy way to build up large and new collections of authentic scenery.
Every product location has also been made available for preview prior to making your purchase. This allows you to know if it meets the standard that you deem acceptable. Once purchased, it can be taken directly from the XpressSim user interface provided.
This makes it easier than ever to pick up new pieces of the world without having to pay, or use, excessive resources. With the ideal of making sure that everyone can enjoy a more detailed world, away from the comparatively weak defaults, this pricing offers a fair and simple way to allow that to occur.
Inclusions
At the moment, the aim is for scenery packages to cover a large variable of locations as time goes on. It's likely to be focusing on being as thorough as possible, though, with the aim of large cities to be as prominent as smaller islands, country scenery and airports. The aim is also to ensure that airport regions can be especially detailed, given their prominence and importance to the simulation itself.
Airports are likely to have vast amounts of detail as well as large swathes of the nearby area full of the same detail and class. When downloading one of the individual airport downloads, for example, it expands beyond the airport and ensures that you can see more than a significant change in the surrounding areas, too.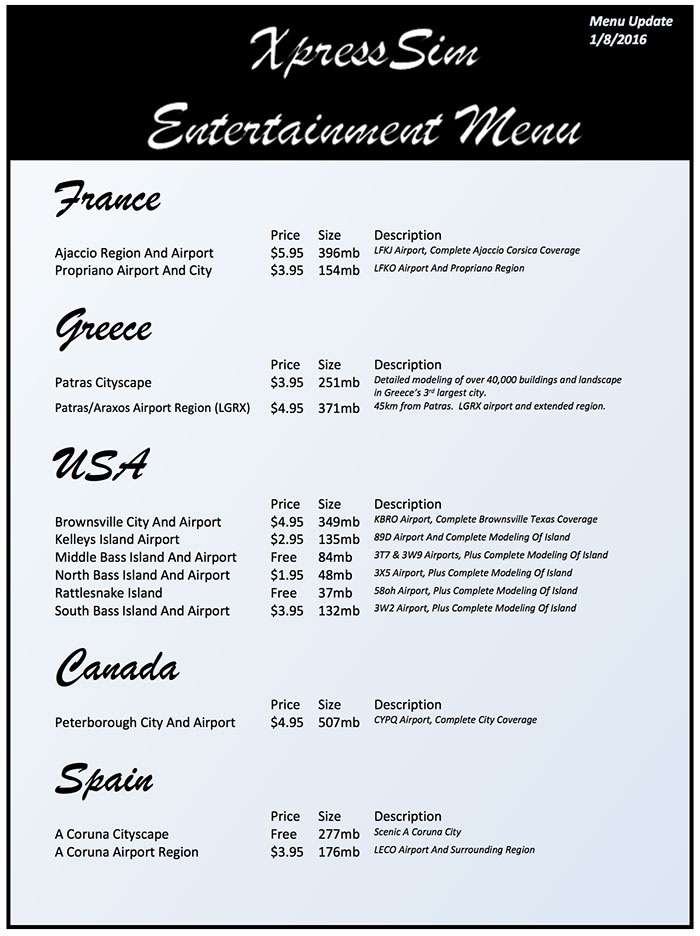 XpressSim scenery menu.
The whole region will be covered if possible, creating a comprehensive and detailed package for minimal cost. Indeed, even the large cityscapes will come with a large degree of customization. With the ability to select thousands of custom buildings and configurations to fit your presentation/performance needs, this allows for the perfect balance between vision and speed. You don't want to see the simulation become choppy and weak all the time, so this can go the extra mile in finding a balance.
The user interface provided allows for a large range of changes to be made with each play. If you find that it's perhaps too choppy or that it lags a fair amount when flying after installation, the options allow for mitigation and balance without missing out.
Using XpressSim
XpressSim's user interface, as mentioned above, has been one of its most useful additions. Allowing for easy and simple adjustment and customization to make flying smooth and exciting, the interface makes configuration simple. Any problems or issues that you may come across when using this software can be found and edited in here. It allows for you to provide configurations for FSX, FSX-SE and Prepar3D accordingly. Or, you can have a combined master configuration that allows for the same rules to be followed regardless of the simulation that you decide to use it with.
Many users will use both variants, so it helps to know that you can turn to this XpressSim solution for ease of use.
The system itself is totally free of charge to download, and even comes equipped with two free product scenery packages. They allow you to use them in an unlimited capacity; they are yours to use as they would if you purchased them. This makes it much easier to see the power and performance of the new details in XpressSim without having to spend a penny!
If you have any reservations about using the service, then this freebie allows you to see for yourself. The selections make it easy to see first-hand what the difference can be, as well as how well it can run in comparison to more heavy-running scenery modifications out there.
You can view the XpressSim product overview PDF here.
What's Available?
At present, XpressSim is available and has nine commercially available products for you to pick from right out the bat. More will be added in time, but at the moment these will be the primary releases. Each covers a varying degree and length, and is therefore priced accordingly. Each set, though, offers an exquisite level of detail and an extraordinary depth that can run accordingly.
Find that you need something more reliable and detailed? Then this is without a doubt the perfect way to make that possible. The long-term ambition is to release 1-2 products per week for commercial purchase and availability. So, keep an eye on the marketplace as new products arrive and fill up the store. With the rate of releases, it's likely that you'll have your hometown ready to be seen in no time at all!
Also, the developers have committed to providing even more free, unlimited use products to try out and see for yourself what this excellent package provides. This is only the beginning for what looks to be one of the most ambitious and exciting projects out there at present on the scenery market.
It offers a simple and effective approach to making sure you get a new, refreshing look to your simulation. The perfect pick for those with dated or strained hardware, XpressSim will offer the happiest of mediums.
Don't allow yourself to miss out; try this package for yourself and see why so many are using this excellent new scenery system.
To get started, simply check out this SimForums directive to help further understand how the process will work. If you have any more questions, then you can find more details on the official page including the support team that is on the forum above.