Forget whatever rumors you might have heard, as today we have for you the first official word on the next generation Microsoft Flight Simulator: FSX. Though actual release is still nearly a year away, this will put to rest any fears that there won't be a next version. This article provides you with the last information on the new release including downloads, news, screenshots, links, forums and more! Your reading and viewing starts here. Then, visit our FSX Message Forum and talk all about it. Click on Read More for the full story, downloads, links, screenshots and more on FSX!
If you're already familiar with Flight Simulator X and want our add-ons page, then click here.
Flight Simulator X – The Ultimate Aviation Experience
With Flight Simulator X, or as it's known in the industry, FSX, you can dive deep into the exciting and realistic world of aviation with dozens of different aircraft, hundreds of cities, and thousands of unique airports. Enjoy the ultimate freedom of Free Flight mode or engage in interactive Missions for a completely new and breathtaking gaming experience.
Flight Simulator X has hundreds of flight parameters and control options, which can be easily adjusted to fit all categories of players, from rookies to extreme aces.
Travel the globe solo or team up with other players over the Internet. Visit exotic places or check out your local airport. Feel what it's like to be a real aviator.
Microsoft Flight Simulator X marks the new era of aviation simulators. Flight Simulator X is the culmination of nearly 25 years of the Flight Simulator franchise and is the most significant addition to date.
Flight Simulator X was officially released on October 17, 2006. The Standard Edition includes 18 planes, 28 detailed cities, and over 24,000 airports. The Deluxe Edition contains additional aircraft and locations, as well as new game modes.
Realistic graphics for realistic gameplay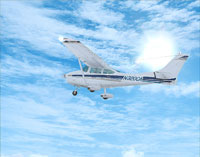 The image shows a Cessna 182 flying in Microsoft Flight Simulator X. Image also demonstrates sun and lighting effects.
The terrain graphics are significantly improved over the previous versions. There are now higher-resolution landscape textures, more variable auto-generated tree and building library, and improved water representation, so the surface below looks almost real. Not to mention the wildlife and traffic activity on the ground.
However, you will need to set all the graphic parameters to the maximum level in order to enjoy the view. The standard system configuration is clearly not able to sustain a satisfactory frame rate. The player will have to spend some time trying to find the perfect balance between performance and picture quality.
Additional graphics features included in Flight Simulator X include the following:
Interactive cockpit camera that reacts to plane movements.
Shadows have been improved to look more realistic and aircrafts now cast shadows on themselves.
Water effects now include moving 3D waves and sunshine reflections.
Enhanced texture resolution.
New Earth model with true road data, region-specific textures, 3D wildlife, etc.
An improved weather system, including better visibility modeling.
Other graphic improvements have been implemented to give you the most realistic gameplay available in a flight simulation game. Get ready to play Flight Simulator X and experience a flight simulation unlike any other flight simulator game on the market.
System requirements for optimal game performance
Flight Simulator X offers an incredible picture of a realistic flying environment. Here are the official system requirements:
1.0 GHz CPU
256 MB RAM (for Windows XP SP2) or 512 MB RAM (for Windows Vista)
14 GB hard drive space
32 MB DirectX 9.0c compatible video card
Enhanced game modes and options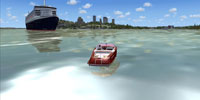 The image shows one of the many other aspects of FSX; piloting a speedboat on the water. The image demonstrates the water textures and effects in FSX.
In Flight Simulator X, the developers have decided to liven the gameplay, and along with Free Flight mode, introduced more than 50 different missions.
You can start by completing tutorials and continue with transportation and delivery missions. Gradually, Flight Simulator X gets tougher as missions start to include search and rescue operations. And from time to time you will be asked to look for crashed planes, lost ships, and even runaway elephants!
There are also some entertaining missions like the Red Bull Championship where you have to perform some aerobatics and even drag races. And you can win special medals and trophies for outstanding results.
To make it a little easier for the player, a "save game" option has been added. Now every mission has a list of saved games, which can be accessed at any time. So if your flight ended with a crash – there is no need to start from the beginning.
The Free Flight mode provides a wide range of options. You can select your plane and fly to or from any of the 24,000 airports around the world. And the new "living world" system will make them look more realistic by adding fuel trucks, luggage carts, jetways, and other airport equipment. This new active world extends beyond the airports as you can now see moving cars and trucks on the roads below, ships and liners cruising the waters, and wild animals running in the fields. All this creates a feeling of a real flight with Flight Simulator X.
Multiplayer options including a new Tower controller module
There have been a few interesting changes to the multiplayer option. Players can now experience what it feels like to be an Air Traffic Controller in a new Tower controller module available exclusively in the Deluxe Edition. Another added feature is Shared Skies which enables players to share the same cockpit if allowed by the plane's construction. With the Shared Skies features, professional instructors can use the game to teach their students how to behave during certain situations.
Adjust the weather conditions for true in-flight experiences
The weather conditions are a significant factor in the flying process and have a big influence on plane controllability. Flight Simulator X includes a sophisticated weather module that allows you to choose from a variety of weather conditions. You can adjust cloud types, turbulence levels, icing conditions, precipitation types, wind conditions, and much more. Create any kind of atmosphere to test your flying skills. For example, try to land a 747 in blinding snow on an ice-coated runway. You can even download actual weather conditions for your current location with real-time updates!
Aircraft and the flight model
The list of available planes includes a diverse 24-model selection. All the most popular planes have been included from small propeller-driven Cessna C172 and Piper J-3 Cub to huge business jets and jumbo jets like Boeing 747-400. There are also two types of helicopters, a hang-glider, and a sail-plane. And Flight Simulator X includes several special missions dedicated to gliders. You can even take part in real gliding championships in Switzerland and Austria.
Flight Simulator X fans are probably more interested in the flying process itself. Flight Simulator X has a flexible "realism" scale and many parameters can be adjusted for a particular flying skill to make gameplay easy or difficult, depending on your skills. For example, torque can be turned off and the player won't have to think about compensating when flying the propeller-driven plane. Or the radio can be set on automatic tuning so the player doesn't have to change frequencies in mid-air. With a little tweaking, just about everybody should find the perfect mix of realism vs. playability.
The cockpit is in full 3D and is completely interactive and animated. All switches and toggles are clickable and by pressing them you can do everything from raising the flaps to turning on the windshield defroster. There is also a ToolTip window to help you figure out the purpose of a particular button.
Another interesting game feature in Flight Simulator X is the variable set of different contingencies like engine malfunction or wing icing. They can occur during a mission or be set manually by a player to test his skills.
Even with all realism settings up to the max, it is possible to miss a runway and land a gigantic jet plane in the field. But you will not get any penalties as long as the field is within the airport area.
Flight Simulator X is one of the best and most realistic civil aviation simulators on the market.
Enhance your flying experience with free Flight Simulator X add-ons
There are dozens of free Flight Simulator X add-ons available including aircraft, jets, helicopters, panels, gauges, props, missions, and more to enhance your flying experience.
Extend yourgame play with free Flight Simulator X add-ons available in the Fly Away Simulation file library where you can become a member of a demonstration team at the Ozzie Air Show, fly the Ecuador Lake, search the Panama jungles at the Skyroad to Kamura Tok, and other missions at the missions page here. Experience the military by flying the F-14 Tomcat, F-15 Strike Eagle, F/A-18 Hornet, and other military aircraft over at the military aircraft page. Become a private airline pilot and fly a Learjet 45, Beechcraft Beechjet 400A, Boeing BBJ, and other business jets by visiting the biz-jet downloads page. You can even fly the Space Shuttle Atlantis, Boeing 7072 Orion, Grumman HU16 Albatross, and other unique aircraft with the add-ons from the other section.
You can view all of the downloads right here.
Further information
Order Flight Simulator X here
Official FAQ from Microsoft
Microsoft has provided us with an FAQ about FSX which we have reproduced verbatim below. Following the FAQ, we have added our own analysis and commentary about the official Microsoft report. Some of our analyses and insights may astound you.
What's new in "Microsoft Flight Simulator X"

Many of the new features in "Flight Simulator X" are based on requests from our loyal community who have provided creative input into our decision process. Therefore, we are excited to bring our fans the most revolutionary addition to the "Flight Simulator" franchise yet. We take full advantage of Windows Vista and the latest Windows gaming hardware to create a beautifully rich and immersive 3D world for aviation fans, young and old, to explore and experience. The new enhancements extend beyond the look and feel of the planet. The advances in graphics will benefit the aircraft as well, and fans will be amazed at the new level of detail in the models and the realistic effects like sun glint off the glass and chrome, reflective paint, and even shaded rivets on the fuselage. For the more game play minded, we are adding a new mission-based element to give fans a more objective driven experience with a sense of progression and skill development. We are also improving the multiplayer technology to allow the community to connect in new ways. This is just the beginning and, in the coming months, we look forward to sharing more information about "Flight Simulator X" as we lead up to launch at the end of the year.

When will "Microsoft Flight Simulator X" be available?

We are working hard to deliver "Flight Simulator X" in the holiday 2006 timeframe.

Will "Flight Simulator X" require Windows Vista?

No. While "Flight Simulator X" will not require Windows Vista, it will be optimized for the latest in Windows gaming hardware and fans will get the best experience by running on Windows Vista.

What type of computer hardware will I need to run "Flight Simulator X"?

While we are still determining exact hardware requirements, we do know that it will run on a wide range of configurations because we want to make "Flight Simulator X" accessible to a wide range of fans.

Will "Flight Simulator X" ship on DVD only?

Yes, for the first time "Flight Simulator" will ship on DVD only in order to provide the highest level of detail and realism for the product and we do not plan to offer a CD-based version.

Will aircraft from FS2004 be compatible with "Flight Simulator X"?

Backward compatibly with existing 3rd party content is and has always been a priority for us, and we attempt to test as many add-ons as possible in order to provide the greatest level of compatibility.

What are the types of aircraft featured in "Flight Simulator X"?

We will offer a range of aircraft to support a wide variety of flying experiences and many of the aircraft will be tied to specific mission-based experiences. Our basic fleet is merely the starting point because we are going to make it easier to download additional aircraft created by the many accomplished add-on developers in the community.

How many airports are included in "Flight Simulator X?"

We have included more than 24,000 airports in "Flight Simulator X" and the coverage extends to every continent. We also focused a select number of high-detail airports and added a new level of "interactivity" that the add-on community will certainly expand upon.

What new partners or endorsements will "Flight Simulator X" carry?

We are not quite ready to shine the spotlight on our new partners and endorsements, but they will be taking center stage in the months leading up to our launch.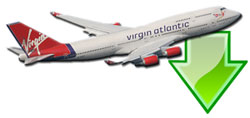 Don't forget... We have a huge selection (over 24,000 files) of free mods and add-ons for MSFS, FSX, P3D & X-Plane in the file library. Files include aircraft, scenery, and utilities All are free-to-download and use - you don't even need to register. Browse on down to the file library here.