The Chart Manager has built-in tools to view and overlay charts onto Google Maps in real time from within the application, easing the process of calibration. The utility is included in all editions of the freeware moving map system GMap for FSX.
Eventually, this was transformed into what is known as GMapHD for Windows. It was a moving map that could be used with any particular desktop simulator and was well liked and respected for its versatility. Designed to run on any Windows computer post-Vista, this piece of kit is made for FS2004, FSX and X-Plane.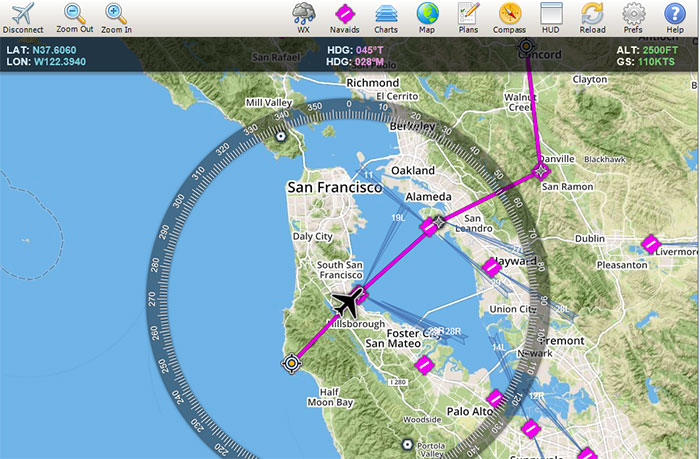 GMAPHD screenshot.
Inside the package, you would get access to a range of Aero Charts and Navigational Data that could be utilized. This could be used inside only GMapHD, though. It provided users with an extensive and detailed map that displayed navigational aids. It made a fine choice for VFR Flights and could be used to help make sure you stayed well on track of any specific navigational requirements.
It also came equipped with weather data overlays that included US Nexrad, Metar, TAF, cloud, rain, pressure, and wind. This varied selection of weather analytics made sure that you could navigate the storms to come as much as the destination as you would make your way across the skies.
If you would like to make sure that you are on track when it comes to using GMapHD, you should look to pick it up and use the readme provided. Although a bit of a challenge to get used to at first, most people can quickly find that GMapHD is an effective ally for accurate and safe navigation.
This was designed to run both locally and remotely, making it easy to use both on the go and in front of your machine. Also, it provided full support for using FSX, FS2004 and X-Plane flight plan files as well to help make sure you were on track. With waypoints that could be clicked to reveal logged flight details, too, this made it very easy to utilize a greater level of scrutiny during navigation.
You could easily connect and disconnect from the simulator as and when needed, too. You could then use it as a chart viewer offline, meaning that you could use it for research and development purposes to help improve your aviation experience tenfold. With many aero charts included, too, this made sure that you never would struggle in the skies.
With such a great level of control provided to every user, then, GMapHD is a fine choice for all of those looking to become more accurate in flight. With this, you have no reason to find trouble flying to any location in the world!
If you are someone who struggles with navigation, then this can be a great add-on to learn from. In terms of educating and informing you about navigation, few other tools can offer such a wide range of lessons to adhere to.
To download GMap for FSX please visit http://www.fswidgets.com
Don't forget, we have over 24,000 free-to-download add-ons for FSX, FS2004 and X-Plane in the file library - more information here.