Shockwave Productions has announced their next add-on for FS2004, Wings of Power WWII Fighters. The package will include the P-51D Mustang, Supermarine Spitfire, Messerschmitt Bf109 Mitsubishi A6M5 Zero and P-47D Thunderbolt, all with Shockwave's usual attention to detail. For more information, click on Read More.
Farmington, CT USA April 7th, 2006 -- Shockwave Productions Inc. has announced the imminent release most highly anticipated Microsoft Flight Simulator 2004 add-on, Wings of Power "WWII Fighters."
We at Shockwave Productions are so pleased to finally announce a true sequel (5+ man years in the making) to our first and most highly rated Microsoft Flight Simulator add-on, "Wing of Power: Heavy Bombers and Jets." Wings of Power WWII Fighters includes three brand new WWII fighter aircraft built with Absolute Realism Technology: The legendary Supermarine Spitfire, Messerschmitt Bf109, and Mitsubishi A6M5 Zero. We have also included the famous P51D Mustang and P47D-20 Thunderbolt to bring the total of this Wings of Power super-pack to five aircraft.
In the Microsoft Flight Simulator add-on industry, there are really two types of products: higher quality single aircraft or reduced quality multiple plane packs. Wings of Power: Heavy Bombers and Jets was the first of its kind to bring "Quantity with Quality." WWII Fighters raises the bar once again. Wings of Power owners know just what an achievement this is first hand, and happy customers are the sole reason why Wings of Power is continuing to grow in popularity.
We have been very much in tune to these aircraft for some time, so we are very excited to finally announce this project. We've conducted special interviews with owners and operators of these aircraft (not just experienced pilots), including the Zero. Our pilots conducted detailed, filmed interviews with these owners to gain inside and specific information only they know, including two high-time Bf109 pilots who own and operate a fully restored one today.
The end result is the most advanced and faithful aircraft ever designed for Flight Simulator 2004 in almost every aspect, and all of these magical Warbirds exist in one super retail pack.
The first release of WWII Fighters is a Special Edition version that includes 19"x14" map / checklists for each aircraft, and a 6th 19"x14" map comparing all aircraft to each other.
Have you ever gone to an air show or air museum and dreamed what it would be like to step inside the cockpit of an authentic WWII-era Warbird, start the engine, and takeoff? Making that experience become as real as possible is what Wings of Power WWII Fighters is all about.
Features:
Aircraft owners and operators interviewed
Special Edition includes six large 19"x14" aircraft fold-out maps
Built with the very latest "Absolute Realism" flight technology

Can be flown "by the book"
Built from actual aircraft flight tests and pilot's manual
"Absolute Realism" means the entire flight envelope is modeled via the actual pilot's training manuals

Authentic power characteristics of the supercharged and turbocharged piston engines
Realistic cruise performance under various conditions with Precision Fuel Management
Absolute Realism even delivers authentic "distance-to-altitude" performance under various power settings

Gorgeously constructed aircraft, inside and out, down to the last rivet
Professionally recorded and mastered authentic audio

Latest generation engine sound including realistic prop effects
Stall buffet, canopy, ground roll, flaps, gyro, and authentic cockpit wind

Authentic drop tank release actually drops both fuel and weight
Wings of Power "Special Effects" package includes:

Historically accurate lighting for stunning nighttime visuals
Realistic startup visuals modeled after the real aircraft
Belly landings with realistic effects and physics programming
AIRCRAFT INCLUDED:
North American P-51D "Mustang"
The North American P-51D Mustang has emerged as an icon, and is by far the most widely recognized piston fighter ever produced. The P-51 allowed the United States to escort their bombers to Berlin and back. The P-51 is a heavy, fast energy fighter and, in the right hands is lethal. It has a distinctive sound with its Merlin V-1650-7 engine with 1720 horsepower.
Supermarine "Spitfire" Mk IB
The Spitfire stands to this day as one of the greatest piston fighters in aviation history. It is a light, maneuverable craft with low drag, elliptical wings, and a broad performance envelope. The result was the Spitfire, a capable, lethal, yet forgiving aircraft that proved more than equal to anything the Germans could throw at it.
Republic P-47D-20 "Thunderbolt"
Equipped with a large, powerful radial engine, the P-47 looked as tough as it was. Known as the "Jug", this aircraft was a mainstay of the Allied fighter fleet and, with its eight .50 caliber guns, was capable of shredding ground targets and airborne opponents alike. While it could not turn with Axis fighters such as the Fw 190 and Me 109, it could outdive both of these and had a zoom-climb capability that was amazing.
Messerschmitt Bf "109" E4
The Bf109 was Germany's premier, front-line fighter at the beginning of the war and was still being produced at the end. Designed by Messerschmitt and Lusser, the Bf109 first flew in May 1935. It was a powerful aircraft - in November 1937 the Bf109 V13 raised the world airspeed record for land-based planes to over 370 mph.
Mitsubishi A6M5 "Zero"
The "Zero" was extremely light and maneuverable, and packed a considerable wallop for the time. It was a delight to fly, excelling at low and medium speed acrobatics. Because of its low wing loading, it could turn very tightly at low speeds without stalling, and had a turning radius of as little as 630 feet in the lower speed range.
Additional Wings of Power information can be found at:
About Shockwave Productions
Shockwave Productions specializes in the development and publication of flight simulations, strategy games, visual effects and sound. The company is a North American based company in Farmington, Connecticut.
Microsoft Flight Simulator 2004 is a registered trademark of Microsoft Corporation in the United States and/or other countries.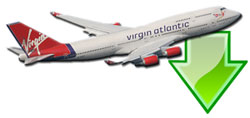 Don't forget... We have a huge selection (over 24,000 files) of free mods and add-ons for FSX, P3D & X-Plane in the file library. Files include aircraft, scenery, and utilities All are free-to-download and use - you don't even need to register. Browse on down to the file library here.