Now, fans of the aircraft – or those eager to try it – can.
This remake of the classic old two/three seat, low-sing, fixed undercarriage tail dragger is worth trying out for sure. It makes it easier for fans of the aircraft – and fans of trying out something new – to see it's true power. This is an aircraft that is powered using a 7-cylinder Wasp Jr radial engine, giving it great power. You'll be able to feel that power as you take to the skies, offering a fantastic way to see the power of Australian aviation.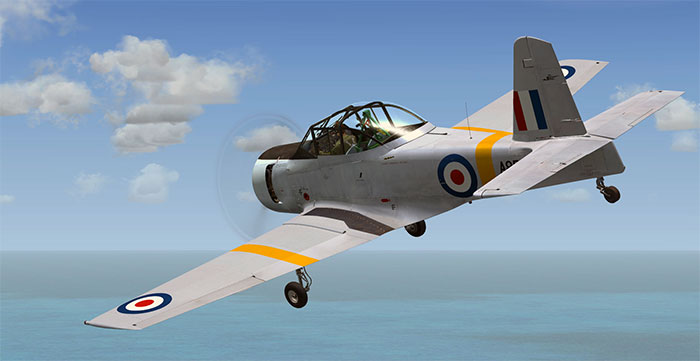 During the Vietnam War, the Winjeel played a key role there as well. The USAF modified four different Winjeels to be used as forward air control and smoke bomb solutions. They became vital parts of the war effort, and were regularly used to train pilots and improve skills. They stuck around until 1994, when it was replaced by the Pilatus PC-9.
This remake, then, manages to capture all of these key features and performance indicators for your enjoyment. If you have been looking for a way to appreciate and enjoy aviation from a classic point-of-view, this is a good place to start.
Make sure you give this a try – it perfectly captures one of histories most beloved aircraft types.
Main Features
In this aircraft mod, you get access to four specific and unique versions of the Winjeel. You get the Modern & Vintage editions, along with the FAC Modern/Vintage selections. You get two basic models with additional avionics and smoke grenade dispensers, too. The modern edition, by the way, has a modern transponder and a comms radio fitted, with some modern gauges.
The model of the aircraft styles has been carefully edited and optimized, as well. This allows for a far more detailed aircraft to be used, including the engine. This makes use of the unique engine bay petals, giving you more than 320,000 triangles. Despite this, though, the model does not hamper performance in any way.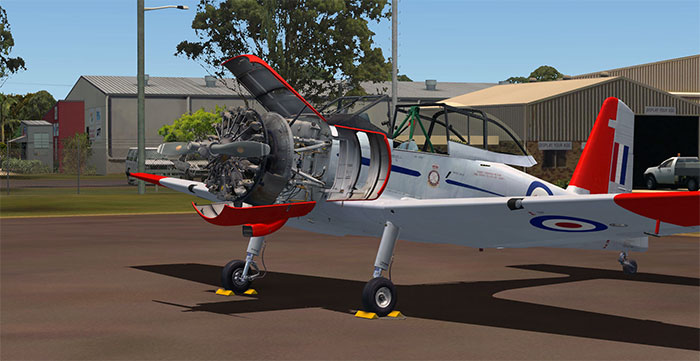 A better quality of animation is being used here, also. This mod makes use of a range of new animation controls that optimized performance. However, it also makes your aircraft feel far more interactive than it may have in the past. With a full pilot's handbook and a tutorial, also, you can easily manage this aircrafts various different animation styles.
Stuck on what to do when flying? Then turn to the in-game help system. With just a middle click on your mouse you can get all of the help that you may need. This will help you manage anything from the animation manager to a full control explanation for flight.
Camera controls are made to be as powerful as possible, helping you to adjust default eye points. With the use of the animation manager, also, you can edit cameras to fit exactly what you had intended. Please note that if you use an EZ-DOK, you may have some problems awaiting you.
VIDEO: Ant's Airplanes CAC25 Winjeel Walkaround
Helpful Features
Interactive and easy to follow checklist are included, as well. Not sure where to go when you are setting up the aircraft? Follow these lists. The checklists show you a red listing when something needs your attention. This makes it easy to keep an eye on your flight performance and safety. You can also lock the camera to that particular item.
Give your aircraft a good interior inspection with this model, also. Using the interactive checklists, you can quickly go on a virtual tour of the aircraft exterior. Then you can place chocks, remote covers and even add fuel by interacting as you go.
Three other pilot models exist, one being a vintage male RAAF pilot and more modern pilots, too. This makes it easy for you to add more realism to the aircraft, as the inclusion of a pilot can really help to solidify this.
Custom sound systems are made from scratch by the team. These go a long way to making sure that your flights feel and sound fair. The entire journey that you head on is going to be improved by simply using these custom sounds for assistance. Now, you can accurately hear changes in aircraft performance as you fly. Now, this means that you can actively diagnose flight issues without having to stop. It's a far better sound system than the original!
Made better with an automatic mixture control system being included. This comes with four unique settings – Idle, Auto Lean, Auto Rich and Full Rich. Using these allows you to adjust the aircraft to get the best air/fuel ratio. This is a great education for helping you see the balancing act which is putting together a safe and sound aircraft flight.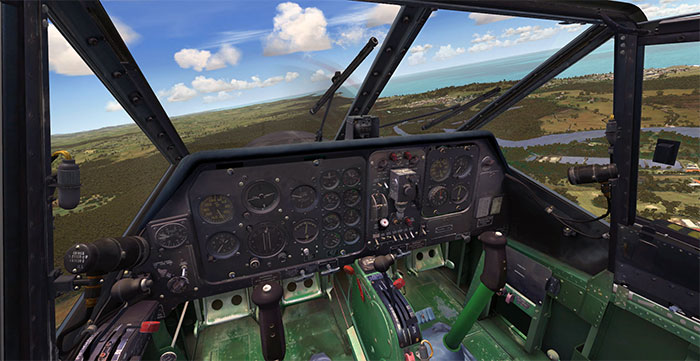 Greater engine dynamics than before are included, as well. This aircraft goes very far in terms of making sure you get the most realistic flight possible – with custom coding improving everything from torque effects to wing drops when stalling. All of these extra changes to performance makes sure you are getting an aircraft that handles itself accordingly.
Additional Features
The best part about this mod, though, is the addition of the new smoke grenade dispenser. What better way to have fun than lobbing smoke grenades around down below?
This mod also goes a long way to improving wear and tear modeling. You'll get to see various changes based on the option that you pick, from full engine damage being capable to abnormal temperatures becoming a problem. This makes flight management come into its own, making sure that you need to keep changing and improving the way that you handle a typical flight.
Also, you can make use of various new intelligent additions such as how fuel is consumed. Fuel consumption coding has been upgraded and improved to provide an accurate level of consumption. Likewise, a new engine auto-start routine has been introduced. You simply hit the auto-start command, and the aircraft goes through the beginning procedure for you. This is great foe newbies who are still learning their way around.
Failure modeling has also been included. This is a wonderful fair touch, which makes sure that you can set up a wide range of programmed failures beyond normal FSX capabilities. This will let you see just how well you handle an emergency when it occurs!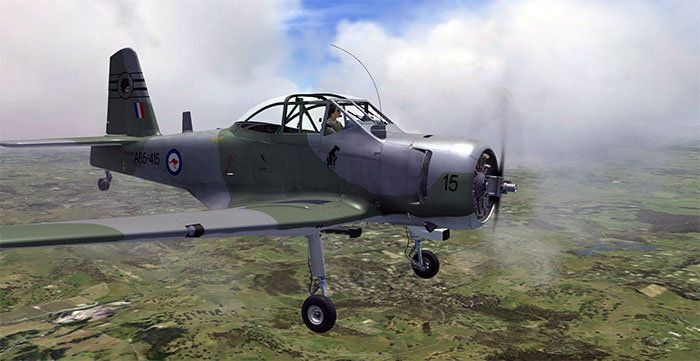 Make use of the brilliant new controller calibration, too. This allows you to use custom coding to control throttle and mixture controls. You can use this feature in the Control Calibration tab of the animation manager. Then, you can set up your controller to work exactly as you had planned in the first place.
Better in-game weight and fuel loading is being used here, too. Other mods may try this but few will get it to be as successful as this. The animation manager allows you to handle this problem, adjusting fuel, oil and weight levels accordingly without needing to use any FSX menus.
Rain effects, like many of the aircraft found in the Ant's Airplanes collection, introduces working windscreen wipers. It's a small but very useful feature that helps to sell this mod even further.
As you can see, the various features and introductions here all help to contribute to a wonderful experience. If you have always wanted to try out this aircraft, then now is the time.
For more information, visit the official Ant's Airplanes website here.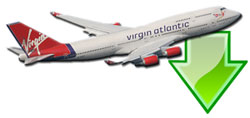 Don't forget... We have a huge selection (over 24,000 files) of free mods and add-ons for FSX, P3D & X-Plane in the file library. Files include aircraft, scenery, and utilities All are free-to-download and use - you don't even need to register. Browse on down to the file library here.