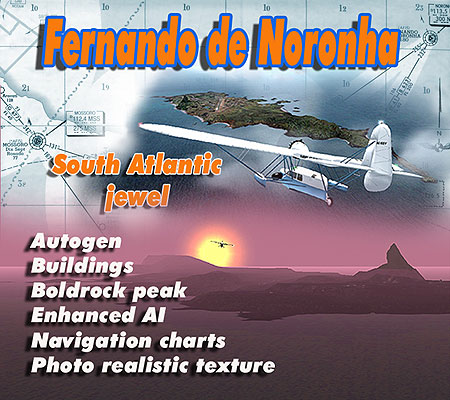 Fernando de Noronha is one of the most beautiful natural reserves all around the world. This small archipelago and its rich fauna and flora attracts people from different countries.
Fernando de Noronha airport receives regular governamental, military and commercial flights daily. The airport is not a big hub in its size, but it does keep a graet history, being base for atlantic crosses in the early days of aviation and a very strategic airbase during the world war.
Fernando de Noronha is the eastern edge of the american continent and its closest point to Africa.
Do not miss this incredible scenery!
Scenery Features
Incredibly detailed airport built using Gmax
Included AFCAD files
Photorrealistic terrain
Autogen
Enhanced AI traffic
3D objects of the monuments and buildings
High resolution mesh altitude