Orbx Simulation Systems is pleased to announce the immediate availablility of FTX YHBA Hervey Bay Airport, its first scenery using new state-of-the-art digital imagery captured directly from the aircraft to hard disk.
Situated on the coast of Queensland, the town of Hervey Bay is serviced by a modern airport which has seen rapid growth recently to cater for the tourists visiting nearby Fraser Island or watching the whale migration out to sea. The scenery is the most detailed ever released by the Orbx team with using 15cm/pixel imagery at the airport and marina and 60cm/pixel imagery for the overal township and surrounds. The detail on the ground is such that you can drive a vehicle around on the roads and peek into shop windows, walk along the piers or boardwalks or even land a helicopter at the marina pontoon.
Included with YHBA is the FTX Aero tool which provide spectacular bump mapping detail to ground textures. The scenery includes full GA AI traffic, GPS nav approach support, superbly detailed gmax modeled terminal, hangars, ground vehicles and gmax poly runways and aprons. YHBA caters for commercial airliners such as B737, Dash8, E90 plus all variants of GA and commuter aircraft.

Features
Airport in 15cm/pixel with gmax poly runway
HD textures on all airport buildings
Highly detailed airport industrial estate
Full GA AI traffic included
Entire Hervey Bay township included
Incredibly detailed Marina scenery
Beautiful waterways, beaches and island
Full autogen and water masking for rivers
Includes FTX Aero for HD bump mapping
Includes Control Panel for detail settings
Includes 100km sq of photoreal imagery!
Includes a full Audio Sound Pack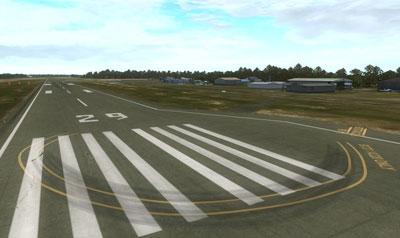 ORBX's FTX YHBA Hervey Bay Scenery for FSX