This new release, Nuvecta' Landscapes USA series, is going to make it easy to transform the world around you. Thanks to this, you can add in new buildings and items such as trees to help make the world around you so much more populated. If you are sick of flying around a world that feels quite empty and dull in comparison, then this 3D photo realistic scenery package is just what you need!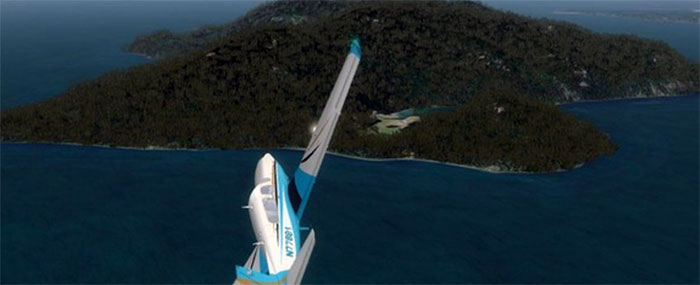 Landscapes cover artwork.
By helping to transform large parts of the United States of America into a new look and feel, this builds on the popular Treeline mods to add a new layer of authenticity to any environment. Landscapes are a major part of the enjoyment experience for many FS users, adding a new layer of realism to their experiences. From trying to make sure that your home town looks less generic to replacing dour and dull tree models with something far more impressive, this is just what you need!
As a growing range of products that cover 49 US states, Puerto Rico and also the US Virgin Isles, this envelopes parts of the United Kingdom, too. Both England and Wales have been taken care of, providing a much more realistic level of scenery around you as you fly from Boston to Bristol.
Professional Scenery for a New Experience
Whether this is to help you get a better sight-seeing experience or to help you begin to notice important landmarks, this can really help to enhance your flight simulation experience. If you are sick of dull or basic scenery taking up large parts of the world around you, this can be the catalyst you need to fill in those boorish blanks. With new, fully 3D autogen, you can make sure that the world is going to stop looking so simplistic and obviously rendered. You'll stop seeing flat landscapes that look totally out of touch with their real-life counterpart.
It's important to have scenery that looks authentic, and getting rid of the dull and flat textures of the past is very important. With this, you can get rid of the old approximated reality that tends to permeate most generic FS objects and scenery. Rather than putting up with a rough guess of what an area or town should feel like this, this can step in and make sure that all-important reality can return.


Nuvecta company logo.
Spatial features are a common problem with many simulators, and this helps to add in a bit of spacial awareness and realism back into the simulator. By using better scaling and planning out of the layout below you, the world can start to feel a lot more like the one that we inhabit. Sick of poor imitations? Then this offers just what you need to fill in those gaps.
If you want to be in a flight simulation environment that is loaded with realistic layouts and designs, this is just what you want to see. By taking all current scenery and improving upon it for the packages that you buy, you can make major parts of the US and the UK come to live like they have never done beforehand.
Accuracy Comes First
By using 1:24000 detail scales, this allows for a commercial quality of mapping to be laid down. It's using a USGS Topo Map detail alongside some other powerful sources to help ensure that accuracy wins the day at all times. Thanks to the intricate nature of the detail that comes to life when you use this kind of product, you can begin to enjoy a much more refined flight experience. The world can soon become far more like its genuine counterpart, getting rid of a lack of difference and detail in areas that really deserve attention.
The scenery packages all work to help reduce problems such as a lack of detail and change when flying in different seasons. As we all know, the world looks a very different place from summer to winter, and this should be matched up perfectly – this mod does a great job of doing just that.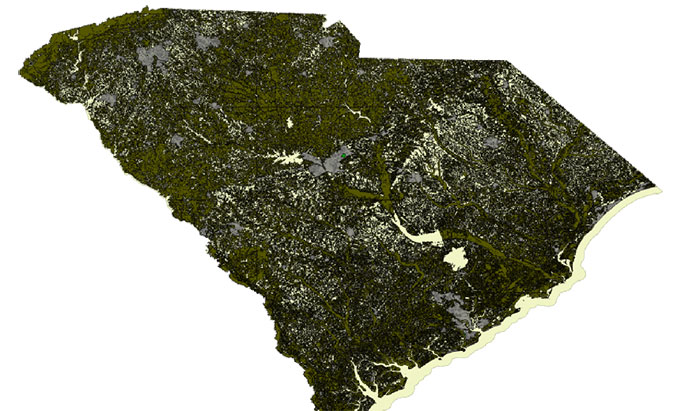 Terrain of South Carolina.
It also provides an easy way to provide more uniform coloring. This has been a major problem in the past, creating a really weird looking world below that uses unauthentic coloring that becomes a bit of an eyesore. This helps to correct this oversight, making the world look more balanced in coloring as it should.
Another important part of this, though, comes from the fact that you can now avoid seeing false 'variety' in the world below. Repetitive 'random generation' was a common problem in the past, where it would feel like you were flying over a repeat of the same part of the world over and over again. With this, you easily get to avoid this problem as time goes on – instead, the autogen placement is much more authentic. The end result is a world that looks far more well put together, avoiding the dull repetition that has ruined many a part of the generic FS world.
It's a nice little touch, and one that can go a long way to making sure you get the right kind of flying experience. Whenever you fly over a part of the world in FSX, it should look a close as it can to the real-world counterpart.
Well, now you can make sure that you have major parts of the world tied up in this manner. With the help of this mod, you get a world that is going to be much more varied and authentic in how it looks. If you are sick of old, flat trees that look way out of sync with the rest of the mapping, then these Nuvecta mods might worth considering for your own needs.
You can purchase Nuvecta products over at SimShack. You can also visit the official website here.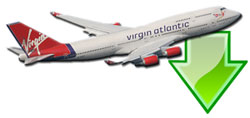 Don't forget... We have a huge selection (over 24,000 files) of free mods and add-ons for FSX, P3D & X-Plane in the file library. Files include aircraft, scenery, and utilities All are free-to-download and use - you don't even need to register. Browse on down to the file library here.