1: Eric Buchmann's Concorde Package
With a virtual cockpit, afterburner, smoke effects and a legendary profile that says "I am king of the skies," the Concorde is unlike any other aircraft in the FSX pantheon. Originally modeled after the Air France model from FS2004, it was later upgraded and released for FSX.

The Concorde was a joint effort between British Air and France's Aérospatiale. It began commercial flights in 1976 and continued until 2003. The first supersonic jet airliner, the Concorde was able to shuttle passengers across the Atlantic in half the time.
The FSX add-on originally came with 5 paint schemes- American Airlines, Air France, British Airways, United Airlines, and a Pepsi repaint. The flight characteristics are like the plane itself—powerful but touchy. It takes some getting used to, but any chance to fly an iconic plane like The Concorde is a treat.
You can download it over at this page.
2: Andy Johnston's NASA Space Shuttle
Tired of earth-bound flight in FSX? The NASA Space Shuttle add-on takes you miles above the earth. For FSX it has been altered so that it can take off like other aircraft from airports and even aircraft carriers. The reverse thrusters and slats give it very good handling. If you are simply interested in speed, the Space Shuttle will max out FSX's speed limitations.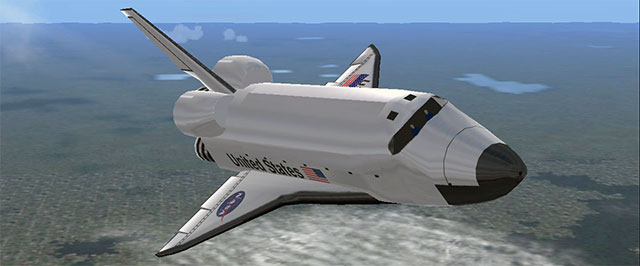 NASA Space Shuttle was constructed with the tools in Flight Simulator Design Studio. It has a number of animated features including working cargo bay doors. The gauges are all custom XML configurations.
There is a demo version and since its introduction, a number of service packs have kept it updated. There was also a free Mission Pack released by Exciting Simulations in 2010. It included the STS-130 mission, OBSS camera links to view the thermal shield, and the Cupola crew station.
You can get it by clicking here.
3: Ivan Kostic's Grumman F-14D Tomcat
The Grumman F14D Tomcat is a variable-sweep wing airplane created for the Naval Fight Experimental Program. It was the beginning of several "teen-series" aircraft that were developed near the end of the Vietnam War.

Nimble yet powerful, the Grumman F14D Tomcat add-on reflects the handling of the original. One user reported their first experience: "'Whoa!' is the first thing I said when I flew it." A supersonic fighter, it has a convincing sonic boom effect and impressive afterburners.
The artwork and graphic details are accurate, it has good cockpit visuals, installation is a snap, and it performs well in the FSX system. Fire it up, crank it up to Mach One and have a ball. This is a beast best flown by experience pilots.
4: Tim Conrad's OH-6A 160 Soar Little Bird
SOAR (Special Operations Aviation Regiment) is a special unit of the US Army which gives Special Forces and regular Army helicopter support. Known as Nightstalkers, they are specially trained to carry out their missions in the dark. Each unit uses a custom version of Chinook, Assault, Blackhawk, or Attack modifications of a Little Bird Helicopter.

The 160 Soar Little Bird add-on uses the FSX helo panel out of the box. Designed for attack and reconnaissance missions, it can easily handle a wide variety of speeds and altitudes. The package includes several photos and a written history of the Nightstalkers. Helicopter enthusiasts love this copter and it easily ranks as one of the top add-ons for FSX.
5: Thomas Ruth's Airbus A300-600R
The world's very first twin-engine widebody jetliner, the Airbus A300 started service in the early 70s—production ended in July 2007. Developed in response to a call from American Airlines for a replacement to the Boeing 727 series, the A300 was a combined effort of the German, French and British governments. In fact, much of its design came from the Concorde project.

Smooth and sturdy, the FSX add-on is perfect for short to medium distance flights. Its compact size allows it to fly out easily from of a wide variety of airports and jetways. However, it is not 100% multiplayer friendly. Multi-player users will have to replace the exterior model file with the multiplayer version.
6: Aime Leclercq's TreeX
Originally released as "FSX Enhanced Trees," TreeX is a comprehensive collection of highly realistic photographs of trees. It comes in 3 quality levels:
Hi Fi Version- Textures are 512x512 – 171 Kb.
Quality Version- Textures are 256x256 – 43 Kb.
Performance Version- Textures are 128x128- 11Kb.
Hi Fi version should be used if you have a muscular computer with plenty of RAM and CPU speed. Previous versions of TreeX should be removed before installing an update. The textures will be available all over the world and will automatically adjust for seasons.

On installation, users choose between lighter or darker versions of Acacia trees, as well as four different versions of Larches trees. With these simple configurations selected, installation is a breeze. It's important to pick the right version to match your computer's performance capabilities to get the most out of this impressive vegetation package.
7: High Definition Jetway and Airport Parking
Real Environment Extreme does it again with High-Definition Airport and Jetway Parking. From the same studio that brought you enhanced Grass Textures, Standard and High-Definition Roads and Highways, and Water Environment Reflection and Color Maps, REX is a major contributor to high quality FSX add-ons.

If you are a current REX user, turn OFF the option to load the free textures in the REX GUI located in the OPTIONS screen (It is labeled clearly as "Airport Parking Space" Plus.) This is a necessary step so REX does not overwrite the files. Once you have everything sorted, note the excruciating detail REX has put into this very realistic graphics package.
8: Just Flight's Free Cessna 152 Package
A free add-on for subscribers to Microsoft's FS Insider, the Just Flight Cessna 152 is an outstanding combination of high-quality avionics and steady fight characteristics. It features sounds recorded from real aircraft, realistic textures, immersive cockpit, and numerous animations. Attention to detail is unmatched—fuel caps, brake lines, radio antennas, tie-downs and much more are rendered in lifelike imagery. This plane is a joy to fly every time.

Grab it from the SimShack.net website here.
9: Daniel McCarthy's Eurocopter AS350 Ecureuil
Originally built by France's Aérospatiale, the Eurocopter AS350 is a single-engine helicopter. Light and tough, it is used worldwide by governments, corporations, medical teams, and a wide variety of commercial and non-commercial aviation companies and charter groups.

Its distinguished accomplishments include a landing by pilot Didier Delsalle on top of Mount Everest in 2005. The flight set world records for both landing and takeoff. The FSX add-on was originally designed by FSpainter/Florian Laroye.
10: AddIt! Pro Aircraft and Add-On Manager Installer for FSX
Once the flight simulation bug bites, it's not too long before your hard drive is filled with a cornucopia of aircraft, scenes, textures and more. It gets a little hairy keeping it all under control. Addit! Pro Aircraft and Add-On Manager Installer will return some sanity to your flight simulation sessions.

This handy program manages both aircraft and scenery and indicates any conflicts before you have major problems. When scenery is added, the program will automatically update the scenery library. In addition, it will manage missions, skins, repaints, videos, textures and everything else except the air pressure in the tires!
The Add-on Wizard swings in to action the first time the program is installed. From then on it will easily recognize any new zip or rar file you want to add. It will even import new add-ons automatically each time it is started up.
Lists like this always spark heated debate. Critics yell, "How come you left off this aircraft or that scenery??!!" Add-ons for FSX are highly personal and not all will agree on the top 10. If you are new, my choices will give a good starting point. If you are a veteran pilot and haven't given some of these gems a spin, what are you waiting for?