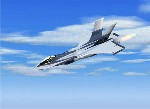 MoTIS Virtual Jet Design are becoming one of the big players in the Virtual Jet Design industry now. They have recently released one of their best designs yet, the Graviton. From MoTIS themselves, "The GRAVITON has been developed to act as a primary LWF Navy strike fighter. This aircraft will be carrier based with its primary FS military function to be the a support aircraft for the real world F18 Super Hornet." I am to provide you with an unbiased, complete review of the craft. See what's to offer from MoTIS and their new Jet, the Graviton by reading Ryan Barclay's complete review of it.
MoTIS Graviton Review

by Ryan Barclay

I will be reviewing this stunning, fully featured aircraft add-on from MoTIS.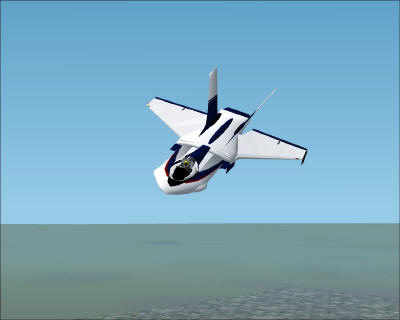 Shot showing Graviton in all of its glory
click for larger image
From MoTIS:
"The GRAVITON has been developed to act as a primary LWF Navy strike fighter. This aircraft will be carrier based with its primary FS military function to be the a support aircraft for the real world F18 Super Hornet.. The GRAVITON is designed for single pilot operations and is fully capable of supersonic flight. Designed by engineers at MoTIS VJD and created by lead designer O Watson this aircraft will have a thrust to weight ratio greater then 1.01 and be able to conduct operations above 50,500ft with a rate of climb of 46,000fpm.. More data presented in the flight manual at release. This aircraft belongs to the FS reality family of aircraft and all of us in the simulation community. It was designed by O Watson and team MoTIS but it can only reach the highest boundaries of the FS skies by you!"
Graviton Specs
Length: 52.0 ft 5 in --- Wingspan: 39.0 ft ---Height: 16.0 ft ---Empty Wt: 19,559lbs--- Combat Takeoff: 32,000lbs---Wing area: 380sq ft ---Wing Loading: 96 lbs/sq ft ---Engine: NA ---Max Thrust: NA --- T/W Ratio: 1.01--- V Max hi: 1.95--- Ceiling: 55,000FT ---Climb Rate:46,000fpm---Combat radius: 510 miles---Range: NA
THE INSTALLATION
I was expecting to have to unzip the file, extract all of the files into a folder, and manually place the aircraft into my FS2002 aircraft folder. But oh no, MoTIS include a complete installer interface for their aircraft. The interface is pretty simple to use, but does have a downfall...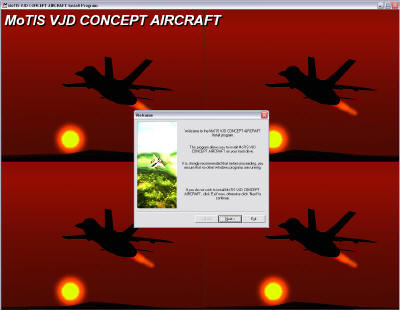 The installer intro screen
click for larger image
I was presented with a dialogue box to ask me where to install the aircraft. Being a dedicated simmer, I knew exactly what to punch into the box - my FS2002 aircraft folder. But, I thought the easy to use interface was to easily distribute the aircraft to people that are less literate with computers and FS in particular. Perhaps asking where to install, and not even saying that the FS folder is required defeats the object of the interface?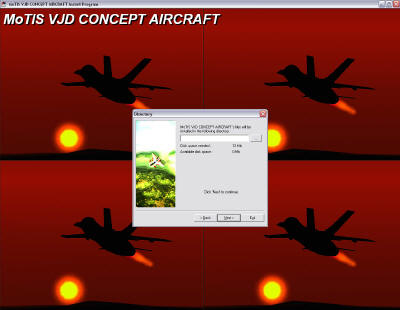 Asking me where to install...
click for larger image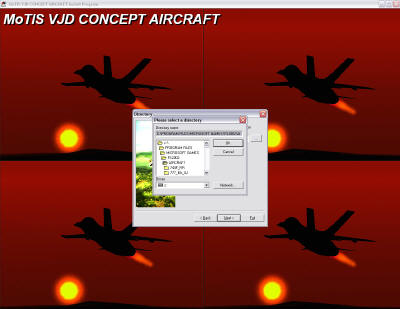 Searching for my FS2002 aircraft folder
click for larger image
After a successful install, I was eager to load up FS and start flying around in my new craft.
THE REVIEW
I was looking forward to opening the Graviton up in FS. As I did, I was presented with a well thought out military aircraft that greeted me with many great features, waiting to be tested.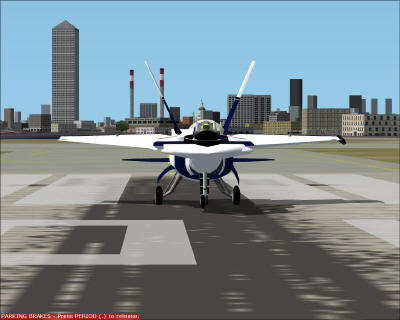 The Graviton ready for takeoff
click for larger image
Taxiing and Takeoff:
Taxiing the Graviton was not much of a problem, the aircraft seemed pretty responsive on the rudder and was pretty easy to taxi.
As I began my takeoff, rolling down the runway, I realised that the runway was soon coming to an end, I was going very fast - but the craft had not left the ground. This was a problem; I overshot the runway slightly - and if this craft would be used for carrier use, problems would arise. Perhaps MoTIS will improve the elevation part of the aircraft in the next update release.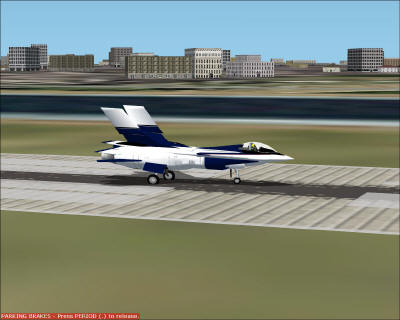 Graviton eager for lift-off
click for larger image

Flight:
After finally getting the Graviton off the ground, I was looking forward to a new, interesting type of flight. The Graviton handled great - was responsive in banking, yawing, and had great flight in general. Then, I was greeted with the 800kt problem - over 800kts, the aircraft went crazy, and I lost all of my elevator control and the aircraft went into a steep accent into the heavens. I have been speaking to MoTIS, and am told that this problem will be fixed in the next update - which is promising.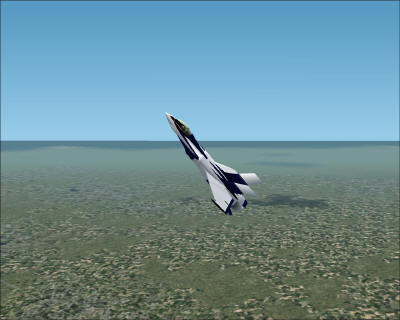 ..."Here we go again!" - the 800kt problem
click for larger image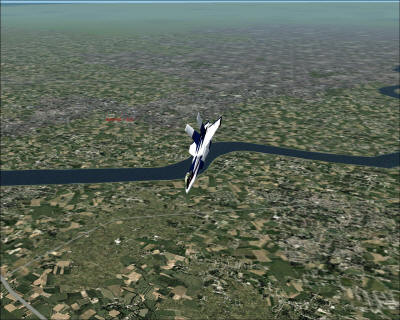 Great handling
click for larger image
Landing:
Landing was harder than I expected. The 800kt problem was a major issue when trying to control the aircraft, and when descending - the craft always seemed to be above 800kts, even with the flaps and spoilers fully on and engines idle. The flaps did not seem very responsive - and I'm not too sure if spoilers were included with this model; they did not appear to be there. If MoTIS could improve that part of the craft in the next update, that would also be great - I'm sure they will.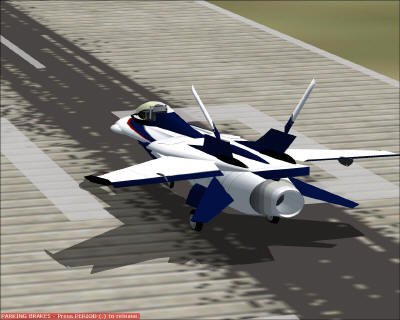 Shot showing all of the moving rudders, ailerons and elevators
click for larger image

Conclusion:
It's clear that the Graviton is a definite add-on for FS. You would be crazy not to download it. It's also definatley one of MoTIS's best aircraft, and should not be doubted. The Graviton has great potential, and if MoTIS could improve things such as elevator response, the 800kt problem, and flaps/spoilers - the craft would be much better. It has many great features just waiting to be discovered and loved. All in all, this craft is great, and another fine work of art from the MoTIS factory - Well done MoTIS!
PRO
CON

Freeware
Attractive Design
Easy install interface

800kt problem
Spoilers/flaps need improvement
Elevator improvement needed for takeoffs

INFORMATION
TEST SYSTEM

AUTHOR: MoTIS Virtual Jet Design
HOMEPAGE:
FILES:
PRICE: Freeware
LINKS: MoTIS:

AMD 1,2GHz
512MB
VOODOO 6 64
FS2002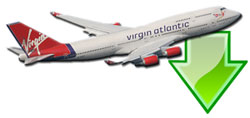 Don't forget... We have a huge selection (over 24,000 files) of free mods and add-ons for FSX, P3D & X-Plane in the file library. Files include aircraft, scenery, and utilities All are free-to-download and use - you don't even need to register. Browse on down to the file library here.