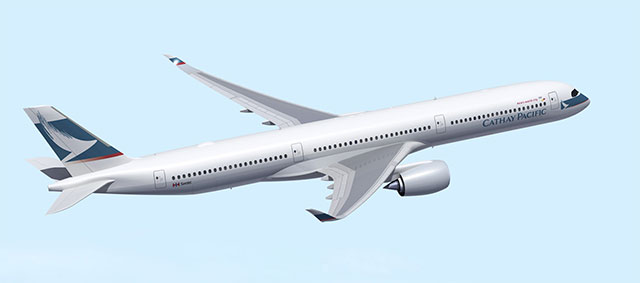 The flag carrier of Hong Kong has become the first airline place an order for the Airbus A350-1000 since the aircraft went through significant redesign in 2011.
The new A350-1000, which is designed to replace Airbus A340-600 and compete with the Boeing 777-300ER, will seat 350 passengers and feature a 3-class cabin 9-abreast layout. Rolls-Royce Trent XWB engines will power all the A350-1000s.
The $320 million A350-1000 jet is expected to enter service in 2017, and Cathy Pacific's aircraft will be delivered in 2018. The A350-900s that Cathy Pacific has on order will be delivered in 2016.
Airbus has had to push back the development of the A350-1000 while redesigning the aircraft. Cathy Pacific said it is hopeful that there will not be any delays in A350-1000's entry into service. Cathay Pacific CEO John Slosar said if any delays occur, the airline has a contingency plan. He said,
There's always a risk with new technologies. We have a reasonable sized fleet still of 747s, of which we can slow down the retirement or even speed up, based on when aircraft are coming.
Cathy Pacific's operations include flights to 114 destinations in 36 countries worldwide. Its fleet consists of Airbus A330, Airbus A340, Boeing 747 and Boeing 777 aircraft.