The battle between Boeing and Airbus is one with long tradition and one that never loses on it's interestingness. The airplane manufacturer industry is one that requires the companies to be flamboyant, adaptable and aggressive. The most famous manufacturer battle was when Boeing introduced the 737 series and Airbus had problems coming up with a adequate answer that would bring it up to even terms. The Airbus family of the A318, A319, A320, A321 is today seen as direct competition, but in today's world the spotlight shifted away from the short-haul airplanes to the long-haul planes.
Many people eagerly awaited the two manufacturers to unveil their technological masterpieces, on one side we had Airbus who came out with the Superjumbo A380 and on the other side we had Boeing coming out with the 787 Dreamliner. The question remains: Who is currently adding large black numbers to their bank account?
Airbus A380
The A380 is a technological masterpiece that looks like an double-decker Avro RJ 85 on steroids, with a face-lift that Michael Jackson would be proud of. The airplane itself was long awaited by many manufacturers such as Singapore Airlines who were the first airline to commercially fly this airplane. But the positive aspect of this airplane, which is its size and leisure offer for the passengers is coming at a high cost for Airbus. Many airports will need to remake their Gates, Security Checks and safety standards in order to effectively serve this airplane. This is something that may discourage airlines from ordering this plane, the reality of airports being either owned by investors or governments could raise maintenance costs due to construction and adaption costs of the terminals/gates. The one aspect that really speaks for the A380 is the huge passenger capacity and the great results of the safety tests that have been made on this aircraft.
My personal perception of the Airbus A380 is very positive, although my criticism and maybe over sarcasm might not indicate this as much.
Boeing 787, AKA-Dreamliner
Boeing has chosen a different path than Airbus who chose to make a Superjumbo. The reality shows that two "think models" collided, Boeing set its bet on direct point to point connections from two airports for which the 787 is ideal, while Airbus chose to continue the pursuit of "Large transition airports". According to the data of Boeing the following data should be true for the Dreamliner.The 787-8 Dreamliner will carry 210 - 250 passengers on routes of 7,650 to 8,200 nautical miles (14,200 to 15,200 kilometers), while the 787-9 Dreamliner will carry 250 - 290 passengers on routes of 8,000 to 8,500 nautical miles (14,800 to 15,750 kilometers).In addition to bringing big-jet ranges to mid-size airplanes, the 787 will provide airlines with unmatched fuel efficiency, resulting in exceptional environmental performance. The airplane will use 20 percent less fuel for comparable missions than today's similarly sized airplane. It will also travel at speeds similar to today's fastest wide bodies, Mach 0.85. Airlines will enjoy more cargo revenue capacity.
According to a Boeing manager the "the A380 will be a similar financial flop as the legendary Concorde was".
Data and Numbers
At current Boeing has the following large scale orders
Air Canada ordered 18 Boeing 777,14 Boeing 787. To this Air Canada ordered another 18 Boeing 777 and an option for ordering another 46 Boeing 787 Dreamliners, and this for a total order of 6.1 billion dollar's.
Airbus received so far 154 orders and 15 options for the A380, Airbus wants to make a profit of 150 billion euro over the next 40 years with the A380.
Air India wants to modernize its Fleet and it gave the business to Boeing instead of Airbus, the company ordered 50 machines including the 787 Dreamliner, this business is worth of 7 billion euro.
Who uses the A380 for passenger transport?
Singapore Airlines
Emirates
Qantas
Air France
Lufthansa
Which european airports are adapting or adapted to the A380?
Zürich International Airport adapted
Munich-Was the first airport who got the license to handle the Airbus A380
Frankfurt
Hamburg
Saint Petersburg
Vienna International Airport
Berlin
Leipzig Halle
My Conclusion
I believe that Airbus will need to adapt to the introduction of Boeing's Dreamliner, maybe the A350 will be a good answer, however Airbus has complications with the airplane. It is said that the complications are very similar to be the same as Boeing had with the 787 Dreamliner. What would be interesting to see is how the 787 Dreamliner and the Airbus A350 will compare face to face.
This article was written by resident aviation news editor Roland Ondrus for Fly Away Simulation.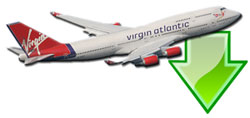 Don't forget... We have a huge selection (over 24,000 files) of free mods and add-ons for FSX, P3D & X-Plane in the file library. Files include aircraft, scenery, and utilities All are free-to-download and use - you don't even need to register. Browse on down to the file library here.