The entire airline industry has been in a crisis state over the past four years, and the future continues to look uncertain.

International Airlines Group (IAG), the British-Spanish airline holding company for British Airways and Iberia, has announced its plans to cut 4,500 jobs and reduce fleet by 25 aircraft at Iberia, as part of a restructuring plan designed to restore the company's profitability.
Fight for Survival
The move comes after the Spanish flag carrier recorded a 9-month operating loss of €262 million ($334 million) in 2012. Iberia has been recording losses across all its markets.
Willie Walsh, IAG chief executive, said, "Iberia is in a fight for survival and we will transform it to reduce its cost base so it can grow profitably in the future." Walsh added, "As well as halting Iberia's financial decline, we will establish a viable business that can grow profitably in the long term." The restricting plan aims to stop financial losses by mid-2013.
Between now and 31 January 2013, the company will work on an agreement with unions regarding the restructure and the associated job cuts. The company added, "If an agreement is not reached, deeper cuts and a more radical reduction in the size and scale of Iberia's operations will take place to secure the natural long-haul traffic flows at Madrid and safeguard the company's future."
The Restructuring Plan
The restricting plan includes several initiatives:
Reduce capacity in Iberia's network by 15 % in 2013
Downsize its Iberia's fleet by 25 aircraft –IAG will reduce Iberia's Airbus A340s and A320s under its fleet plan to 2015
Focus on profitable routes only
IAG Declining Profitability
Formed in 2011 as a merger between two airlines, IAG posted a 25% decline in 2012 third-quarter operating profit, and the group is heading towards a full-year operating loss.
IAG's operating profit for Q3 2012 was 270 million Euros ($343.63 million), which is a substantial decline from 363 million Euros in Q3 2011. After taking into account trading losses linked to its BMI subsidiary and exceptional items, IAG forecasts an operating loss of 120 million Euros in 2012. High fuel costs, weak demand, and the struggling Spanish unit accounted for IAG's losses.
Hard hit by the recession, Spanish air travel demand has plummeted. To make matters worse, Iberia's low-cost carrier, Iberia Express, has been affected by lengthy labour disputes, and these have affected its operations.
Part of the Airline Industry Crisis
The International Air Transport Association (IATA) has documented the airline industry crisis over the past four years. According IATA, several factors have affected the world's airlines and their investors:
Weak consumer and business confidence across all regions: the euro zone, North America, and Asia Pacific
High jet fuel prices which put pressure on the airline industry
Economic uncertainty caused by European sovereign debt crisis, US' escalating debt, the global financial crisis, and prolonged slow growth in developed economies
Slowing travel volumes and declining freight demand as the economic and financial uncertainty continues.
Decline in airline stock values in 2011-2012 as airline profits continue to suffer from deteriorating economic conditions, and fears of a double-dip recession loom large in 2013-2014. The shares of the world's biggest carriers, namely America, Delta, United, Air France and Lufthansa, have all seen a large decline in share price. Share prices for US Airways Group, Air Canada, Qantas, China Southern, China Eastern, Cathay Pacific, and India's Kingfisher, among other airlines across all regions, have also plummeted due to the tough economic climate.
Additional BA 777s
While IAG is cutting Iberia's fleet, the holding company is ordering more Boeing 777s for British Airways. BA's 777 fleet is expected to increase from 52 in 2012 to 58 in 2015. During the same timeframe, BA will take only 12, instead of 16, of its 24 Boeing 787s on order; and the remainder will be delivered after 2015.

IAG and Vueling Airlines
In November 2012, in an effort to cut losses in Spain and revive the country's short-haul business, IAG proposed to purchase the remaining shareholding in Vueling Airlines SA (Vueling), a Spanish low cost airline that operates 57 A320s. IAG currently owns 45.85% shareholding in Vueling. Vueling has an asset base of €805 million.
If the proposed deal to acquire Vueling goes ahead, IAG will keep Vueling as a separate entity within the group. IAG has put forward a €113.3 million cash tender offer to purchase the remaining 54.15% shares in Vueling.
Willie Walsh commented, "I think it's a very good company with an excellent management team and we are going to let them get on with what they do best. The most effective value can be achieved by Vueling being a standalone brand and operating company within IAG. We think it adds value as is."
Walsh added, "This would be good news for Vueling as there are many advantages for the airline in this deal. It will benefit from the financial strength of a larger airline group, making it better able to compete with other airlines and invest in new customer products and services. The airline will also be able to generate some cost and revenue synergies as part of IAG mainly through joint financing and procurement."
Uncertain Future for Iberia and the Spanish Economy
Whether IAG's initiatives to stop losses at Iberia will be successful remains to be seen.
While the global environment remains shaky, the situation in Spain appears worse. Insolvency is now threatening the highly debt-ridden Spain, along with other countries such as Greece, Italy, Ireland, and Portugal. Due to the deteriorating debt crisis in Europe, EU governments adopted harsh economic reforms and austerity measures. However, these have triggered demonstrations in several countries in the region. In recent months, Spain anti-austerity protests have resulted in wide spread unrest.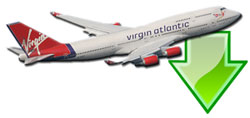 Don't forget... We have a huge selection (over 24,000 files) of free mods and add-ons for FSX, P3D & X-Plane in the file library. Files include aircraft, scenery, and utilities All are free-to-download and use - you don't even need to register. Browse on down to the file library here.