The aviation industry has been directly hit by the triple blow of the Japanese earthquake, tsunami, and nuclear reactor crises. Fuel costs have risen, travel to Japan has been reduced, tourism from Japan to other countries has dropped, freight rates have increased by upwards of 50% and the airline manufacturing supply chain has been severely tested.
And yet it is still too early to know what the full impact will be until several months have passed and Japan has had a chance to rebuild the massive destruction to their infrastructure in the northern part of the country.
Nuclear Reaction
Although the International Civil Aviation Organization on behalf of the International Atomic Energy Association, the International Maritime Organization, the World Health Organization, and the World Meteorological Organization have issued a joint statement stating that travel to Japan is completely safe from any nuclear radiation concerns, world travelers have a different view. Many tour operators have cut junkets to Japan through April and May 2011, based on consumer fear and trepidation when traveling to the troubled island.
Flight Cutbacks
A total of 71 airlines service Japan and most made schedule changes in response to the crisis according to the Center for Asia-Pacific Aviation. Japan accounts for 6-7 % of global premium aviation traffic.
The International Air Transport Association (IATA) said that it was too early to understand the impact of the crisis on a long-term basis but the damage will be significant in the short term. A major slowdown is expected, IATA chief executive Giavanni Bisignani said recently. He went on to say that things will not get better for the industry until the second part of the year when the country has had a chance to rebuild. The IATA said Japan accounts for 10% of global commercial aviation revenue.
Countries that are most affected include China, which counts on Japan for almost a quarter of its international revenue, as well as the US, Thailand, South Korea, and Taiwan.
The IATA said that important fuel infrastructure points were affected by the earthquake but also said that most Japanese airports had enough fuel for up to 10 days after the crisis. Japan accounts for 3 to 4% of global jet fuel supplies. Due to refinery damage, the IATA said jet fuel prices could rise.
Supply Chain
According to the Philadelphia Inquirer, several American airlines announced they are cutting flights due to excessive fuel costs and the Japanese crisis. Scott Kirby from US Airways said that bookings dropped 20% in the days following the March 11 crisis. Many people just wanted to stay home and watch the news footage on TV, Kirby told the J.P. Morgan Aviation Transportation and Defense Conference. General Motors put a stop on all nonessential travel until they sorted out their supply chain.
Travel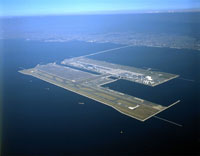 Kansai Internationl Airport from the air. Kansai airport is an engineering feat, built on a man-made island off the coast of Japan.
Delta Airlines has seen significant drop in demand for flights to Japan after the crises. As a response, they are reducing their capacity by 15 to 20% by cutting flights to Tokyo, which is a Delta hub, and that the change will last at least through the end of May 2011, Delta's president Ed Bastian told CNN. He said that Japan is a $2 billion market for the airline and that the crises may cost the company up to $400 million.
MarketWatch reported that the US travel industry, which was already in an economic downturn, is very likely to take another blow in the aftermath of the Japanese crisis. Although Japanese tourism to the country was already declining for several years, it was the fourth-largest source of international visitors.
Peter Greenberg, travel writer, reported on BNet.com that that the Hong Kong Travel Industry Council announced that tours from Hong Kong to Japan were canceled until mid April. Also the National Tourism Administration in China has warned against tourism to Japan. Tour agencies in South Korea have reported many vacation packages being canceled due to the crisis. This will have a significant effect on the country as tourism was expected to make up to 7% of their gross domestic product, or just over $400 billion.
Business travel, while originally flat, is expected to climb as the country seeks to re-establish supply chains. At this point, most airlines are still operating in and out of Narita and Haneda airports in Tokyo, although at reduced capacity.
Freight
Because of the reduction in flights coming in and out of Japan, air freight rates have increased 50 to 60%. While the main airports in Tokyo are in operation, their fuel supplies are low and as a result capacity is reduced, inflating freight rates around the world.
Manufacturing
Although Japan was the pioneer of the just-in-time manufacturing process and lean inventory control, Japanese suppliers adjusted their approach after the 1995 Hanshin earthquake (which hit 6.8 on the Richter scale). Instead of excessively lean inventories, they built up extra supplies of components at various levels of the supply chain to continue manufacturing even in the event of a large earthquake or similar disaster. This has proven to be a huge advantage.
The industrial base has implemented significant disaster preparedness plans since then (1995), says Tom Captain, leader of Deloitte's global A&D practice told Aviation Week. (3-15-11).
Japan Earthquake Has Far-reaching Effects on Aviation Industry
It's hard to imagine that following the devastation of an earthquake a country is then subjected to a tsunami with waves as high as 30 feet. And then the unthinkable happens - a possible nuclear reactor meltdown.
The aviation industry has taken a major hit in the process. Manufacturing will be affected due to possible supply chain interruptions, fuel supplies in the country are being carefully monitored, air freight rates are up, and tourism both to and from Japan is way down.
Even more difficult, the real impact will not be known for several months. And for a global economy that was already fragile, the impact of a disaster this size will affect the aviation industry for a while to come. Fortunately, Japan has learned from previous earthquakes, for example, increasing fuel and suppy inventories after the high machine quake of 1995. This type of planning and preparation is a bright spot in an otherwise bleak picture.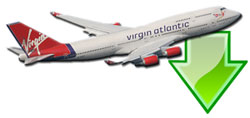 Don't forget... We have a huge selection (over 24,000 files) of free mods and add-ons for FSX, P3D & X-Plane in the file library. Files include aircraft, scenery, and utilities All are free-to-download and use - you don't even need to register. Browse on down to the file library here.