Boeing's newest and biggest passenger plane took off for the first time at 9.59am on Sunday Mar, 20, 2011. The newest model of the 747 line, the 747-8 Intercontinental was resplendent in orange and white as it took off from Paine Field in Everett, Washington under a canopy of blue skies. It was followed by two T-33 chase planes and the cheers of a throng of Boeing workers gathered for the event.
Low Glitch Count
The Boeing 747-8 Intercontinental landed at 2.25pm the same day in Seattle, at Boeing Field. Boeing reported only about a dozen technical glitches on the maiden flight, remarkably low for any modern plane.
Tests conducted during the flight included taking it up to 20,000 feet, running at various speeds, testing the landing gear, basic control systems and stability variations.
The letters "JFS" were written in bold print on the nose landing gear in honor of Joe Sutter, a Boeing engineer thought as the "father" of the first 747 over forty years ago.
Chief Pilot Mark Feuerstein said, What a great privilege to be at the controls of such a great airplane on its first flight--and what an honor to share this day with the thousands of men and women who designed and built this airplane.
Strong Competition
Industry competitors have attacked the Boeing 747-8. Last month, Chief Boeing competitor Airbus held a press conference questioning the safety of the 747-8. Chief Operating Office for Customers at Airbus, John Leahy, told Dow Jones that U.S. civil aviation authorities should conduct emergency evacuation tests of the 747-8 Intercontinental.
He said evacuation tests had been "grandfathered in" from the Boeing 747-400 and that was wrong. (Airbus was able to evacuate 873 passengers from the A380, the main competitor to the 747-8, in 78 seconds in 2007 testing.)
Months of Testing
In terms of safety and reliability, Boeing commented that part of the reason for the low "glitch count" on the passenger version's maiden voyage is that there has been a cargo version of the 747-8 undergoing flight tests for the last 12 months. This new jet features a radical wing design and refurbished flight deck. It can carry up to 467 people and has a range of almost 7000 miles. It has a wingspan of around 224 feet and is about 250 feet long.
The first freight customer to get custom Boeing painting was CargoLux, a Luxembourg-based cargo operator. They have purchased several Boeing 747-8s.
Companies that are flying the new 747-8 include Air Bridge Cargo, Atlas Air, Boeing Business Jets, New Bond Cargo Airlines, Korean Air, and Lufthansa.
Stock shares of Boeing went up more than 3% the day following the successful passing of the test flight of the 747-8 Intercontinental. Boeing has received upwards of 30 orders for the new player including an order of 20 from Deutsche left Anza AG.
Air China has agreed to order 5. That transaction is pending government approval. Currently the Boeing 747-8 will cost you a measly $317 million US. Some analysts point to these orders as more evidence of faith in a growing economy, despite lingering fears that high fuel prices could affect airline travel.
Improved Aerodynamics
The 747-8 has a new advanced rake wing design with extensive improved aerodynamics, the very latest flight deck tools, and much lighter materials. It has GEnx engines featuring primary and fan Chevron's, and a digital bleed air system.
Increased capacity for cargo includes 2 pallets forward and 2 LD – 1/LD – 3's aft. There is room for 51 more passengers than previous 747 models. The landing gear features new materials including new wheels, brakes, and tires. The wings are 16.4 meters across and feature fly-by-wire spoilers and outboard ailerons, as well as new technology airfoils.
Boeing has designed a new high lift system for the 747-8 as well as new passenger amenities including a new cabinet architecture and lavoratories, a new upper deck stair and custom built LED lighting.
State-of-the-Art Flight Deck
The 747-8 is a 100% digitally integrated aircraft with new environmental control systems and attend bunk cabin crew rest. The state-of-the-art flight deck includes the Boeing Class III Electronic Flight Bag, which brings digital information management right to the flight deck and reduces the need for paper, as well as improves communication among crews, dispatchers and air traffic control.
The Vertical Situation Display gives the crew a clear look at the airplane's current and projected flight path. A specially designed early warning alert tells the crew if the airplane trajectory is in conflict, or deviating from the desired approach path. Graphs of the vertical situation make it easy to detect path errors including missed glide slope intercepts.
The new Flight Management Computer has significantly increased storage and has been built with much more speed. It can store all data available from the worldwide navigation database and it is made to accommodate any anticipated increase in data for 20 years.
The Electronic Checklist is standard on the 747-8 flight deck. These electronic checklists increase safety, save time and bring down the amount of paper the pilots and flight crews carry on board. They are easy to update, change and distribute. Airlines can customize the checklist to conform to local procedures.
Boeing Family
The flight deck commonality between Boeing airplanes brings down training time that pilots need to put in to transition between models, and it makes it easier to fly mixed fleet, which lets operators use a single pilot pool for all 3 jets: the 747-8, the 777 and the 787. Mixed fleet flying also helps crew productivity because it makes it possible for airlines to operate with fewer pilots.
The 747-8 has the same pilot type rating as other 747s and uses the same simulator which brings down pilot grant training time and operator investment.
The 747-8 wing design is the result of thousands and thousands of hours of studying the latest in fluid dynamics. By testing the computations in the world's most advanced wind tunnels Boeing designers were able to produce a wing with incredibly increased aerodynamics and significantly better fuel capacity without compromising speed. The 747-8 has a cruising speed of Mach 0.86 which is as fast as any commercial airline today.
The double slotted flaps inboard and single slotted flaps on the outboard improve performance and bring down noise considerably. The fly-by-wire spoilers and outboard ailerons save weight while the rake wingtip reduces aerodynamic drag. The airfoil has a new supercritical design for high speed and efficiency while new Gapped Krueger flaps provide high lift gapped configuration.
GEnx Engine
The 747-8 Intercontinental passenger and the 747-8 Freighter both use the GEnx engine. This is one of the cleanest, most fuel-efficient, quietest turbo fan engines ever produced. It is based on the 787 Dream Liner engine but optimized for the 747-8. The GEnx incorporates the latest materials and is designed to improve performance, reduce maintenance, and minimize fuel consumption. It is built to comply with all environmental regulations now and for years to come.
The 747-8 extensively uses new generation aluminum alloys – the same as those on the 777 – and graphite composites in the rudder, spoilers and flaps. These materials are more durable, stronger, and better able to resist damage and corrosion, which brings down maintenance costs and increases the time an airplane is available to fly. They are also very light, which helps minimize airplane weight. Lighter airplanes are more efficient, they consume less fuel, cost less to maintain, and are subject to lower weight-based navigation and landing fees.
The 747-8 Intercontinental is the only jetliner in the 400 to 500-seat market. It is 18.3 feet longer than the 747-400, and provides seats in a 3 class configuration. The engine is quieter, produces lower emissions and achieves better fuel economy than any competing jetliner. It will provide nearly equivalent trip costs and 13% lower seat mile costs than the 747-400, plus 26% greater cargo volume. Both the 747-8 Intercontinental and the 747-8 Freighter can use existing infrastructure ground equipment at most airports around the world.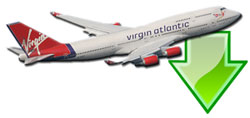 Don't forget... We have a huge selection (over 24,000 files) of free mods and add-ons for FSX, P3D & X-Plane in the file library. Files include aircraft, scenery, and utilities All are free-to-download and use - you don't even need to register. Browse on down to the file library here.